Lehi celebrates Halloween with many festive events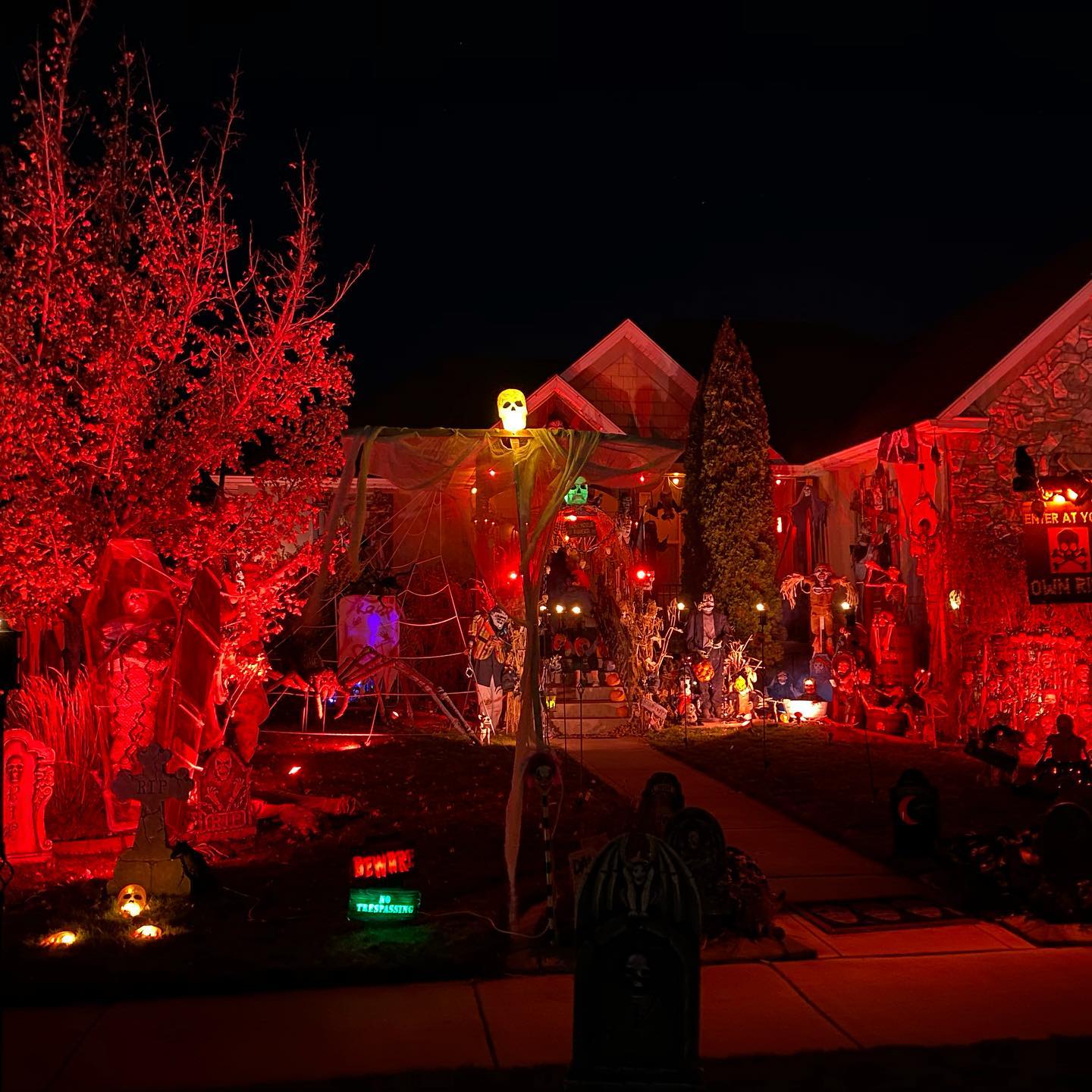 Ryann Anderegg | Lehi Free Press
Halloween is just around the corner, and Lehi is ready. Residents can drive through Lehi neighborhoods to see fabulous decorations and displays, and events for all kinds of Halloween frights and fun can be found throughout the area.
Ongoing and upcoming events and attractions include:
● Legacy Center Halloween Party: The party will be held on October 27 from 5 to 8 p.m. at the Legacy Center. Admission includes games, activities, trick-or-treating around the track, music, a glow-in-the-dark necklace, crafts, spook alley and more! Tickets are $5 in advance and $6 at the door for children, and adults are free. 
● Halloween Display at the Willes home: Mike Willes spends his retirement decorating his home with a beautiful display for each holiday that anyone can drive by and enjoy. Mike Willes' home and property are covered with skeletons, ghosts, spiders, scarecrows and more. Located on 700 South in Lehi between Center Street and 300 East.
● Trick-or-Treating on Main Street: On Halloween, there will be a trick-or-treating route along Main Street in Lehi for children and their families. Trick-or-treaters will be able to get candy from businesses along Main Street from 4 to 6 p.m. Local businesses and Lehi City will have booths to hand out treats, beginning at Hutch's Home Furnishings and going down both sides of Main Street. There will be plenty of candy for all participants, and it's sure to be an evening filled with candy, costumes and fun.
● Hee Haw Farms: The local farm has fall events going through November 4. Hee Haw Farms offers a plethora of outdoor activities to entertain families, including an animal petting farm, hayrides, slides, a zipline, a corn box, courtyard activities and games! Pumpkin picking is fun for all, including a hayride to the patch to find the perfect one. Pick out varieties of gourds, Indian corn and pumpkins for your fall decor. General admission is $13, and the farm offers the option to purchase a pumpkin pass, season pass or 10-visit punch card.
● The Haunted Forest: This haunted house in American Fork has been Utah's largest haunted attraction for 33 years and is considered the biggest, baddest and best outdoor haunted house. Weekday admission starts at $30, and weekend admission starts at $35. Located at 6000 W 6400 N in American Fork. 
● Cornbelly's: This family attraction is part of Thanksgiving Point's annual Halloween activities and has tons of activities for kids and adults. Tickets start at $19.99. This event is open through October 30, with potential for bonus dates November 1 through 4 depending on the weather. Activities include a corn maze, bungee bouncer, face paint, slides, Corn Cob Beach and more. Late in the evening once the sun sets, the haunted house known as Insanity Point opens to ticket holders. 
● Spook Cruise: Take a spooky ride down Provo River now through October 31, from 6:30 to 9 p.m. Each ride lasts approximately 20 to 25 minutes round trip. The riverboat seats up to 35 people and is wheelchair accessible. Blankets and warm clothes are recommended. This is a family-friendly, interactive pirate experience with over 100 hand-carved jack-o-lanterns and a 30-minute movie to be watched before or after your cruise. Tickets are $10 on weekdays and $12 on weekends. Concessions are also available for purchase.  
With plenty of events to choose from, all Lehi residents are sure to find a perfect fit for them to celebrate the holiday with their loved ones.