Obituaries: Margie Bunnell Burningham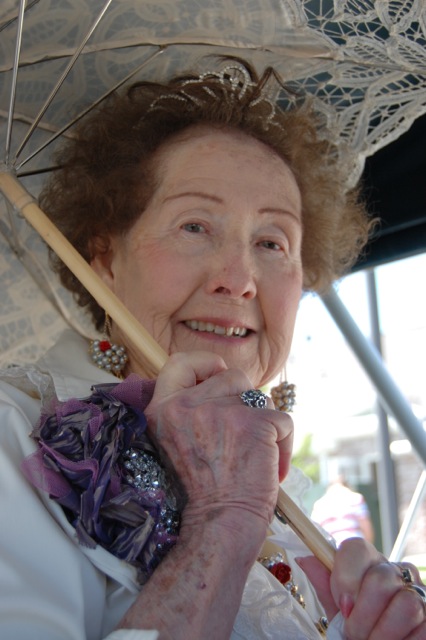 Our mother Margie Bunnell Burningham, a beautiful and precious lady left this earth and returned to her Father in Heaven on Sunday, June 19, 2016. Margie was the 6th child born to Thomas Joel Bunnell and Zelda Maud Holdaway on May 5, 1922 at the family home in Vineyard, Utah. Although she claimed to be "79 and holding", she just celebrated her 94th birthday. Margie commented frequently, "If I could choose a time to be born I would choose this time because I have lived to see so many wonderful advancements, so much progress and growth. From travel by horse and buggy to airplanes flying all over the world; we have even put a man on the moon."
Margie married her sweetheart Ray Lester Burningham on September 4, 1941 and, very soon after, sent her new husband off to war. While Lester was gone, Margie worked for her in-laws at Imperial Dry Cleaners in Provo, writing Lester a letter every day for the next four years.  Margie faithfully anticipated the time when Lester would return so that they could start their family. She believed and, always teaching by example, showed that her greatest and noblest calling was to be a wife to her husband and a mother to her children and grandchildren.
Margie always looked for the best in others, and those who know her say, "After spending time with Margie, I always came away a better person." She wrote, "God has given me the power and strength to endure, when I have shown weakness. He has shown me there can be a new ray of sunshine, if we just look for it beneath each cloud." Her faith and hope helped her through many trials. Her gift in writing has blessed her family and will continue to bless them for generations to come. She further wrote, "Husband, we have climbed many mountains and walked many valleys together with love and respect for one another. That love will continue into the eternities."
Children: (Darrell) Joy Davis, Randy (Brenda) Burningham (deceased), (Jim) Wendy Wilson, Gary (Jeanna) Burningham, Jeff (Kristine) Burningham, 19 grandchildren, 26 great-grandchildren.
Join us as we celebrate a life well lived through her writings and poetry.
Funeral services will be held Monday, June 27th at 11am in the Cedar Hollow Stake Center, 1200 E. 2200 N., Lehi. Viewing at Wing Mortuary, Sunday, June 26th 6-8pm. 118 E. Main, Lehi, and one hour prior to services at the church on Monday. Interment, Lehi City Cemetery.