Obituaries: Newell Turner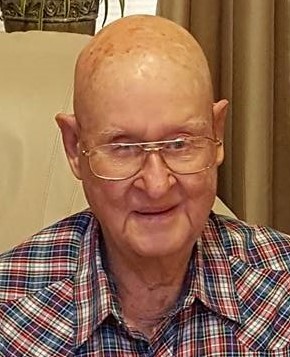 Newell Brown Turner Jr., a long-time resident of Lehi, passed away 29 July, 2016, in St. George, Utah. He was born in Salt Lake City, Utah on 30 July 1922, the only child of Newell Brown Turner and Mareda Polson Turner.
Newell graduated from Lehi High School and joined the CCC in Provo in 1938, helping build the Squaw Peak Trail and the Diamond Fork/Palmyra campgrounds. He was the first volunteer from Lehi to enlist in the Army after Pearl Harbor, serving nearly four years in the European theatre. He was awarded five battle stars. After the war, he married Alberta Beth Brown, and they had two daughters, Judy Evelyn and Barbara Ann.
Newell worked as a steam locomotive fireman for 4 years, and as a boilermaker and layout man at Geneva Steel for 35 years. He was also involved with the Civil Air Patrol, FOE, Lehi Auxiliary Police and Lehi Ambulance.  He was active in the LDS Church, serving in a bishopric as well as in many other positions.
He and Beth loved to travel, and they toured every state in the continental U.S. except Rhode Island, as well as Canada and Mexico. After Beth's death in 1989, Newell found a new traveling companion when he married Aleene Holmes. He enjoyed touring, camping and fishing with his new family until health issues forced them both to slow down. Aleene died in 2007.
Newell lived the past nearly four years in St. George, Utah, where he continued to enjoy the amazing Southern Utah scenery and history.
He is survived by his two daughters, Judy (Robert) Olsen of St. George, Utah, and Barbara (Jim) Beagley of Snowville, Utah, along with 9 grandchildren, 26 great-grandchildren, and 2 great-great grandchildren.
No services will be held.