2017 Heritage Days "Walk of Fame" Honorees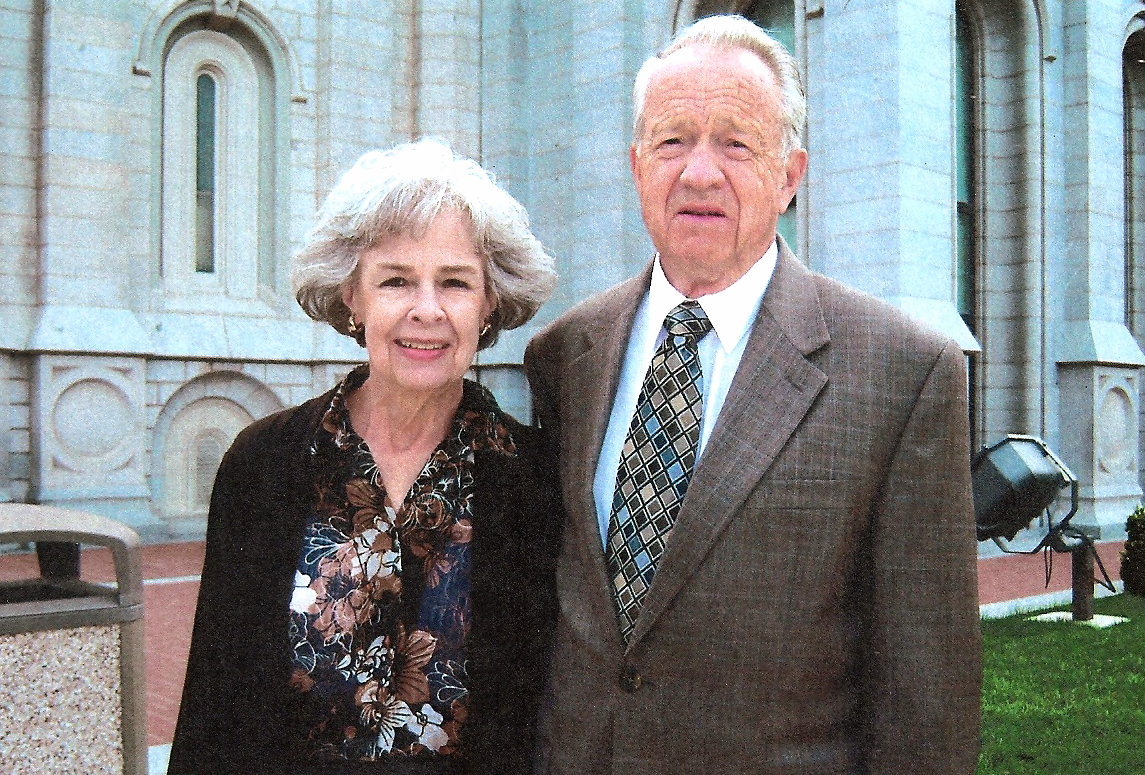 Over the last several weeks, John Haws, President of the Lehi Historical Society and Archives, has been announcing the selection of this year's Lehi Heritage Days honorees. Those selected must be Lehi residents and have contributed to the community over many years.
The Lehi Free Press has been publishing articles over the past several weeks highlighting the honorees. A committee from the Lehi Historical Society chose the recipients.
---
Mary and Rex Price
The Price family has been in Lehi since 1882 when William and MaryAnn Margetts Price came here from England with Thomas R. Jones, a missionary from Lehi who had taught them about The Church of Jesus Christ of Latter-day Saints in England. The Prices joined the Church and moved to Lehi where they purchased land on 300 West and 800 North. The William Price home still stands near Rex and Mary Price's home, where they have lived for the last 60-plus years.
Rex Price grew up attending Lehi schools and working in the grocery store his brothers, Bill and Lee, owned. After high school, Rex served an LDS mission in the North Western States Mission, which included Oregon, Washington, the Idaho panhandle, and all of Alaska, at that time. When Rex returned from his mission, he served two years in the U.S. Army during the Korean Conflict; one year in the United States and one year in Germany.
After four years of adventure and travel, Rex came home to Lehi where he went back to work at the grocery store on Main Street. He and Boyd Stewart co-owned the store beginning in 1970. They attracted customers from all over the valley, specializing in meat. Friends jokingly referred to the store as the "Bishop's Storehouse" when Bill Price, Lee Price, Boyd Stewart, and Rex Price were all serving as bishops in their LDS wards at the same time. All nine of Mary and Rex's children were able to work at the store, as did many of the young people in town. Rex fondly remembers his association with co-workers and customers during his 41 years at the IGA grocery store on Main Street, although he doesn't like to think about the hard work and long hours he spent there.
Mary Varney attended American Fork High School and then BYU. She met Rex Price at a stake dance on New Year's Eve. Before they married in June 1955, Mary worked as a typist for the FBI and also in the American Fork City offices. The Prices built a home next to Rex's parents' home on 300 West, where they have lived ever since. The home has changed quite a bit over the years as the Prices would add more rooms to accommodate their growing family. "We tried to bring the light of the gospel into our home. We were happy that our four sons earned their Eagle Scout Awards and served missions, plus one of our daughters served a mission. Our happiest times are when we are all together," says Mary.
Since Rex's retirement, the Prices have served two missions for the LDS Church, one in Kirtland, Ohio, and one in the Nauvoo Temple. They've spent 16 years serving in the Provo Temple and Mount Timpanogos Temple. Rex loves working in his enormous garden, trying out new varieties of vegetables—including some that aren't supposed to grow here in Utah! Anything Rex and Mary Price nurtures ends up thriving. They love watching Lehi grow and seeing the programs and celebrations that are doing so well. Their inclusion on the Walk of Fame has given them a chance to reflect and remember all the happy years and blessings they've experienced in Lehi.
---
Max and Ruby Ray
About 80 years ago, Ruby Ray's father came to Lehi to work in the sugar factory. He built a home here and Ruby can remember the swing her father attached to a large tree in the yard. She had to wait in a long line of neighbors, cousins, and siblings to get a turn on that swing. Now Ruby is a great grandmother living in Abbington Manor, with her memories of life in Lehi fresh and vibrant.
Max and Ruby Ray both attended Lehi High School in the 1940's. Ruby says she "made Max my boyfriend" when they were freshman in high school. When Max was a junior, he was drafted into the Army and went off to fight in World War II. Max was held back in first grade when his parents and teachers discovered that his twin sister was talking for him. As a high school junior, he was old enough to be drafted. When Max returned from the war, he and Ruby dated for a few years before getting married in 1948.
While the Rays were raising their nine children, Max helped build Geneva Steel and then worked for the government in Tooele for 30 years. Since he was often in a bishopric for The Church of Jesus Christ of Latter-day Saints, Max was away from home with work or church while their children were growing up. Ruby recalls that it was a difficult, but rewarding time in their marriage. They would take frequent trips to Manti to go to the LDS temple there while Max was in the bishopric. Even though the Salt Lake Temple was closer, the Manti Temple was less busy and they found they could get there and back quicker.
The Rays owned and operated a Sounds Easy store where their children and grandchildren worked for many years. Once Max retired from his government job, he worked as a custodian at the LDS Stake Center on Center Street in Lehi. He also served as the Fire Chief for the Lehi Fire Department. Max passed away in 2012 and for his funeral there was a procession of fire trucks and police cars that made their way to the cemetery. "Max would have loved that," says Ruby.
The Rays took many trips as a couple, especially enjoying cruises. Ruby's favorite trip was to Peru to pick up their son, Chad, after his mission. She can still remember the awe she felt watching farmers plowing steep hills with wooden plows in the mountains of Peru. It took some convincing the first time, but Ruby and the children persuaded Max to take the family to Disneyland many years ago. He ended up loving everything about Disneyland—the rides, getting sprayed with water, the characters. For years afterward, Max would say to his grandchildren, "Isn't it time to go to Disneyland again?"
Ruby Ray's life is much quieter now, although last week she was the "matron of honor" for her granddaughter, Aubry Evans's, wedding. Ruby knows Max would have enjoyed the ceremony and parades associated with being honored with a brick on the Walk of Fame.