Tulip Festival Returns for 15th Year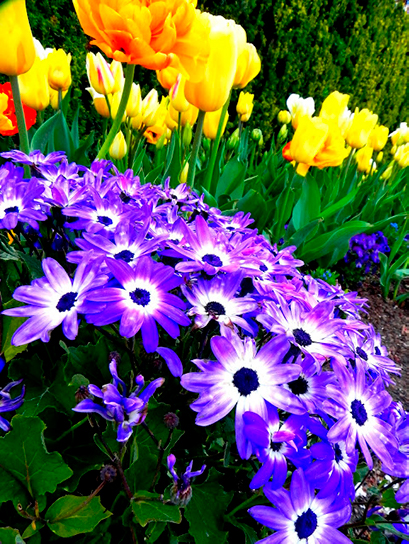 Thanksgiving Point presents the 15th annual Tulip Festival at the Ashton Gardens from April 12-May 4, closed Sundays. Nearly 300,000 tulips, in over a hundred unique varieties, are spread across the 55-acre Ashton Gardens for the Tulip Festival each spring. Golf carts, wheelchairs, electric scooters, and Segways are also available to rent, if available. New this year is timed ticketing for the Festival. Timed ticketing allows a smoother and more enjoyable experience. Guests may secure times and dates at ThanksgivingPoint.org.
The Tulip Festival is one of the most popular events in Utah with more than 100,000 guests visiting each year. The tulip display is redesigned with tulips imported directly from Holland to create a new display for each festival. At the Tulip Festival's conclusion, the tulip bulbs from the event go on sale for around four dollars per dozen to create mini tulip festivals in yards across Utah.
This year's Tulip Festival includes:
• Antique Tulips
Come see antique tulips themed for the celebration of famed Dutch artist Rembrandt this year. These are the actual bulbs that have lasted for centuries. Some of these varieties include the Columbine, Preludium, and Rembrandt. This year commemorates the 350th anniversary of Rembrandt's death in 1669.
• Cut Tulips
Visit the Learning Garden to bring home your own bunch of cut tulips. One bunch of tulips is $10 ($9.00 for Thanksgiving Point members). Available while supplies last. Monday-Thursday: Noon-8 pm & Fridays and Saturdays: 10 am-8 pm
• Klompen (Wooden Shoe) Hunt
Scattered throughout the Tulip Festival are 15 giant wooden shoes or klomplen.
• Festival Market in the Waterfall Amphitheater – Thursdays, Fridays & Saturdays, All day
Featuring vendors and food trucks from all over the state.
• Children's Activities in the Tulip Tot Playland – Thursdays, Fridays and Saturdays, 10 am – 6 pm
Crafts, activities, games, bounce houses, and more for the whole family! Included with admission.
• Tulip Festival 5K– April 27 (Sold Out)
For the second consecutive year, the Tulip Festival 5K will be run entirely in the Ashton Gardens. In years past the 5K course was unable to be in the Gardens due to the now defunct, half marathon.
• Swing Dance – April 26, 6:30-8:30 pm
Back by popular demand, the Utah Swing Orchestra returns. Grab your partner and put on your dancing shoes. Enjoy classic swing music while dancing next to the beautiful 65-foot-tall waterfalls illuminated by bistro lighting. Included with admission.
• American Heritage Lyceum Philharmonic – May 4, 7:30 pm
The Tulip Festival closes with a fantastic finish with this amazing concert on May 4th. The American Heritage Lyceum Orchestra performs against a gorgeous garden backdrop you won't want to miss. The concert is included with admission.
• Tulip Festival Photo Contest
We invite all guests to submit their favorite shots of the 2019 Tulip Festival using hashtag #tuliparty and tagging Thanksgiving Point on Instagram, Facebook, and Twitter (Make sure your post is set to public.)
Each Monday during the festival Thanksgiving Point judges will select a Photo of the Week which will be featured on Thanksgiving Point's Instagram page (@thankspoint) and be highlighted on the Thanksgiving Point marquee for the duration of the week. Each chosen photo will also win a Family Membership.
The Tulip Festival hours are 9 a.m. to 8 p.m., Monday-Saturday. Admission is $20 for adults, $15 for seniors and children aged 3-12 when booked online at thanksgivingpoint.org. Walk-up pricing is $25 and $20 respectively. Entrance is free to Thanksgiving Point Members and children under two. The Ashton Gardens is located at 3900 N. Garden Dr. in Lehi, Utah. For more information, visit thanksgivingpoint.org.