Lehi City Council Report, December 13, 2016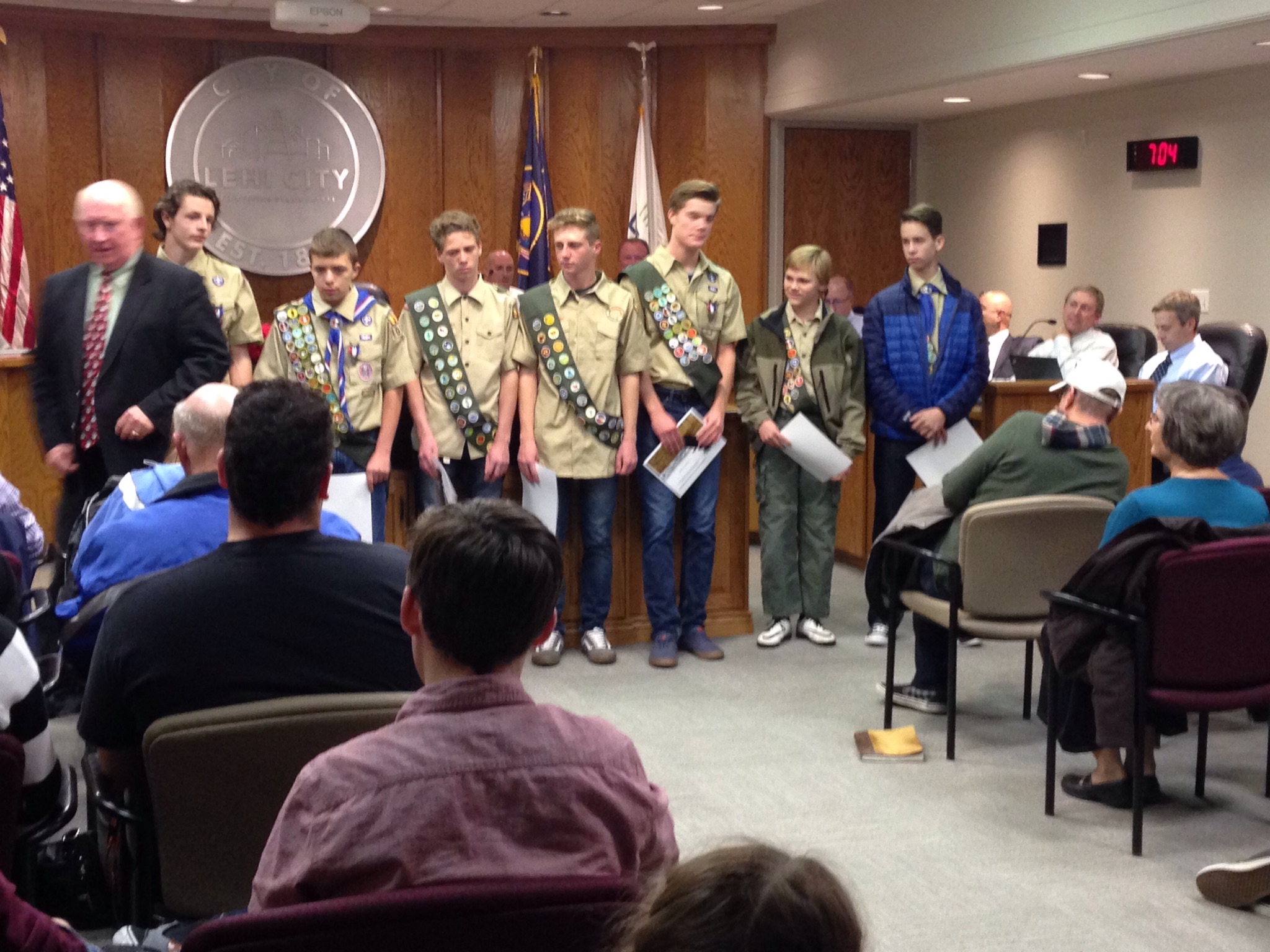 Pre-Council
Mayor Wilson and all members of the city council were present. An audit presentation was given by Dave Sanderson, Lehi City Finance Director. It was acknowledged by Mayor Wilson that Lehi consistently receives awards for their excellence in financial reporting. The Government Finance Officers Association (GFOA) awarded Lehi City with their Certificate of Achievement for Excellence in Financial Reporting for its comprehensive annual financial report (CAFR) for the fiscal year that ended June 30, 2015. This was the eighteenth consecutive year the city has received this prestigious award.
A discussion commenced when Sanderson explained to the city council that the Timpanogos Special Services District (TSSD) received a 13% increase in rates in 2013. Since that time, they have accumulated $60 million in their fund balance. The operating expenses for TSSD is $16 million. Council member Condie, who is a member of the TSSD board, explained that there is a division in the 13 member board about what to do with the $60 million. According to Condie, "some members of the board do not want to lower charges in case there is improvements that need to be made to the facility." Condie has tried to establish a coalition to agree to a rate decrease or a rebate. Sanderson is opposed to the accumulation of funds. He says, "we are overcharging our customers." Mayor Wilson responded, "I don't like this generation paying for the next generation."
A review of the council meeting agenda items was presented to the council members by Mayor Wilson.
Council Meeting
The council chambers were filled with students from Lehi High School and Skyridge High School. To fulfill the requirements for the civics class taught at both high schools, the students must attend a city council meeting. About 40 students were in attendance. Seven Eagle Scouts were recognized by the city.
In the public input section of the city council meeting, two Lehi residents addressed the city council opposed to the road the city is planning to build connecting 3rd North to the access road just east of Lehi High School. Gary Lewis, a resident of the neighborhood, said it would turn their street into a busy road. He also told the city council that the residents of the neighborhood had been promised many years ago that there would not be a connecting road to the frontage road. He stated, "this is putting a band-aid on a massive sore. You are opening traffic on a quiet neighborhood street."
Steve Holbrook, also a resident of the neighborhood, stated, "parking will always be a problem at Lehi High School. This is not going to solve the problem." He also complimented the council for their hard work and service.
The consent agenda was unanimously approved.
The following agenda items were unanimously approved:
Dean Larsen annexation, 6.45 acres at approximately 900 N. 1100 W, from TH5 -R -1-22
Final approval of Ridgeview Townhomes, a 44- residential unit development located at 950 West Traverse Terrace Drive in a Planned Community zone.
Concept plan approval for Vivian Estates, a proposed 173-lot residential development located at approximately 600 E. 2600 N. in a proposed RA-1 residential/agriculture).
Resolution approving the Vivian Carter Annexation agreement.
Zone change from TH-5 to Commercial on 4.07 acres located at 500 N. 1200 E.
Final subdivision approval for Intermountain Lehi Main, a 2-lot commercial subdivision located at 1185 East Main Street.
Consideration of Final Subdivision for Park Estates @Park Place Villas @ Ivory Ridge,an 87 lot residential development located at 3200 N. 700 W. In a Planned Community Zone.
Final Subdivision for Ignite, a 2-lot commercial subdivision located at 3729 Traverse Terrace Drive. (Charter school and park)
Resolution granting Firstdigital Telecom, LLC a nonexclusive franchise to operate a telecommunications network in Lehi City.
Final Subdivision approval for Dabble Gray Play B final subdivision, a 31-lot development located at approximately 700 S. 2300 W. in an existing R-1-12 zone.
Final Subdivision approval for Dapple Gray Plat C, a 29-lot development to be located at approximately 700 S. 2300 W. in an existing R-1-12 zone.
Zone Change from TH-5 to R-1-22 on 5.28 acres of property located on the northwest corner of Center Street and Pioneer Crossing.
Approval of Bridge Access and Maintenance Agreement.

 

Petitioner Thanksgiving Point and Boyer Company.
Adopting revisions to the Lehi City Employee Policy Manual Section III.
Approval a Jurisdictional Transfer Agreement with UDOT for the 1-15 Frontage Roads.
Dissolution of the North Utah County Aquifer Association. Creating the North Utah County Aquifer Council.
Consideration of the 2017 Lehi City Council meeting schedule.
There were a total of 364 residential lots approved and three zone changes.
After the meeting two students, Jessie Johnson and Isabelle Paas, both junior students from Lehi High School commented on the "fast pace" of the meeting. Paas commented, "there were a lot more people at the meeting than I thought and it was not as formal as I thought it would be. Council members seemed to enjoy each other."