Planning Commission approves Lehi's newest, tallest building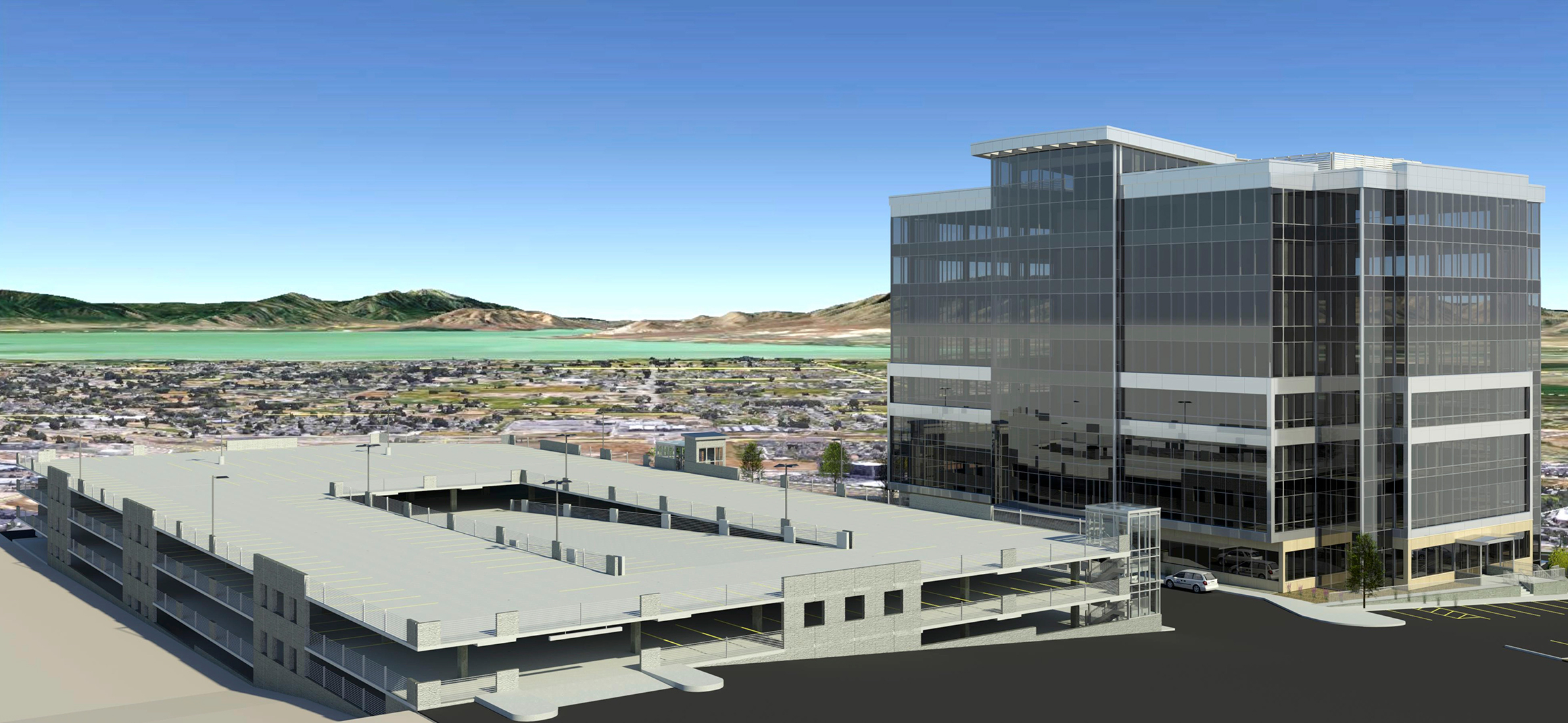 Lehi City's Planning Commission met February 22, 2018 in Lehi City Council chambers. All commission members were present.
The Commission approved Perry Commercial's request for the Traverse Ridge Center 3 and parking structure site plan. The 5.22- acre commercial development is located at approximately 3360 North Triumph Boulevard in Lehi. The proposed office building will be Lehi's tallest building, rising nine stories. There will also be a four- story parking structure in the complex. The building will feature a rooftop terrace and have easy access to a planned pedestrian crossing over SR 92. Planners mentioned that the building would be a nice complement to the TRAX station to be located nearby. The Commission unanimously approved the project.
The agenda item prompting the most public input was Gary Cooper's request for review of the Laney Estates preliminary subdivision, a 15-lot residential development located at 1580 East 900 North in an approved R-1-15 (residential) zone. Several neighbors addressed the Planning Commission with complaints about the new plot plan. Because of the Lehi City's new road connectivity standards, the original plan had to be changed, creating a long road merging into an adjoining neighborhood.
Local resident, John Bazinet, spoke regarding the agreements made by staff and commissioners in a previous Planning Commission meeting. He felt the traffic abatement issues had not been addressed. He also asked for an entrance monument to be constructed at the entrance to the development. Representative for the developer, Tony Trane, explained, "There are limitation on what we can do." It was also noted by planning staff that this is the best plan based on development standards. Commissioner Ellis said, "This development follows code." The plan was approved with six yeses and one no.
The following agenda items were unanimously approved:
Dudley and Associates' request for approval of the South Mountain Pet Care site plan, a veterinary clinic to be located at 1120 East 3300 North in a Commercial zone.
Pascal Meyer's request for approval of the Harris Medical Office Building concept plan located at 139 North Hunter's Grove Lane in a commercial zone. (across from Lowes) A traffic study was recommended but commissioners felt this was unnecessary. A resident of the area felt traffic would become an issue. There was some discussion about parking spaces, but Commissioners felt there was enough evidence to suggest parking would not become an issue.
Public hearing and recommendation of Brian Little's request for review of the Calton Cove preliminary subdivision, a 9-lot residential development located at 2014 West 900 North in an approved R-1-22 (residential/agriculture) zone. Citizen Gary Streadbeck spoke to the Commission. He was concerned about a road that would be in close proximity to his residence.
Two ordinances were presented to the Commission. One ordinance requested an amendment to the Lehi City Development Code Chapter 23 Signs, amending the City's sign regulations to make them content neutral. It was unanimously approved. The other ordinance was a request for a Development Code amendment to Chapter 21 and 39, amending the regulations for food trucks. This amendment was tabled for further review.