LPD officers honored at City Council meeting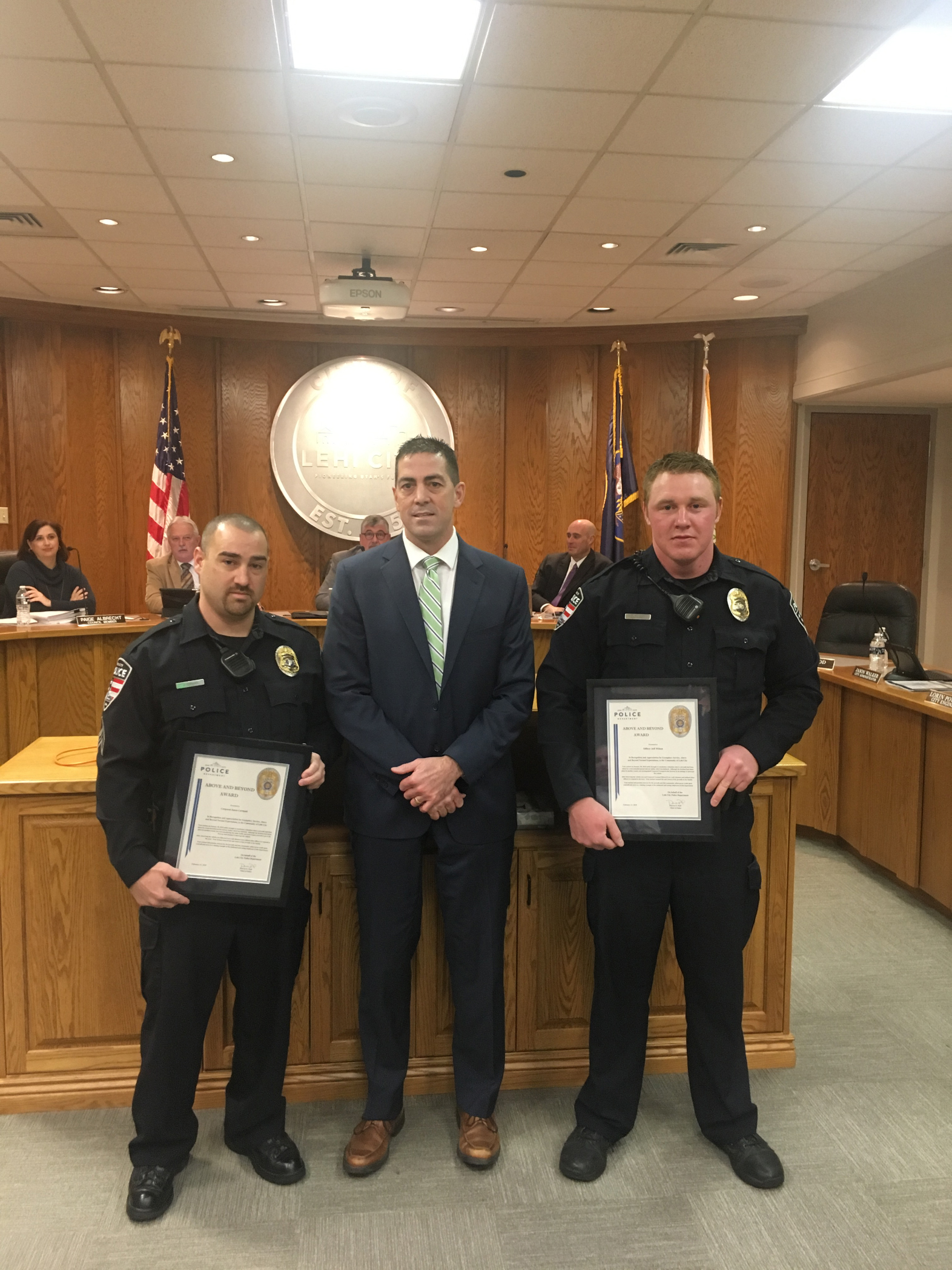 Citizens plead for green space
In Lehi City Council meeting held February 13, citizens addressed city leaders about green space preservation and the annual Lehi Roundup Rodeo parade. Kelly Tenney spoke passionately about the need to have more green space in Lehi. Tenney, a resident of northeast Lehi, said, "We need more responsible growth in Lehi. All the land is turning into cul de sacs." She continued, "We need more parks like Creekside Park in Alpine." Mayor Mark Johnson responded, "We have to consider property rights. We will try to do a better job. We can plan better."
Another citizen, Darrell Spencer, asked the Mayor and City Council to consider downsizing the Lehi Miniature Parade. "There are 14 stakes in Lehi. If we have each stake responsible for building a float it would be less of a burden on families. Why not have one parade instead of two?" Mayor Johnson said the City would look at it. Melanie Hansen, Lehi City Events Director, replied, "We will look at better ways to do this."
In addition to the citizens who spoke during the public input session of City Council meeting, several awards were given. Lehi City Police Chief Darren Paul recognized Officer Jeff Wilson and Corporal Jason Cormani for responding to the Amber Alert issued on January 11th. The officers stationed themselves along I-15 and saw the vehicle described in the Amber Alert. Because of the surveillance of Cormani and Wilson, the vehicle was stopped, the child was returned to his/her parents and the non-custodial parent was apprehended.
The Distinguished Budget Award was presented to Lehi City staff member Beau Thomas by Cameron Boyle, Assistant to the City Administrator. The award was given for the outstanding presentation of Lehi's budget and the professionalism associated with the work of the budget department.
An ordinance re-approving Dry Creek Lake Park Annexation was approved.
The General Plan amendment on 3.15 acres of property located at 708 West Main Street, changing the land use designation from MDR (medium density residential) to commercial was discussed. Council member Paige Albrecht raised questions regarding the amendment. "Can we conditionally approve a land use change? Is the land use designation for perpetuity?" asked Albrecht. She also raised a question about whether a new owner could change the land use designation. The amendment was approved with three yesses and one no.
The following agenda items were unanimously approved.
Consideration of final subdivision approval of the Park Place Villas @ Ivory Ridge Phase 2, a 50-lot residential development located at approximately 3200 North 700 West in a Planned Community zone.
Consideration of Ordinance #15-2018, a Zoning District Map Amendment for Bandwagon Park located at approximately 900 North, 300 West changing the zoning from R-2 (medium density) to PF (public facility).
Consideration of Ordinance #17-2018, A Zone District Map Amendment on 46.5 acres of property located at approximately 4000 West Hardman Way changing the zoning from Commercial to Heavy Commercial.
Consideration of Ordinance #18-2018, General Plan Land Use Map Amendment adding areas of Heavy Commercial land use designations.
Consideration of Ordinance #19-2018, a General Plan Text Amendment adding a Heavy Commercial Land Use Designation.
Consideration of Ordinance #20-2018, A Development Code Amendment to Chapter 5 and Table 05.030 B and Table 05.040-B adding a Heavy Commercial zone. (Items 3,4,5,6, were petitioned by Lehi City).
Consideration of appointing a member to the Tri-City Golf Course Governing Body. (Fox Hollow Golf Course.)
Consideration of a resolution approving a Stakeholder Agreement between Lehi City and Utah Transit Authority.
Pre-Council addresses accessory dwelling unit issues
In Lehi City Pre-Council meeting, Lehi City Attorney, Ryan Wood, presented the "Open and Public Meeting" training. Wood prefaced the presentation by saying, "The public has a right to know how public officials make decisions. We must err on the side of openness."
A lengthy discussion was held about the City's new Accessory Dwelling Unit ordinance. There were questions about the impact on Lehi City's infrastructure. Mayor Johnson explained, "As a member of the TSSD (Timpanogos Special Services District) Board, when building was stalled during the 2007-2008 downturn, people quit building homes but the flow in TSSD flow rates continued to grow and impact fees were not coming in. People were moving into illegal basements."
Johnson also said, "There are areas in town already at capacity for infrastructure. People without Accessory Dwelling Units will bear the burden of the costs associated with the increased density. This is more complicated than it appears. I recognize that people desperately need a place to live."
City Engineer Lorin Powell said, "Sewer is the problem. It limits what we can do."
Condie and Hancock thought restricting certain areas from having ADU's would be discriminatory.
Johnson replied, "zoning is discriminatory by nature."
Powell said, "We will look and see what we can do. I am worried about this."
Johnson, "This has been looked at before. We knew there were illegal apartments, but if we legalize them, then the city is liable for damages when there is a [sewer] back-up."
City Attorney Ryan Wood cautioned the City Council and Mayor, "This discussion is not part of agenda review. All public needs to hear this discussion."
Powell talked to the City Council about how the widening of 1200 West and 2300 West would funded. There are Federal and MAG grants available to pay for much of the widening, according to Powell.
Wade Allred gave a presentation on the sidewalk construction along Triumph Boulevard. Allred addressed the concerns of Mayor Johnson and City Council members. Mayor Johnson asked about a bike lane. Allred explained, "We are nervous to put vehicles and pedestrians in the same lane. State law doesn't protect bikers."