Tax bill tops list of items in final week of legislative session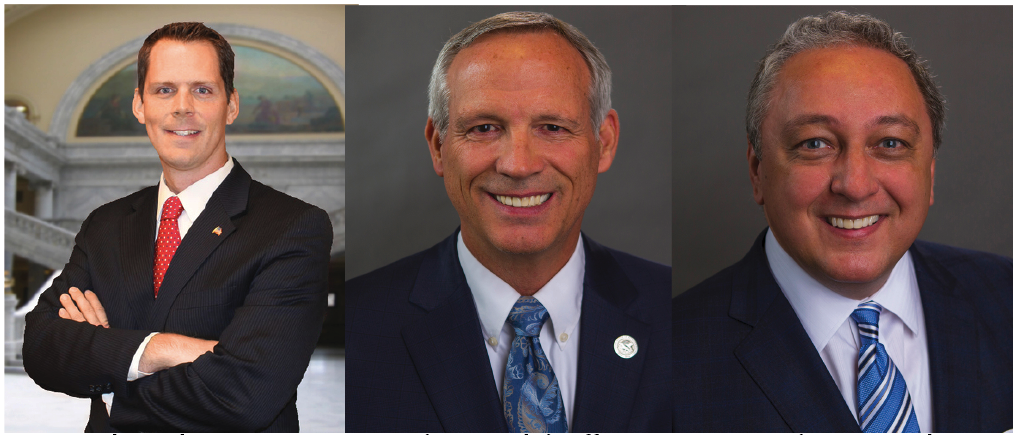 Lehi reps review accomplishments and issues of 2018 session
Wrapping up the 45 days of the Utah legislative session, Lehi's state representatives and senator commented on what they accomplished with bills they ran and on other major items the legislature dealt with.
At the top of the discussion list was HB 239, a 2800-line bill which reorganizes elements of the state tax structure and puts a 10 cent fuel tax on the ballot for November. The bill was run as a response to Our Schools Now (OSN), an initiative by prominent members of the business community to raise taxes for education by about $700 million. It passed the Senate 25-3 and the House 50-23.
Senator Jake Anderegg (SD 13) noted that while surveys showed OSN would be able to collect enough petition signatures to put the issue on the ballot, they would not get the votes to pass it. Anticipating this, OSN proponents approached the legislature to persuade them to pass a tax increase that would bring more money to education.
Rep. Cory Maloy (HD 6) said the bill included four main elements: a drop in the income tax, a "single sale factor formula" for the manufacturing industry, a freeze on the current property tax rate – which everyone acknowledged actually raises taxes – and a small increase in the overall property tax rate.
Lehi's elected officials didn't see the tax bill the same way, with Anderegg and Rep. Kay Christofferson (HD 56) voting for the measure, and Maloy voting against.
Christofferson and Anderegg expressed the opinion that education needs more money and HB 293 approached the issue in a workable way.
"The legislature has kicked the can down the road for 11 years on this," said Anderegg. "Since we modified things back in 2007-08, our general fund has been shrinking. Not only did [those tax changes] take money from education, but we've been taking $100-$150 million every year from the general fund to fund education. We have a sinking ship. We needed to stabilize the ship. This repairs the hole in the public education funding proposal. I hate raising taxes, but for the second time in my life I voted to raise taxes because if we didn't do this we would just be that much worse off in just two-three years. We can't punt anymore."
Christofferson said he voted for the bill because he agrees that education needs more funding and he felt this bill would "head off" the efforts of OSN. "It adjusts some of our [tax] structure, it's give and take, and it does that a little bit more to the whole structure." He also supports how the bill helps "equalize income taxes for districts." Overall, he said, it benefits education, so he was willing to support it.
Maloy has held the position that education doesn't need more money, but better management. Even so, he said he was willing to consider some of the proposals in the tax bill because elements of the restructuring created "somewhat less of a burden on taxpayers."
But during negotiations, he felt OSN "blackmailed" members of the legislature when they insisted on inclusion of the fuel tax hike ballot measure and lumping all the proposed items together in the same bill, rather than separating them out for individual consideration, as expected. While he would have voted for the income tax drop and the single sale factor formula, he couldn't support the rest.
"We need to say no to these guys and trust the taxpayers," he said of OSN.
Other critics of the bill have expressed concern that if the legislature continues responding to unpopular citizen initiatives with bills that meet many of their demands, people with agendas may start running more initiatives with the expectation that the legislature will just do the work for them.
Another item debated in the final days of the session was HJR 16, which would have put a measure on the ballot for a change to the state constitution eliminating the elected state school board and directing the governor to appoint a state superintendent to oversee the state office of education. One proposed amendment would have changed this proposal to direct the governor to appoint a seven-member school board.
After the resolution sailed through the Senate on a 22-6 vote, with Anderegg enthusiastically voting in favor, the House heard from many constituents and advocacy groups on the issue and ultimately voted it down 18-54, with both Christofferson and Maloy voting against.
Lehi legislators' report sponsored bill progress
Each of the legislators ran and passed several bills. They discussed which ones they were most pleased with and what they may do next year and during the interim.
Among the bills he ran, Anderegg was pleased that his bill to give money to the Silicon Slopes Tech Summit, SB 146, passed. He was also proud of SJR 14, which he described as giving more autonomy to members of the legislature as they engage in activities related to international trade.
"There's a lot that happens during the session and I know that we don't always get it right," he said. "I'm happy to discuss any of my votes with anyone who calls."
Christofferson was happy to see his bill HB 279, which keeps government owners of projects from requiring designers to cover all liability. He was also pleased with HB 226, which designates what times of enforcement officers can issue which types of citations. "It keeps enforcement officers from enforcing nitpicky things," he said.
He was disappointed that he wasn't able to get his bill to eliminate tax incentive program through the Governor's Office of Economic Development (GOED) through, but will be engaging in discussion with representatives from the office during the interim as he moves forward on the idea.
He welcomed constituent involvement and encouraged constituents to read over bills that they hear about to get the big picture of what the bills are doing. He said sometimes people contact him only know parts of a bill via media interpretation of it, and it makes the discussion much more fruitful when they can discuss the bill as a whole.
Christofferson will run for a fourth term this year. There is one candidate who has filed to run against him: Isaac Walters from the Utah United Party.
Among Maloy's bills, he said was most pleased with his bill to allow recordings of emergency calls to be used for training emergency responders, HB 56. "That one has the potential to really save some lives," he said. He was also pleased with his occupational licensing bill, HB 173. He said the bill, which allows the state to issue occupational licenses to those who move here with licenses from other states, helps employers as well as those with the licenses.
He was most disappointed that HB 129, his bill to clarify an individual's rights in self-defense situations, didn't pass. It made steady progress through the House and onto the Senate floor, but simply ran out of time, ending as discussion item #3 on the Senate list when the session ran out of time at midnight on March 8. He will run it again next year.
During the interim, he will be meeting with the Towing Advisory Board to work on towing regulations. He expects a bill or bills to come out of that process for next session.
Maloy will hold a Town Hall meeting for precinct chairs and delegates in his district this Saturday, March 17, at 10:00 a.m. at his home at 283 E 500 N, Lehi. He will report on his activity during the session and talk about running a successful caucus, as well as his campaign for a second term, which got underway when he officially filed as a candidate last Friday.
He encouraged members of the Republican party "to stay on top of" the situation in the GOP in the wake of a bylaw change in late February. "It's more important than ever before for everybody to get out and go to their caucuses," he said. "There are a lot of things going on that can have bad impacts on candidates, elected officials, the party."
While Maloy focused on the situation in the GOP because that's his party, he strongly encouraged members of all parties to "get out to the caucus of their choice and participate."