Lehi students participate in national school walkout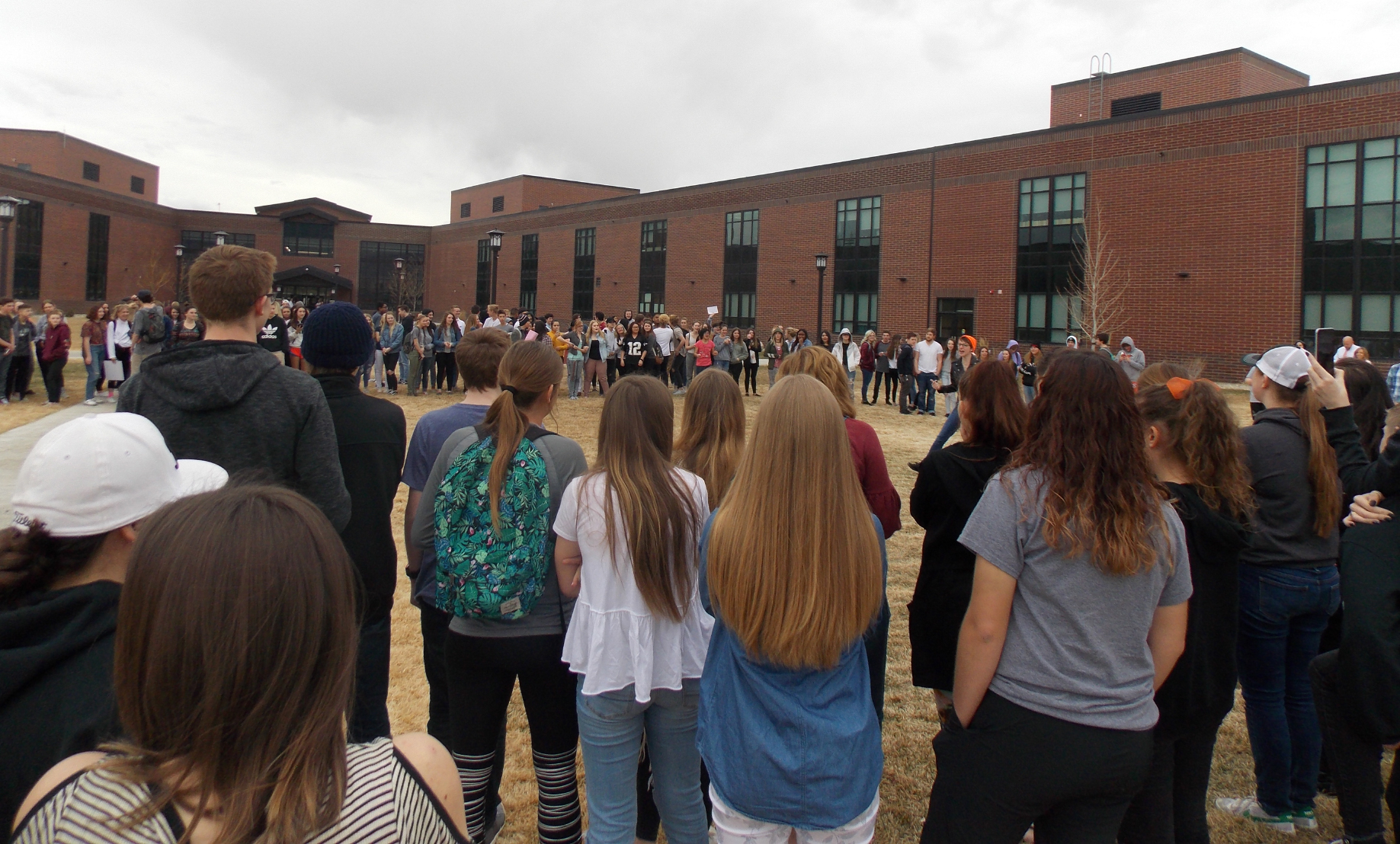 On Wednesday, March 14, 2018, as part of the #Enough! National School Walkout, students across the county left their classes in planned protest at 10 am, one month after the deadly school shooting in Parkland, Florida.
Students walked out in protest at Lehi High School and Skyridge High School, as well as students at Lehi Junior High School. Students at Skyridge left classes and began to file out of school to the courtyard area behind the library, just after 10 am. School administration officials were on hand to make sure students knew where to go and had designated the area as a safe place for the group to gather. A group of around 200 students gathered and milled around talking. When asked why they were outside at the time, one 11th grade student said, "For the victims of the school shooting." A 10th-grade student stated, "We're just kids. We are here trying to learn." Her friend quickly added, "We should be safe at school and not have to worry about anyone coming in and shooting at us." One senior stated, "We're here to honor the people that lost their lives in school shootings, and to make a stand for our thoughts on gun control." When asked what his thoughts were on gun control, he stated, "People have guns that are supposed to protect people, but people are using them in the wrong ways and it's not ok."
After a few minutes, students began to chant "enough is enough" and formed a circle linking arms. While no one student or group planned this as an event, one young woman took the initiative and spoke out to lead her fellow students. She spoke about the increase in school violence and taking a stand to have their voices heard. Then, as the leader of the group, she said, "For the last two minutes, let's all take a moment of silence in recognition of the victims of these attacks." After two minutes of silence had passed, at 10:17 a.m., students all filed quickly back into the school.
Students at Lehi Junior High School participate
A crowd of 100 or more junior high students mingled at Lehi Junior High. Two lone students under a single umbrella emerged, as perhaps the only ones who actually observed the 17minutes of quiet called for in the National School Walkouts to honor the slain students of the Florida school shootings.
Eighth graders Katherine Best, on right from back, and Molly Jenkins, huddled together in silence. Best said, "It's not wonderful that so many died, but it is a wonderful thing to be able to save so many lives." It seemed everyone else just enjoyed a few minutes outside of class visiting, throwing a football, and chatting.
"This was supposed to be student-led, and our student council is learning how to do that with a large group," said Lehi Junior High Principal Kevin Thomas. "They were not very successful today. The moment of silence was observed by very few. During our announcements, they did ask students to Walk Up to new people and make connections. Learning to be a citizen is a process."
Whether students understood it or not, the National School Walkout was organized to protest gun violence and to call for new gun control measures. The Walk Up Not Out movement emerged as an alternative to the Walkout. This movement encourages youth to be friendly and kind to all with the hopes that such inclusion will help prevent outbreaks of violence.
The event today represents the largest student-led walkout or protest in the history of the United States.
In anticipation of this event, Alpine School District released the following prepared statement.
"The tragedy in Broward County a few weeks ago and other losses of life on school campuses across the nation over several years has driven increased interest in student-led civic engagement efforts and actions, including the idea of school walkouts. Alpine School District supports students' Constitutional rights to peaceful assembly and free expression. Our goal in responding to walkout plans and other forms of peaceful assembly is to try and keep focus on teaching and learning while providing guidance and planning to support student and staff safety. School violence is not acceptable. We have encouraged individual schools to work together with their student, parent, and teacher leadership teams to determine involvement and/or to develop plans for March 14th."