Adobe features Utah Artists at gallery show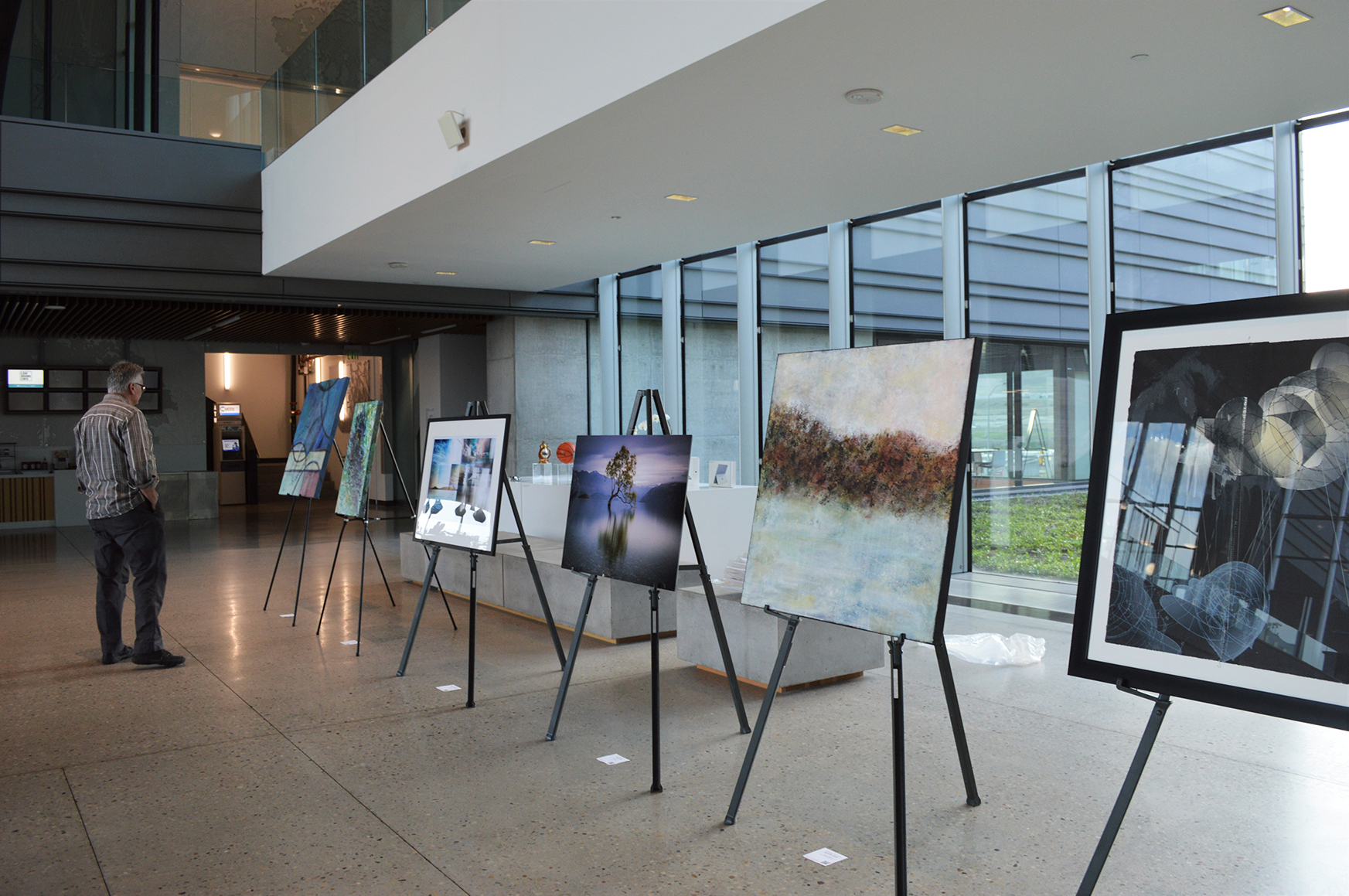 The Adobe building in Lehi features many windows that look out on the mountains and Utah Lake, but there are plenty of blank interior walls for artwork. The subject of the Lehi Adobe building's need for artwork came up between two Adobe employees in an airport a few months ago and led to Andrew Ehninger, an artist and curator, to put together an art show at Adobe featuring Utah artists.
"To be honest, my first thought was 'That's a lot of art I could sell!'" laughed Andrew Ehninger. He decided, however, to open the opportunity to emerging and established Utah artists instead. "Utah has a tight gallery scene – only established artists get in to the established galleries. If you're an emerging artist, it's hard to break the barriers. This show features artists showing a piece for the first time and others who have been showing their work for 30 years. We are breaking those barriers with this opportunity." Adobe took zero commission for the art featured in the show. A typical gallery takes around 60% commission when an art piece sells.
One of the featured artists at the Adobe show was Simon Blundell, an instructor at the University of Utah, who uses Adobe Photoshop to create his photo collages. Blundell had an exhibition at the Salt Lake City Library last month and one of his photo collages is currently on display at the Springville Art Museum. Blundell's piece in the Adobe Art Show layers waves with sky, a window over a burst of sunlight through clouds, and variations of blue blending into black and white. "This is all collaged in Photoshop, so that's what is cool about being part of the Adobe show – I use their software. It gives me full control over tone and color and it allows me to scale things up and down as well," explained Blundell. The photography world hasn't gone 100% digital. Blundell still uses analog photography and works in the darkroom to get back to his roots. "There's something about connecting to real objects – I can create this stuff in the computer but it doesn't really become final until it's got an actual embodiment in some type of print. It's a really important component in art making," said Blundell.
After the art show at Adobe last Thursday, May 17, all the pieces will be moved to a beautiful stairwell inside the building where Adobe employees and visitors (approximately 30,000 per year) will be able to view them for the rest of the year. "That's a lot of exposure and opportunity for these artists. People who wouldn't normally visit a gallery will be able to see these pieces. The idea is to bring the art to them," said Ehninger. The art pieces are for sale and will also be viewable on Adobe's website while they are on display.