The Norris family loves rodeo, and that's no bull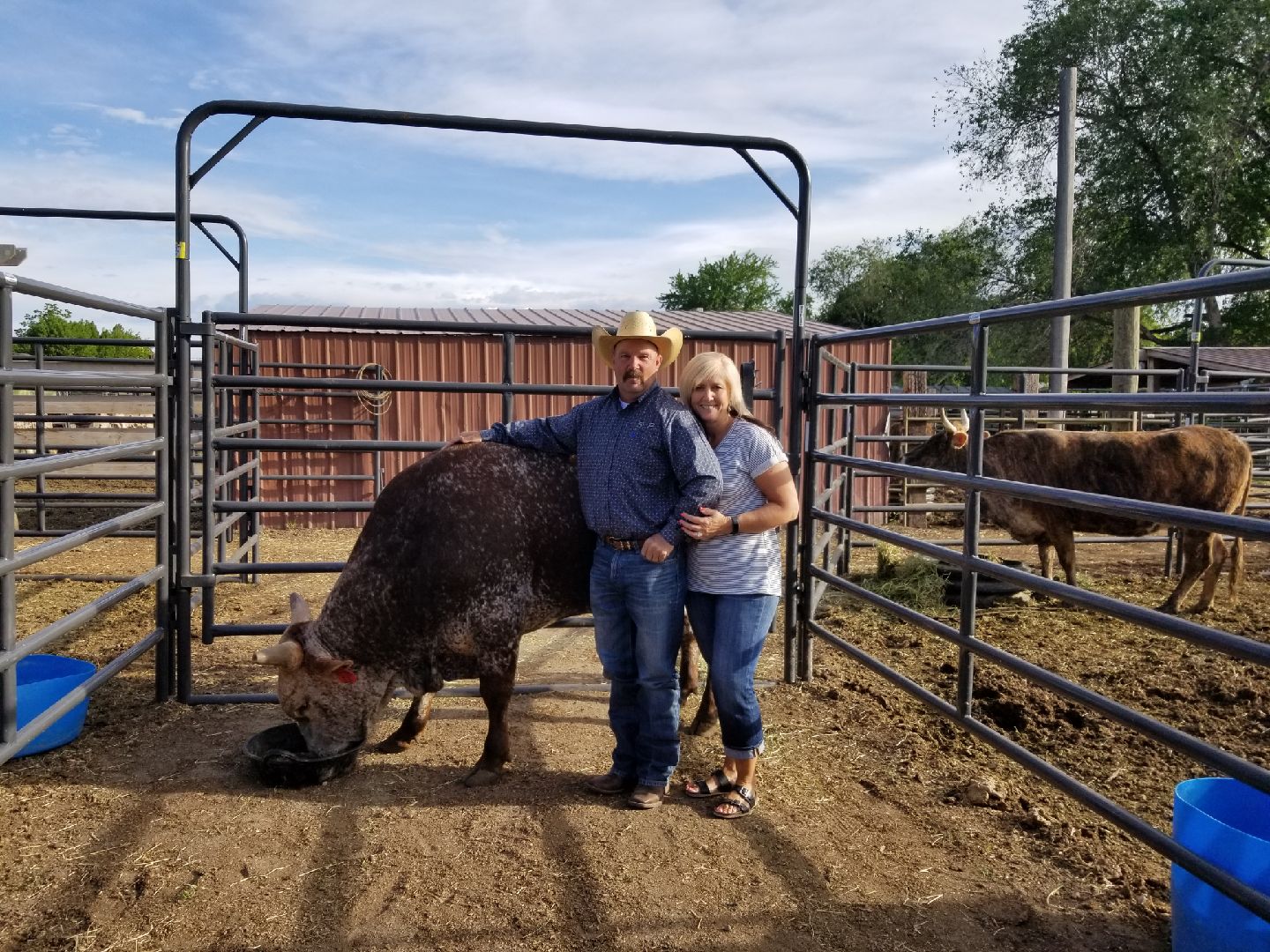 When Linda and Kenny Norris were raising their three kids, Brad, Ken, and Jan, summers were a family affair, traveling from one high school rodeo to another all over the Utah and surrounding states. The passion for rodeoing was evident in all they did and it did not end with Ken's untimely passing.
Ken Jr. and his wife Robin continue to be involved in the excitement of the rodeo but in an entirely different arena–raising Brahma bulls. In 2008, the younger Ken Norris bought three Brahma cows from Bar T. Ranch in Chester, Utah. He leased a bull with great expectations of starting his own herd. Nothing happened. He took two heifers back to Chester. Not to be deterred, he traded the cows and got two new cows who gave birth. He bought a bull one year later named Silver Tuxedo. He is the king Brahma in the Norris' Brahma herd.
Breeding Brahma bulls is an exact science. The blood lines have to be just right. The cattle are crossbred Brahma bucking cattle. Norris' cattle are registered with the American Bucking Bull Corp. Norris works with the bulls daily. "They have to be trained to have good habits," quips Norris. "You can't trust them and you have to keep your eyes on them all the time. They are used to me and I can train them without too much worry," Norris reassured.
The bulls cannot be ridden until they are three years old. They are trained with a machine on their backs for the first two years. The Norris' are proud to show a picture of one of their bulls who won an engraved buckle and a $3,000 check for being the best two- year old in a bucking competition. The bull was the "Futurity Champion" in a competition of over 100 entries.
Robin is quick to point out that raising the bulls is a way to engage their grandsons, Stran, Jett, Hudson, Hank, and McKray, in the bull raising endeavor. The young boys learn to feed them, clean stalls, and be responsible for developing the animals into champion bulls. Each grandson is given the task of naming and caring for their own bull. These young entrepreneurs are all hoping to one day have a bull chosen to compete in PBR (professional bull riders) rodeos held all over the nation. "We want the boys to learn the value of hard work and responsibility in the process," said Robin.
One of the highlights the Norris' provided for their grandsons was taking them to North Dakota to visit with Chad Berger, seven times PBR contractor of the year. The trip was to provide motivation for the boys to see what is involved in raising championship bucking bulls. "We don't make a lot of money, but we are teaching the grandkids valuable life lessons," says Robin. "We are now working on our third generation of bulls. We hope to get one to the PBR, but in the meantime we are helping keep our western heritage alive."