Lehi resident stars in new Emma Smith movie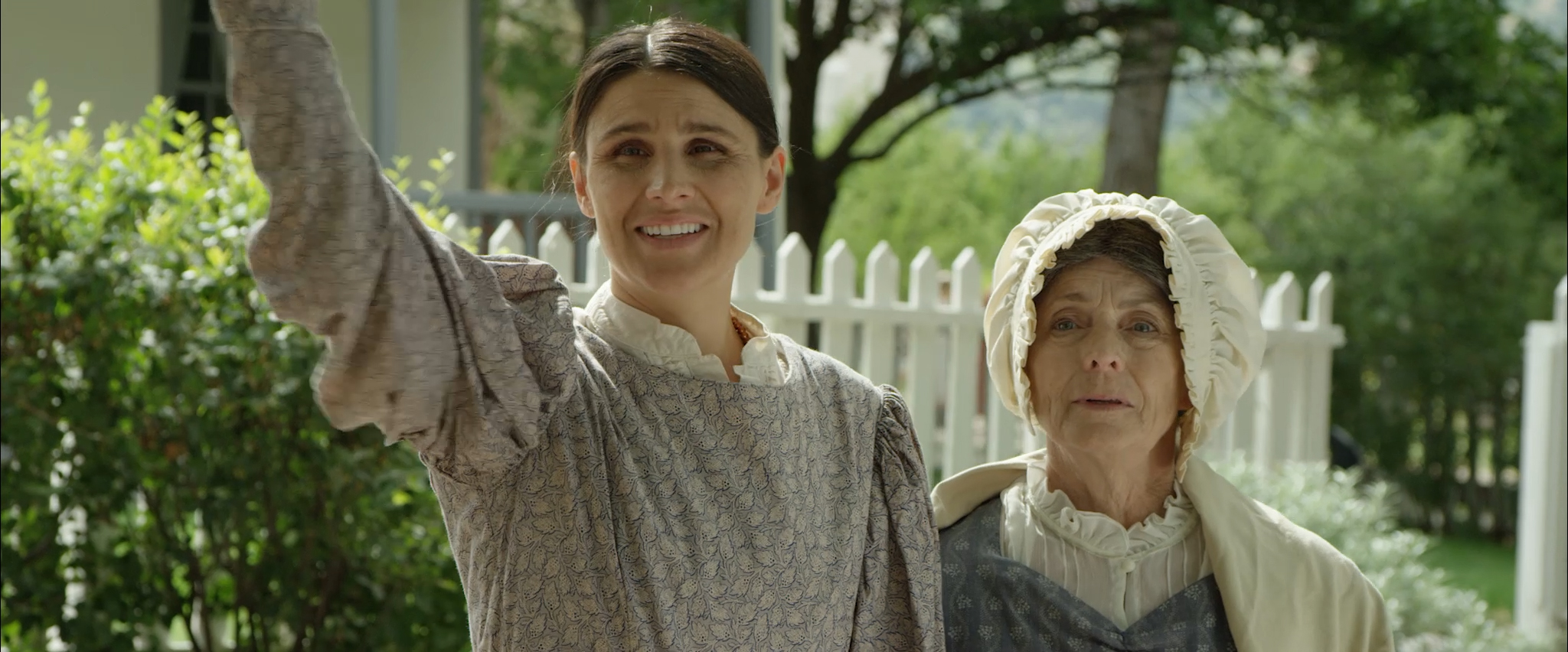 When Shona Kay Moyer realized a successful acting career in Los Angeles came with more strings attached than she could bear, she chose to return to Utah where she hoped acting opportunities would not come at such a cost.
Although Moyer found that even in Utah she, "would have to make similar choices again and again." She has never looked back.
Now, ten years later, the British actress, mother of three and Lehi resident plays Emma Hale Smith, wife of Joseph Smith, prophet of The Church of Jesus Christ of Latter-day Saints, in the new movie, In Emma's Footsteps, which is playing in local theatres now.
The movie picks up immediately after the prophet was killed at Carthage Jail in Carthage, Ill., on June 27, 1844. Emma did not travel West with the Saints, but chose to stay in Nauvoo, leaving questions to this day about her choices and faith. The movie highlights Emma's experiences during this time and the sincerity of her heart.
"Emma is still relatively unknown to the world," said Moyer, "unknown and misunderstood, in particular during the period of time that this film focuses on. She was pregnant at the time of Joseph's death. She still had all of the same responsibilities the day after he died as she did the day before, and she had to carry on without any real time to mourn. Her first priority was her children, who were witnesses to all of the violence and sorrow that was inflicted upon the Mormons at that time."
In an effort to make sure she got Emma right, Moyer read everything she could get her hands on about her. "The process of preparing to play Emma has been a long one," said Moyer, "years in the making. I have played her in two other film projects and each time I learn more and discover more about her strength, her charity and her unique ability to forgive those who, intentionally or not, made life difficult for her and her children. Some of whom actively sought to ruin her."
No matter how much people feel they know Emma, Moyer said, "This movie will give viewers a better sense of her."
Born in Orem to a Scottish mother and Dutch, BYU-attending father, Moyer returned to England at age two, where she was raised in an LDS home with one older brother and three younger sisters. When she was 12, her father left, and they were raised by their single mother.
At the age of 18, she graduated from South East Essex College with an associate's in performing arts and was working with a performing dance company in London as well as booking work in the music video and film industries. A year later, she came to America to study at BYU.
"It was my mother who encouraged me to apply to BYU because of their wonderful music dance theatre program," she said.
"But secretly," laughed the actress who most definitely speaks with a British accent in real life, "I think more than likely she was just trying to find me a Mormon husband." If those were her mother's intents, she knew what she was doing because the actress did meet her husband, Todd Moyer, on a blind date in Utah. They moved to Lehi in 2013.
At BYU, Moyer realized film acting brought her the most joy and so she began to pursue a career in film. "I became a flight attendant so that I could still attend my acting classes in Utah but also have the opportunity to fly to L.A. for auditions," said Moyer. "I signed with an agency, L.A. Talent, and booked some small jobs here and there. I was then offered an opportunity of a lifetime by a very successful movie producer. However, I soon realized that if I accepted the role that it would be at great cost and conflict directly with the life and choices I had been raised to live." So, she came back to Utah.
"Living and working in Utah has given me the opportunity to work on projects that usually have topics or content that are in align with my own standards," said Moyer. "We are also able to live in a place where we can raise our children in a community that reflects the morals we try to live by."
Today, the actress feels her involvement in In Emma's Footsteps was no accident. "In truth," she said, "I feel I was called to it. Prepared for it. I felt inspiration and support for this movie to be made from beyond this world—a very real connection with the people whose stories were being told. At times I felt influenced during scenes with choices and emotions that were not my own.
"As a result of being a part of this film," she said, "I feel my life has been forever changed for the better."
If you would like to see more movies like In Emma's Footsteps, make sure to support them while they are in the theatre. See In Emma's Footsteps at Megaplex Theaters at least until June 14. Check local listings for tickets and showtimes.