Organ transplant recipients heal donor families' hearts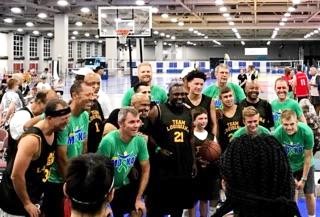 On December 11, 2001, siblings Kami and Zach Taylor's life was changed forever when their mother, Bonnie, died suddenly of a brain aneurysm at 52 years old. On her driver's license, Bonnie Taylor marked that she was an organ donor. That check mark and a very brief conversation with Kami years before led to saving the lives of four people, and it also made Kami Taylor and Zach Taylor passionate advocates for organ donation.
"I don't think people realize what a small window there is for organ donation. You almost have to just be brain dead – everything else needs to be working. Otherwise, your organs aren't receiving blood and oxygen and they aren't of any use to anyone," explained Kami Taylor. "I can't think of a scenario where an organ donor would know in advance that they could be an organ donor. It's always a tragedy. That's why having the conversation beforehand is so important."
Kami and Zach Taylor were still reeling from making the decision to take their mother off life support when a hospital employee approached them and asked if they would be willing to donate Bonnie's organs. "It was amazing how long the list of items to donate was, it was about 20 pages. They have to be very specific. We elected to donate the four major organs," remembered Zach Taylor.
On that tragic December day when the Taylors lost their mother, a 35-year-old husband and father of two, Mike Strauss, was preparing for his final Christmas. Strauss had Primary Sclerosing Cholangitis, a long-term progressive disease of the liver and gallbladder. Years earlier Strauss had refused a liver transplant because he was feeling so healthy and strong, he wanted the liver to go to someone who needed it more than he did. Fast forward to 2001 and Strauss was dying, his doctor predicting he only had a few weeks left. Bonnie Taylor's liver saved Mike Strauss's life.
Intermountain Donor Services (IDS) is an organization that puts the families of organ donors and living donors in contact with transplant recipients. Kami and Zach Taylor got a letter from the woman who received their mother's kidney, but it was soon after their mother's and neither Kami or Zach felt ready to connect with her. In 2003, Mike Strauss sent a letter to IDS and they forwarded it on to Taylors. This time, both Kami and Zach felt strongly about meeting the recipient of their mother's liver. The Taylors arranged to meet at the Salt Lake City Library at a ceremony for the organ donors memorial that was taking place there. "We did not anticipate what a big event it would be," recalled Kami Taylor. "We thought it would be so easy to find each other, but we got there and there were hundreds of people. We happened to be kind of away from a crowd near the city building when Mike and his family came around a corner and it was weird because we just knew it was him. We'd never met each other, never seen each other. We just knew."
Over the last 15 years, Mike Strauss has celebrated his milestones with the Taylor family. They get together during the Donate Life Transplant Games (www.transplantgamesofamerica.org), a multi-sport festival event for individuals who have undergone life-saving transplant surgeries that is open to living donors and organ transplant recipients, where Kami Taylor volunteers and Zach and his wife, Andrea, and their children watch Strauss compete. Every December 12, Strauss sends an email to Kami and Zach thanking them for another year of life with his family. Strauss's oldest son recently got engaged and the Taylors are looking forward to attending the wedding in 2019.
"Donor families always get so much praise at these events, but I don't feel like we did anything. I would not have been able to get out of bed after my Mom died if I didn't know something good came out of it. Instead of saying, 'my Mom died when she was 52,' I get to say, 'my Mom made it possible for four people to live.' Most people don't get to say that," said Kami Taylor.