Carl Buhler's extraordinary legacy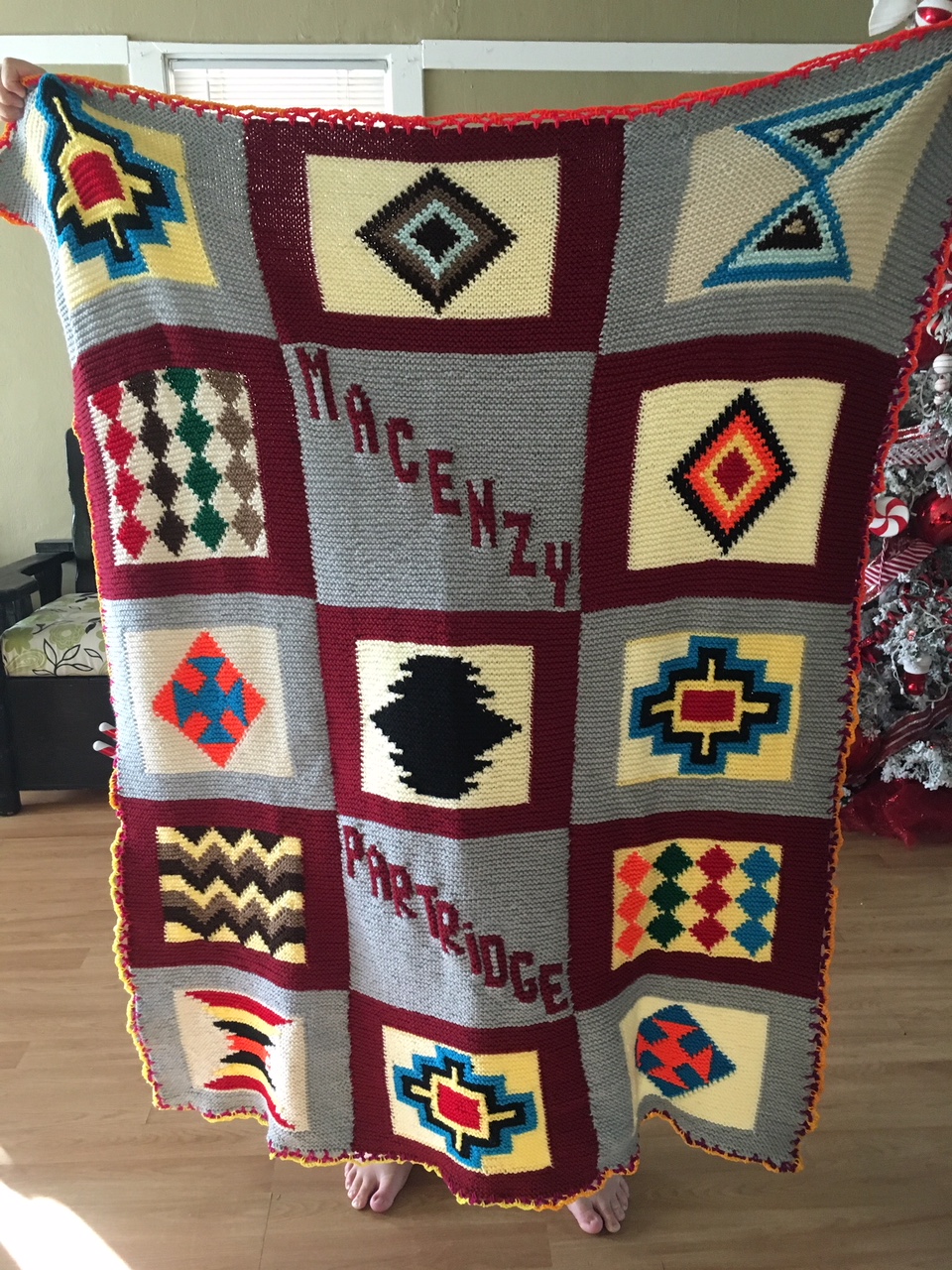 To know Carl Buhler is to love Carl Buhler. The long-time Lehi resident who passed away several months ago, was often referred to as a "gentle giant." He loved his family, his faith, his vocation, and knitting (that's right, knitting)!
When Carl was 9 years old, his grandmother taught him how to knit. The skill was almost forgotten until many years later, when Carl was diagnosed with arthritis. His doctor told him he needed to keep his fingers moving to avoid the crippling effects of the disease. Over the course of thirty years, Carl knitted over 200 afghans. All his children, grandchildren, friends and neighbors were the recipients of his intricate handwork. A creative genius, he never used a pattern, but found inspiration in coloring books and magazines.
One of his neighbors, Darlene Gray, asked him to knit an afghan of the world. "That was one of the most difficult ones," said Kathy, Carl's wife. Gray attached ribbons with the names of her children and grandchildren and where they served missions for the Church of Jesus Christ of Latter-day Saints on the knitted afghan. He was also proud of the afghan he made for his oldest son, Jared. It was an American Flag. All the stars were individually embroidered on the afghan.
When Carl was not knitting afghans, he knitted caps for Mothers Without Borders, a humanitarian program started in Lehi by Doris Woffinden and Julie Berry. The caps have been given to people all over the world.
"Carl would listen to books on tapes while he knitted," said Kathy. "He loved the Work and Glory series and the Mortal Messiah. He listened to them over and over.
Carl served a mission in Cumorah, New York. In one of the productions of the Hill Cumorah Pageant, Carl played the role of King Lamoni. Carl's photo, dressed in King Lamoni finery, was featured on the front page of the New York Times.
Carl was born and raised in Midway, Utah from Swiss/German ancestry. Not only did his Grandmother Hasler teach him how to knit, but also how to bake. He loved to bake authentic swiss bread. Giving away Carl's baked bread during the holidays became a family tradition for many years.
Kathy and Carl met their senior year at Wasatch High School. She waited for him while he served his mission and they were married three weeks after he returned home. "I sat with him on the stand when he gave his homecoming talk," said Kathy laughing.
The Buhlers have lived in Lehi for 37 years. Their five children, Jared, Heidi, Nathan, Heath, and Seth graduated from Lehi High School. The boys were football players and the Buhlers could always be found in the stands cheering for their sons.
In addition to knitting, Carl loved to grow a garden and then can the produce. His pantry was filled with tomato juice, tomato sauce, and many other jars of delicious fruits and vegetables.
Carl worked for Lehi City for fifteen years. He was in the maintenance department for several years before being named sexton for the Lehi Cemetery. He loved his job and those who worked with Carl, loved him. His quiet nature, hard work, and commitment to making the cemetery a place where Lehi citizens could be proud to lay to rest their family was legendary. Many times Carl and his entire family could be found at the cemetery, trimming, clipping and mowing around the headstones.
According to former Lehi City Mayor Ken Greenwood, "Carl Buhler is one of the finest human beings that ever lived. He performed miracles at the cemetery on a shoe-string budget."
A fitting tribute to Carl was the row of mowers and diggers lined up around Carl's grave by city workers. He was a man's man, but also a man of infinite patience, compassion, and devotion.
This slideshow requires JavaScript.