Major traffic changes in Lehi start Thursday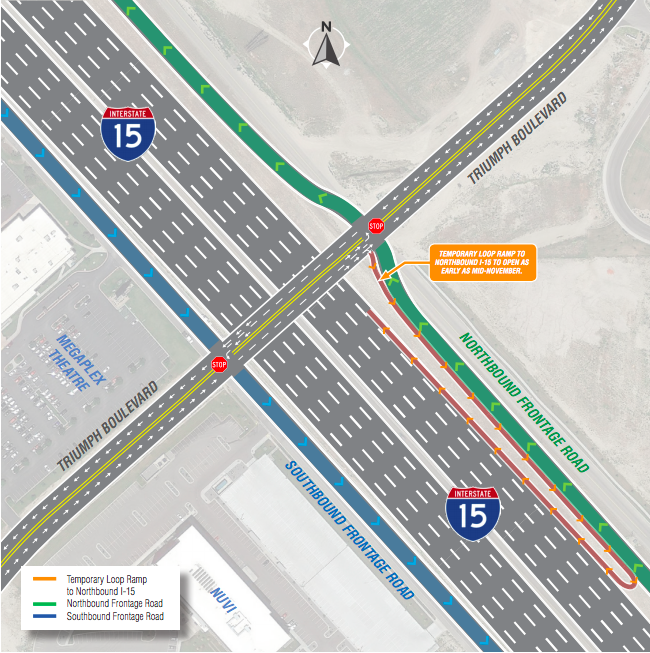 One-way frontage roads to test locals' patience
With the accelerated bridge construction schedule, the Utah Department of Transportation released an update to the workings of the I-15 Tech Corridor project from Lehi Main Street to State Road 92.
The Triumph Boulevard Bridge will be open to traffic as early as Thursday, November 1. The bridge will be in an interim configuration with one through lane, open in each direction, and turn lanes.
In mid-November, a temporary loop ramp to northbound I-15 will open, allowing traffic to access northbound I-15 from the new bridge as an alternative to S.R. 92.
One-Way Frontage Roads
When the bridge opens, the west side frontage road will be permanently converted to southbound traffic only. The east side frontage road is open to northbound traffic only.
2100 North Traffic Changes
In mid-November, 2100 North will close for one weekend under the I-15 bridge.
To accommodate construction when 2100 North opens after the weekend closure, it will be reduced to one lane in each direction under I-15, so crews can reconstruct the I-15 bridge. To keep traffic moving with the reduced lanes, the interchange will be converted to a temporary Diverging Diamond Interchange (DDI) which will be in place into 2020. Drivers should plan ahead for additional delays during peak hours or use an alternate route.
The existing southbound I-15 on-ramp will close, and a temporary loop ramp to southbound I-15 will be open to traffic in a new location.
Construction schedules are subject to change due to weather or equipment issues. UDOT encourages drivers to use caution and adjust driving patterns accordingly.