Modersitzki family donates $10 million to Primary Children's Hospital in Lehi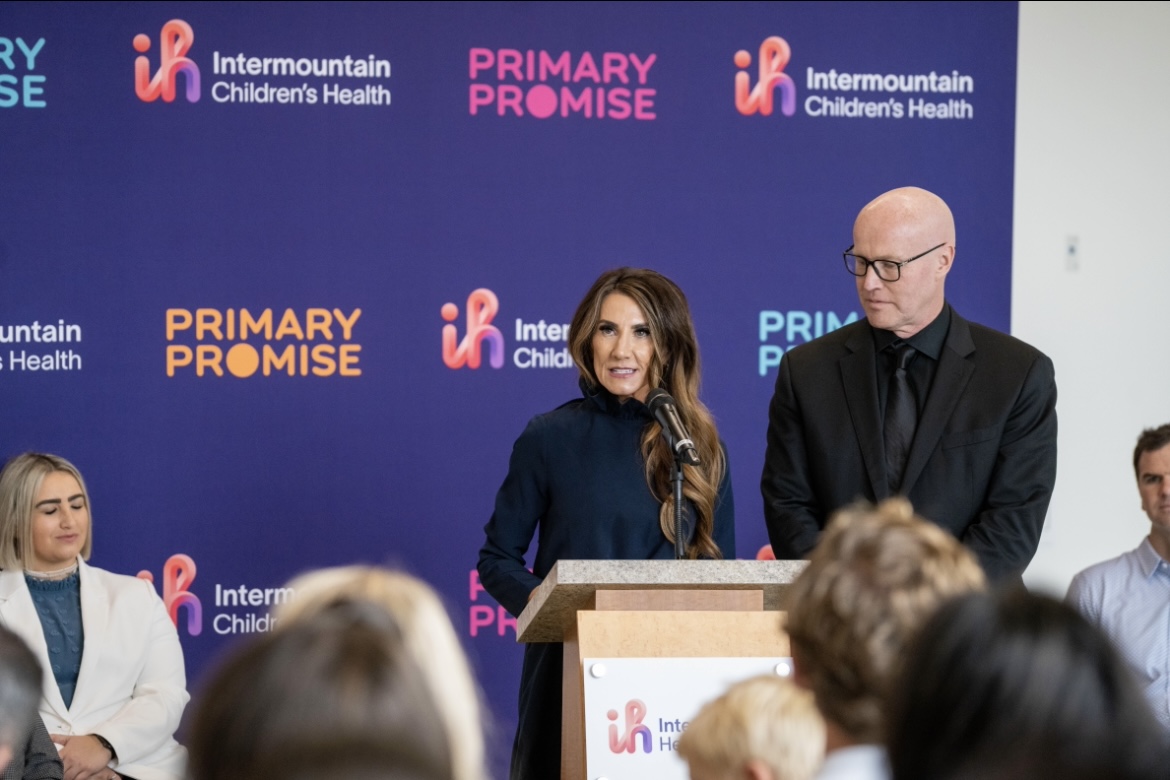 In 1975, the Church of Jesus Christ of Latter-day Saints, the founder and owner of 15 hospitals and healthcare centers in the intermountain area, turned the hospitals over to a governing board with the charge, "We want the people of the intermountain West to have the best and most affordable healthcare available."
Today, in keeping with this responsibility, Intermountain Health announced a gift to the new Primary Children's Hospital, Larry H. and Gail Miller Family Campus in Lehi of $10 million from the Blake and Sandy Modersitzki family. The gift helps fuel Intermountain Health's more than $600 million "Primary Promise" initiative to build upon its 100-year history and create the nation's model health system for children by strengthening Primary Children's Hospital, extending pediatric excellence, and addressing emerging needs of a growing pediatric population. To honor the gift, the campus's gathering and educational space will be named The Blake and Sandy Modersitzki Family Education & Conference Center.
In presenting the gift, Sandy expressed gratitude for the care their 4-year-old niece from Idaho received as a brain cancer patient at Primary Children's Hospital. Their grandmother, a nurse, was instrumental in motivating the family to be involved in the medical profession. Blake joked, "My grandmother was a keyboard operator at the hospital, and our other grandmother was a nurse. We grew up in a hospital. We really thought we ran the hospital."
Blake said, "My grandfather grew up in Poland, a member of a prominent family. WWII turned our family into immigrants. This [donation] is a way we can honor our name. We are excited to be part of this hospital."
Sandy added, "This journey began when I had lunch with Gail Miller. We had originally committed to donate $1 million to the hospital. After several meetings, we felt we could donate $10 million."
"I remember a series of texts I received from Sandy. I was distracted and texted back, 'OK,' only to review the texts to see the sum of $10 million. We had just given away our daughter's inheritance," said Blake.
Sandy concluded, "We have gained so much more than we have given. This is our legacy to help children. We are excited to be part of this hospital."
As part of unveiling the gift, a Lehi family, Rob and Jenna Blodgett, shared their story. "Talmage, our son, was born with only half of his heart. At three days old, he went in for his first heart surgery at Primary Children's Hospital. We became very familiar with two hospital areas: the cardiac ICU and the cafeteria. We were amazed at the care he received. In the cafeteria, we chatted with parents from all over the west–Colorado, Montana, Idaho, Wyoming and Arizona. We visited with people of all nationalities, income levels, and situations and came away always feeling so blessed." The Blodgett family presented a framed picture of the significant events in their son's journey. In a poignant moment, the Modersitzki's grandson gave Talmage a gift of Legos. The two young boys embraced for just a moment.
David Flood, President of the Intermountain Foundation, spoke directly to the Modersitzki family, saying, "This is a standard of generosity seldom seen in those so young." He also said that the goal of $600 million in donations is already at $550 million. "We can see the finish line. This is a sacred facility. It is a once-in-a-lifetime opportunity to be part of a legacy that will do much good in the world," he concluded.
The hospital will be finished in early 2024. The entire community is looking forward to the opening of the facility. Saff and leaders guided the media and attendees on a tour of part of the facility. "We will serve children from a 4000-mile radius," said Flood.
To learn how you can support the Primary Promise campaign, contact foundation@imail.org