Obituaries: Nolan Mac Jensen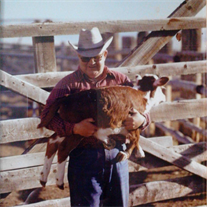 A memorial service for Nolan Mac Jensen will be held at the Cedar Fort Church Sat. May 21st at 11:00 am. A gathering of family and friends will take place 9:00 am to 10:30 am.
Nolan passed away April 11, 2016 (92), in Wellington, AL where he lived his last fulfilling six years with Wendell Mac and Valerie Jensen, sharing laughter with their children and new friends.
He was born in Georgetown, ID but at three years old lost his mother and was raised in Star Valley, WY by his Uncle, Orson and Aunt Margaret Jolley Harmon. He served in the Army (WWII aftermath of Hiroshima). The love of his life was, LaNell Glenn, they married in the Logan Utah Temple June 17, 1947.
Nolan graduated from Utah State University and lived with his wife in Star Valley WY, Logan, SLC, Richfield, Fairfield and Cedar Fort, UT .
He held various farm positions including J.I. Case tractor Company and was Assistant Manager for Century Equipment but his favorite job was managing The LDS Hillside Stake Cattle Ranch in Fairfield, UT. There he could be with family and helped many love the cowboy life. His laughter and happiness were infectious.
He had expertise, education and experience; he fixed cars, tractors and machinery and built much of his own home in Cedar Fort. What he didn't understand he read, and what he read he remembered. His sharp mind was a gift; he could make homemade bread or surgically remove a cow's cancerous eye, make noodles from scratch or do Indexing on a laptop, work with wood or facetime with his grandchildren.
Nolan was the last surviving member of both his birth family and the Harmon family. He was also preceded in death by his dear wife LaNell, his Father Joseph Jolley Jensen and loving mother Emma Isabella McGavin Jensen. We sincerely rejoice in his reunion!
Nolan is survived by two daughters, Toney Linda Palyka and Kathie Isabelle (Mike) Van; three Sons, Deon Glenn (Jill) Jensen, Wendell Mac (Valerie) Jensen and Chris William (CheriLee) Jensen; fourteen grandchildren and nine great-grandchildren.