Obituaries: Joshua Dane Workman (1986–2016)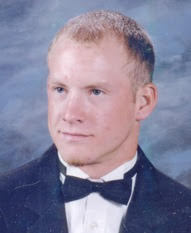 Joshua Dane Workman age 30, passed away due to complications from an automobile accident on Wednesday, May 11, 2016.  He was born January 6, 1986 in American Fork Hospital to Greg Workman and Jamie Barnes Schleich. With blue eyes and dimples Josh was welcomed home by his big brother Jed, from this day on a bond was made that could never be broken.
Josh attended school in Highland and Lehi, graduating from Lehi High School in 2004. He went on to be a refrigeration tech, working with his dad, brother and uncles in a family business. He had a great passion for outdoors, enjoying every sport. He played sports the way he went through life, with gusto. Josh especially loved fishing with his brother. He loved working on cars and had a talent for using his hands fixing anything that was broken.
Josh grew up with his cousins whom he adored. He loved spending time with his Grandma and Grandpa (Grams and Gramps). He could tell you so many great stories, Gramps taking him camping and Grams driving him to school "Down the Big Hill." He had an old soul and could bring sunshine to everyone's life. Josh was a best friend to everyone including his family.
A letter from Nick:
I have lost my best friend. The one who is standing in every childhood memory in my mind. We spent countless days together playing sports, gym, hunting, fishing, chasing girls, and playing "Goldeneye" just to name a few. His personality and humor was contagious. We always knew no matter what the circumstance we had each other's back. I am mentally and physically strong because of him. He has influenced my life more than he will ever know. My heart is forever broken but the memories we share will only make me stronger. I love you, Josh.
We will miss his wisdom, compassion, honesty and friendship.
Josh is survived by his parents Greg Workman and Jamie Barnes Schleich (David), brother Jed Workman, grandparents Gary and Anita Barnes and Sharon Workman.  Preceded in death by his Grandpa Jack Workman. We would like to thank all of Josh's friends and acquaintances (too many to mention). Josh was loved by all!
Funeral services were held Wednesday, May 18th at 11:00 AM at the LDS Chapel located at 2178 North 1200 East, Lehi, Utah. Interment, Lehi City Cemetery.