Obituaries: Marshall Tyler Coe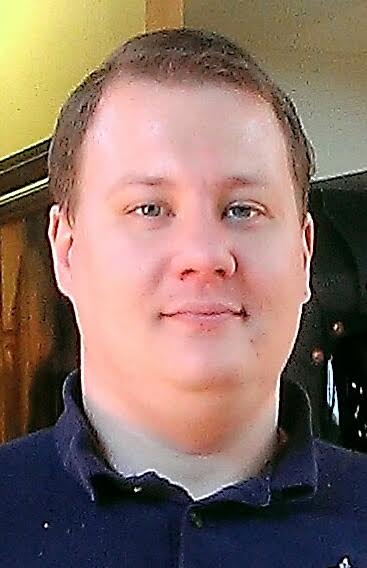 Marshall Tyler Oaks Coe, our loving son, brother, uncle, and friend, passed in his sleep on Sunday, May 15, 2016.  Marshall valiantly battled chronic pancreatitis his entire adult life; our family is deeply saddened this disease has finally claimed him.  Marshall was born on April 11, 1985, in Wiesbaden, Germany.  Marshall had a deep honor for and commitment to God, family, and country.  Marshall earned his Eagle Scout in 2003; his project was collecting and assembling toys for overseas orphanages. A proud Army brat, Marshall always wanted to be a soldier when he grew up, and enlisted in the National Guard on his 18th birthday, 19 months after the September 2001 terrorist attacks. He was able to serve in the National Guard for two years; one exciting event was marching with his unit in the 2005 Presidential Inaugural parade in Washington, D.C.
Marshall cherished his LDS faith, which was a great source of strength and peace for him. He was happy to serve as a temple worker in the Mt. Timpanogos Temple.  Marshall kept busy acquiring as much knowledge as he could, earning a B.S. in Legal Studies from UVU in 2013, and worked as a realtor, and private investigator.  Marshall was a voracious reader, who loved history and war history in particular.  He was a WWII buff, as well as a firearms enthusiast and amateur blacksmith; Marshall crafted his own chain mail and even completed a sword from steel.
Despite the debilitating effects of his pancreatitis and the other severe medical complications, Marshall used his mind, his humor, and his love to bring joy and meaning to his life. Marshall found honor in enduring to the end by making the lives of his family as happy as he could.  He entertained us all with his humorous quips and was adored by his nieces.  Every Halloween he would dress up as a fairy tale hero, and take his "princesses" trick-or-treating.  On Friday, May 13, he dressed up in his suit, and treated his nieces to a decadent tea party. Our family is immeasurably happy that his last good day in this life was spent creating this beautiful memory with the nieces he loved dearly.
Because of his long illness, Marshall was especially empathetic and always eager to reach out to others who were disadvantaged, bullied, or isolated.  Many remember him as being outgoing, cheerful, and very compassionate. As Marshall was unable to realize a military career, he was determined to be a good Christian soldier.
Marshall is survived by his parents, Don and Debra, sisters Amber (James) and Charity, brothers Sterling (Laurel) and Lincoln, and his beloved nieces and nephew, as well as all of his aunts, uncles, and cousins.  He is preceded by his paternal grandparents, Rulon and Beverley Coe, and his maternal grandfather, Hyrum Oaks.
Funeral services were held Saturday, May 21, 2016. Marshall was interred on Monday, May 23, at the Utah Veterans Memorial Cemetery with military honors.