"Get Outside!": North to Alaska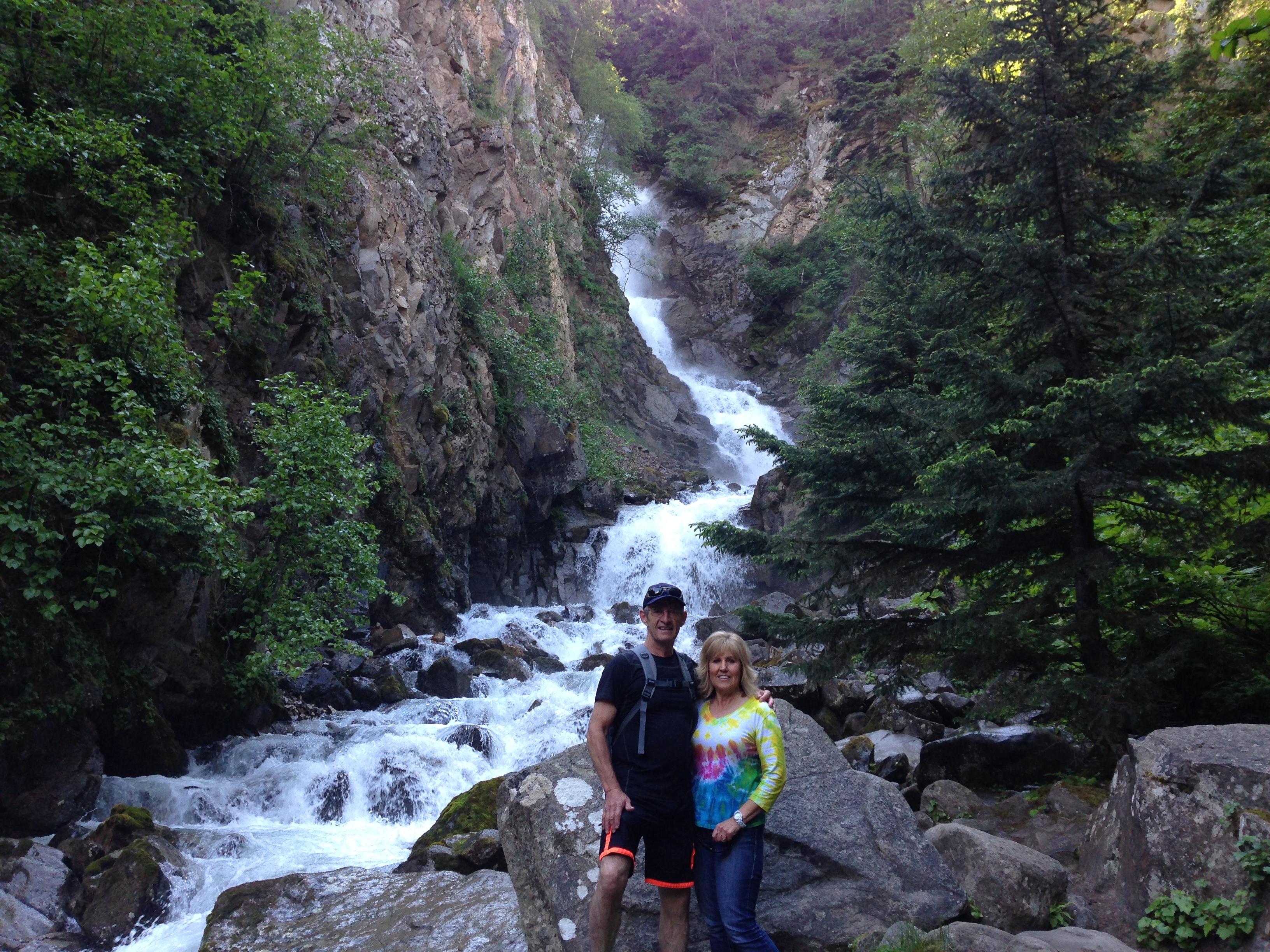 Celebrating 40 years of marriage with my "Miss America" Camille, I booked a cruise last fall. She wanted a cruise and I wanted to see Alaska so we both got our wish.
When we arrived in Seattle to board the ship I was stunned at the size of the monstrous vessel. Everything went quite smoothly as we embarked on our journey up through the Inside Passage. For a full day and a half we cruised northward towards the first port of call, Juneau AK, the capital city of the state.
If you have taken this trip before this travelogue might seem quite ordinary but for us we were wide eyed at the incredible beauty of the Alaska coast. We were picked up at the dock by a bus to take us to another smaller boat to go see whales. Camille was captivated by the enormous size of these sea dwelling mammals. We were treated to an up close view of one big humpback as it breached extremely close to our tour boat.
It rained constantly while we were whale watching but it didn't dampen our spirits as we were dressed for it and it wasn't really cold at all. The evening activity we booked was a salmon bake in closer to the town. I found that fresh salmon grilled outdoors over alder coals was delicious. Back on board the ship I pulled out my binoculars and started spotting Mountain Goats on a tall peak that rose directly above the docks of Juneau. Yessir this was my type of a cruise.
Next up was a day at Skagway. The weather had cleared overnight and the sun was shining brightly as we walked into town. I was in my running gear and Camille rented a bike to tour town. Tiring of the tour boat masses I headed for the outskirts and soon found complete solitude on a dirt trail that ran alongside the railroad tracks past a quaint little cemetery on the edge of town.
Going deeper and farther than anyone else was my goal and Camille turned back when the trail got rough and we noticed fresh bear scat. Running at sea level is much different than here at 4500 feet. I found myself wanting to go in further but decided to turn around and rejoin her at the cemetery. I got a good run in and pushed the pace the last couple miles back to the bike shop. We were heading back into town when we found a wildlife tour van that needed two passengers to fill the seats so we grabbed the opportunity to ride up into the mountains to the Canadian border.
On the way up the tour host and driver was saying that anyone who spotted a bear before him would get a prize… less than a minute later I saw a medium size black bear in the bar pit eating dandelions. "There is a bear," I calmly stated. "Yeah, right," the host remarked as he continued to drive. "Don't you want to look at it?" I said. Not totally convinced, he turned the van around and returned to the spot just as the bear walked up to the edge of the road and continued to graze on the bright yellow flowers. After a few minutes of photo snapping, the van full of excited passengers moved on, leaving the bear to continue doing what bears do… eat!  I received a cheap baseball cap that said "Alaska" on it for my prize.
Glacier Bay was next up on the itinerary and it didn't disappoint. The towering wall of Margerie Glacier loomed at the end of the bay. The cruise ship was dwarfed by the giant wall of ice as we made our way slowly along the face of this impressive towering river of ice. We were treated to a couple of slabs of the glacier falling or "calving" into the bay. The thundering sound of ice cracking and the wave of water it produced was impressive.
Heading back south we arrived in Ketchikan at about 7:00 a.m. I had researched a reputable charter boat to take us fishing for King salmon and we joined with a couple from Florida to try our luck. The fishing turned out to be slow that day but the opportunity to see whales and eagles was hot! Camille got a great photo of a Bald Eagle taking a rockfish off the surface of the water and we saw a Humpback whale surfacing with his mouth wide open within 50 yards of the boat!  Back on board, we headed south. That night the sea became angry and even the huge ship was rocking and rolling.
Victoria B.C. was our last stop and we arrived an hour late because of the rough seas. We walked into town from the ship and found a path through the trees and brush to a wooded park. Right at dusk a velvet racked blacktail buck deer stepped out and gave me the chance to snap a few close range photos. That was a treat as I had never been that close to the smaller cousin of our bigger mule deer. I thought Victoria was a beautiful city and would love to go back and explore more.
I was sad to board the ship that night as I realized that our trip was coming to a close. Camille and I shared a little moist eye together that night as we knew that we would disembark the ship early the next morning in Seattle.
Thank you for letting me relive a few of the moments we experienced on this adventure. I am certainly no expert on the subject but if anyone is thinking of doing a cruise I would wholeheartedly recommend an Alaskan cruise. I could go on and on about the experiences that we had. For me and my sweetheart's taste, it was about as good as it could get.