Birth Center in Main Street Hotel Brings Old and New Together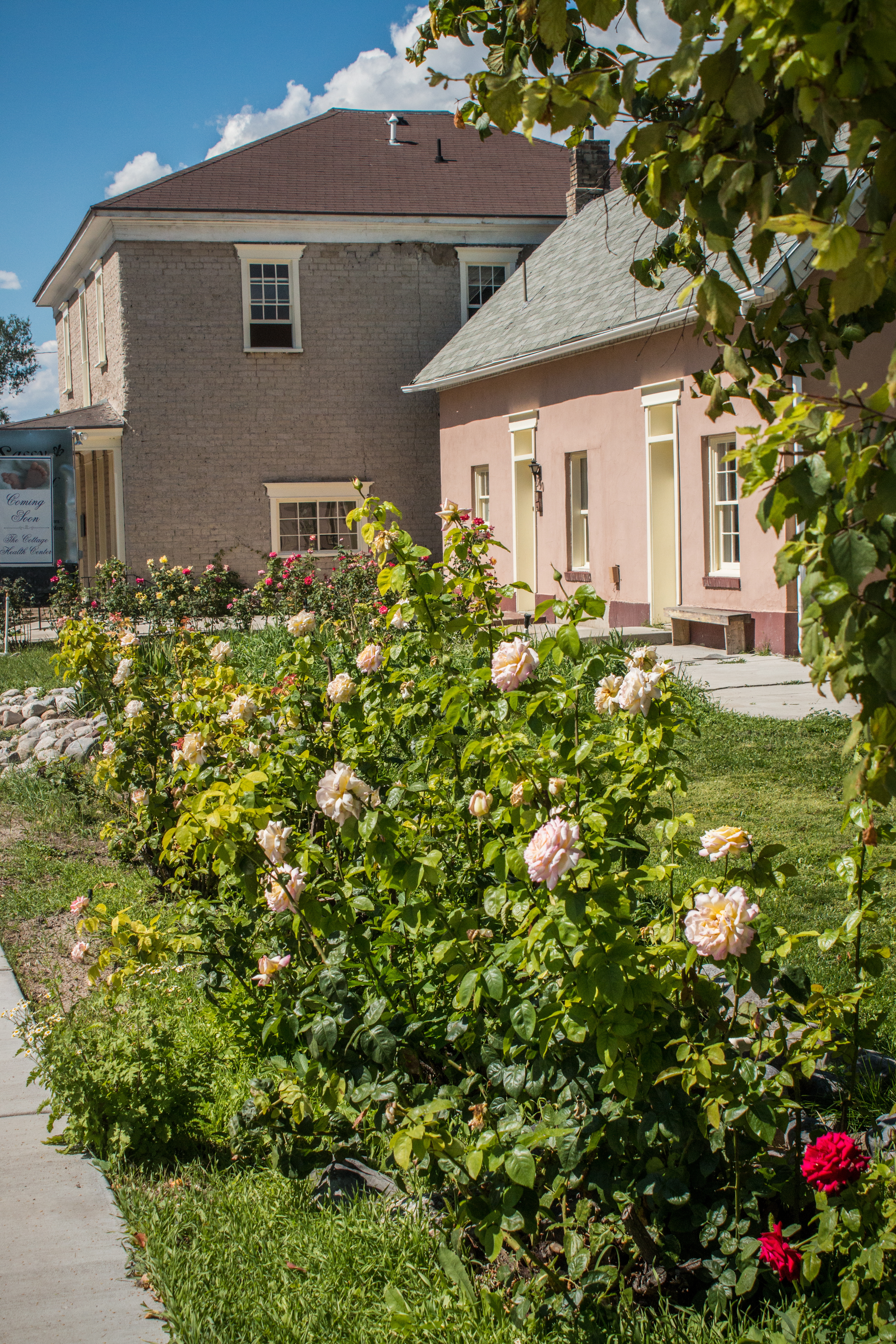 It could be mistaken for a cozy bed and breakfast—the rows of roses leading up the walk to the romantic old building, the creaking wooden stairs, the homey quilts on the big queen beds and warm light streaming through the curtained windows. But it's the little things that indicate the Old Main Street Hotel has a profound purpose these days.
On a side table there's a small assortment of medical equipment, a baby scale sits on the dresser, and by the door there's a box of medical gloves mounted at shoulder height. On the nightstand by the lavender-quilted bed, a little plaque rests on a mini-easel. It reads, "Believe in the Magic."
This is Birthing Your Way, Lehi's freestanding birth center, a place where women come to give birth with minimal medical interference. It is the culmination of years of dreams and work by Heather Shelley, the Licensed Direct-Entry Midwife (LDEM) who owns and runs it. She speaks with enthusiasm about two things: safe and supportive childbirth practices, and this historic building where the old meets the new.
Constructed in the 1880's, the building first served as a hotel for travelers using the Denver and Rio Grande Western Railroad. If a woman went into labor while traveling, she would come to the hotel. "The Pink Room was where the women would have their babies because it would warm up," Shelley explained. She said the former owner, Carl Mellor, described the many uses of the various rooms to her when she bought the building about two years ago. Mellor put much time, effort and love into restoring it in the late 1990's.
Now, instead of being born in the south-facing Pink Room, babies are welcomed in a spacious room on the west side—a room with a hand-painted woodland mural on the wall and a big garden tub designed for labor—that is part of a 1998 addition to the original structure. And instead of 1880's care, they have access to modern care. All common birth variations can be handled except intravenous anesthesia and cesarean sections.
Shelley said women choose a birth center over the more common hospital birth for different reasons. "Some come because they want to be able to walk, eat and not have to worry about being strapped down. Some come for water birth. Some want the personal family experience, they don't want to be treated like a number."
At the birth center, the midwives can listen to a baby's heart rate while the mother is walking, or laboring in a tub of water. A mother can wear her own clothes and eat whatever she wants, and dad can catch the baby. "A mom will rarely be in bed during labor," Shelley said.
While freedom and comfort may be the driving force for most moms, some choose it for the cost. Shelley explained that a standard package of prenatal, childbirth and postpartum care through her practice costs about $3,200, including ultrasounds and lab work. Costs at a hospital start around $8000.
Another benefit women enjoy is the postpartum care they receive. A mother will usually go home within six hours of giving birth at the birth center, and her midwife will make a home visit just 24-48 hours later, and again at one, two, four and six weeks postpartum. Licensed Midwives are allowed by Utah law to care for neonates up to six weeks old.
There are two additional rooms in the center which are designed for use as birth rooms, but they are currently used only for routine well-woman care. Within a few weeks, however, this will change. All three rooms—the Lilac Room, the Rose Room, and the Garden Room—will be available for births, thanks to the passage of SB 108 this past legislative session. The bill required regulations to be updated and modernized, making it possible for birth centers to operate to their full potential and increasing access for families to an option which continues to grow in demand.
With two other midwives practicing with Shelley, and a third about to come on board, Birthing Your Way will be ready to meet that demand. And the historic Lehi Main Street Hotel will write another chapter in its quiet story of welcoming new babies into the world.