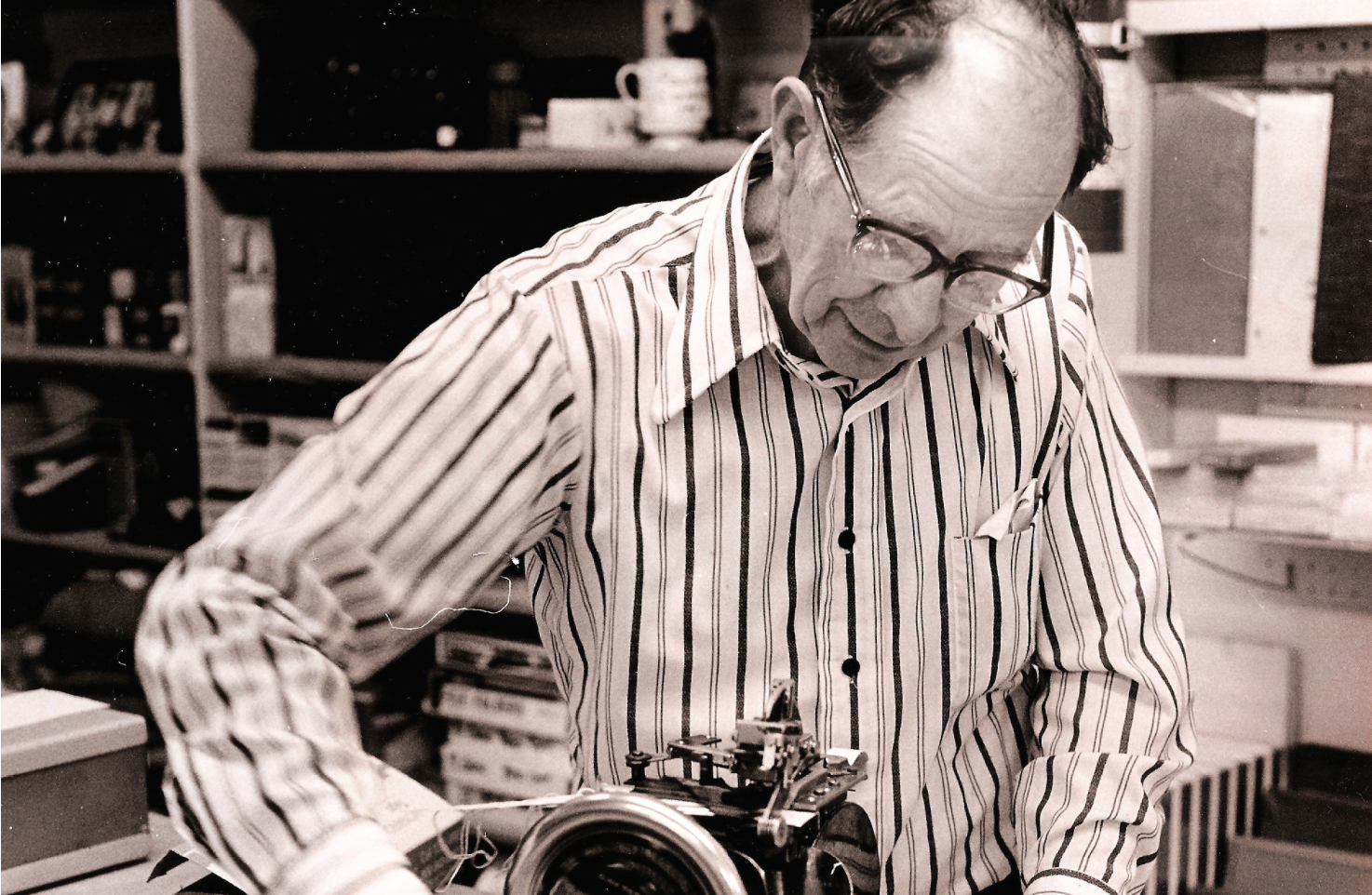 Keeping a business going from one generation to the next is not easy to do, but Lehi has more than a handful of just such businesses. The generation that started a store usually did it out of necessity, but the men and women who run those businesses today keep them going more out of a mixture of love, honoring the past, and just a little necessity.
The oldest of Lehi's family businesses is Broadbent's, 128 N 100 E. For 134 years, Broadbent's store has been in the same location, run by the same hard-working family. It opened for business in 1882 as a general store, selling everything from groceries to clarinet reeds. Broadbent's was owned and operated by Joseph and Sarah Broadbent in the beginning. Joseph S. Broadbent took over the store when his father died in 1920. John S. and Alice Broadbent acquired Broadbent's in 1937. Current owner and operator, Betty Broadbent Anderson is the last of John S. and Alice Broadbent's children.
Betty Anderson and her siblings grew up sweeping the floors and dusting the counters of the family store. Their father insisted on everything looking perfect. Broadbent's is still a special place where customers can wander and be reminded of parents and grandparents as they look at figurines, games, books, dolls, and dishes. Quilting enthusiasts are in heaven at Broadbent's, where they can find beautiful fabrics, inspiring patterns, and expert advice from loyal employees. Christmas is a special time to visit Broadbent's because they have entire rooms devoted to Christmas tree ornaments and Nativities. Broadbent's store and family has truly been a treasure for Lehi.
On Christmas Day, 1910, Joseph S. Broadbent went into Winn Floral to buy a flower bouquet for the Christmas dinner table. When he arrived, shop owners Lillian and John Winn were at their wits end. The heating system had failed (not for the first time) and all the flowers were frozen. In the discouragement of the moment, John Winn offered to sell the entire operation to Broadbent for $50. Joseph S. Broadbent loaded all the equipment into his wagon and came home that Christmas day with a new floral business.
Broadbent installed hot houses and a floral shop at 235 N 100 E in Lehi. Alvin Broadbent inherited the business and sold it to Mel and Jesse Harthorn. As a high schooler, Dave Haws, great grandson of Joseph S. Broadbent, worked in the flower shop for the Harthorns. The shop was sold again and the business quickly went bankrupt. Dave Haws was just 21 at the time, but he was able to buy the business for next to nothing because of the bankruptcy. Haws has been running Haw's Floral ever since at 127 E Main in Lehi. Several cousins and loyal friends have worked with Haws over the years, putting together flowers for weddings,  and corsages and boutonnieres for high school dances. Perhaps Haws arranges the occasional Christmas dinner table centerpiece as well.
Harold Hutchings had a degree in geology from BYU, and a knack for fixing things. Harold's wife, Marie, was a graduate of LDS Business College with a talent for selling. It was in the late 1940s that Harold and Marie started Hutch's Lone Eagle Trading Post on Main Street in Lehi. The first of their six children, Galynn, had terrible allergies and a doctor recommended that the Hutchingses put down roots in Lehi instead of traveling the country working at different geological sites as they'd planned.
In the beginning, Harold Hutchings traded Native Americans' handmade rugs and jewelry for money and supplies. He repaired televisions, sold and sighted-in guns for the local sheriff and police department, and sold washers and dryers from a catalog. The business was successful enough that Hutchings moved to a bigger location so he could sell appliances.
Today Hutch's Home Furnishings is located at 50 E Main St in Lehi. Harold "Hutch" Hutchings's son, Bret Hutchings, owns and operates the family business and his sister Esther works at the store as well. Family legend has it that Bret sold his first riding lawn mower when he was only three years old. He was a born salesman. Esther remembers working with her siblings in Dad's store from the time she was very young. The kids had increasing responsibility as they got older. Bret's Hutchings's children have been continuing the tradition of growing up in the family store.
In 1963, Connie Kirkham Nielsen started the Genie Scarf Company in the room behind her husband's barber shop on Main Street.  At the time, every woman wore a scarf, whether it was on her head, around her neck, or looped around her purse strap. Nielsen designed and made 61 different scarves and sold them to buyers around the country. She knew, however, that scarves were a fad, so she came up with the idea of a wedding dress boutique where she would sell all the wedding clothes a bridal party would need, as well as accessories. Nielsen called her store, This 'n That.
Connie Nielsen's Bridal Center at 35 W Main St is in the same spot where she started selling scarves in 1963. Not much has changed inside the store, except the styles of wedding and special occasion dresses. The wood and glass display cases, original to the store, still show off beautiful accessories and shoes. Little girls' eyes still light up when they come in and see wedding dresses lining the walls. 
Nielsen's daughters, Julie Rafiner and Emily Oyler, work with her now, and Linda Morris has been employed at Bridal Center for 25 years. They try to buy modest, unusual, and beautiful wedding dresses to sell in the store. Nielsen has taught her daughters and employees to pay close attention to details. "I've met some very dear people over the years. We try to take great care of everyone who comes into our store," says Nielsen.
The multi-generational businesses in Lehi have in common their love for the community they've grown up serving. Their family businesses have made Lehi part of the family.