Broadbent's – Historic Lehi Business Evokes Memories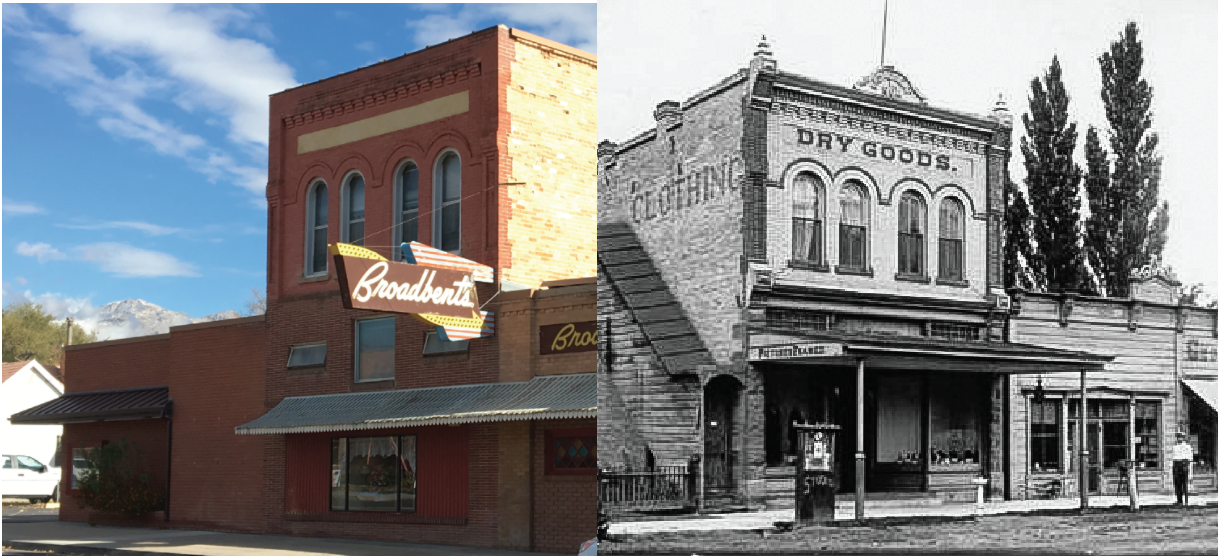 As a girl growing up in Lehi, the advent of the Christmas season was the unveiling of the expansive nativity scene in Broadbent's Department Store front window.
The scene filled the entire window and was displayed with great attention to detail. The special pieces were purchased over the years by the Broadbent family and were carefully arranged on a snowy background. There were literally hundreds of figures. A star was hung above the panorama and, for a minute, one could imagine that this is what Bethlehem looked like so many years ago.
It was always my girlhood dream to work at Broadbent's. It was the oldest general store in Utah and was filled with treasures from the furniture room to the fabric section of the store. I was hired to be a clerk the summer between my sophomore and junior year in high school. I was so excited to participate in this generational enterprise. I walked the three blocks from my house or from school each day and looked forward to the hours I spent working with John and Alice, (the owners) Suellen (another worker), Betty and David (the Broadbent children), Alta Webb, and others who became my friends.
I often witnessed thoughtful and compassionate acts of service by the Broadbent family. Never mentioned, but always appreciated. One story played out one Christmas Eve. I was busy wrapping gifts for customers and tidying up displays and was anxious to get home because we always had our Christmas dinner on Christmas Eve. The twilight bathed the store in an almost surreal light. At six o'clock, Alice and John kept me busy doing last minute gift wrapping. I became anxious for them to tell me I could go home.
6:30 came and I was not excused. I saw John and Alice whispering to themselves as the clocked ticked on. "I know they will be here." Said John. Snow was falling and the wind was whipping the flakes around the windows and doors. Still, I was not told I could go home. All the customers were gone and the final preparations for closing the store had begun. About 7:00 an old pick-up truck turned into the parking lot. "Here they are!" exclaimed Alice. Mr. and Mrs. Calton, burst through the door. They always did their Christmas shopping on Christmas Eve. The weather had been bad and the road from Cedar Fort to Lehi was treacherous.
After expressions of gratitude, the Caltons, John, Alice and I helped them get their Christmas presents bought and wrapped. I saw John slip a big bag of fresh roasted peanuts into the bottom of a sack. This was a special treat that was shipped in from Georgia each year.
About 7:30, I trudged through the newly fallen snow on my way home. My heart was full and I felt a warmth I hadn't experienced before as I passed the homes with trees lit in the windows. My Christmas dinner was waiting and I told my family of the night's adventures.
Broadbent's has always been there. A place not just to buy special items, but a place to meet friends and neighbors, renew acquaintance and get information about the comings and goings of Lehi residents. It wasn't just a store. It was an experience.
Broadbent's has now been sold to Lehi City. Betty, the last remaining member of the John and Alice family, is ready to retire. At 71 she has dedicated her life to the store and feels this is the best thing for her to do for her family. In a conversation with her, she laments, "I have been tied to the store my entire life. The building is in need of many improvements. The furnace is on its last leg and the roof leaks."
"I will be in business indefinitely and we are looking forward to busy Christmas season."
Many faithful customers of Broadbent's are sad to see the business sold. "This is where I came to get my fabric fix," commented Glenda Carson. "A trip to Broadbent's was better than Prozac," reflected another customer.
In a comment from the city, Cameron Boyle said, "The city signed the final papers on October 25th. They are looking at developing the property as a public safety complex but no timeline has been established."