City Engineering Department Presents Concept Plan for Proposed Dry Creek Reservoir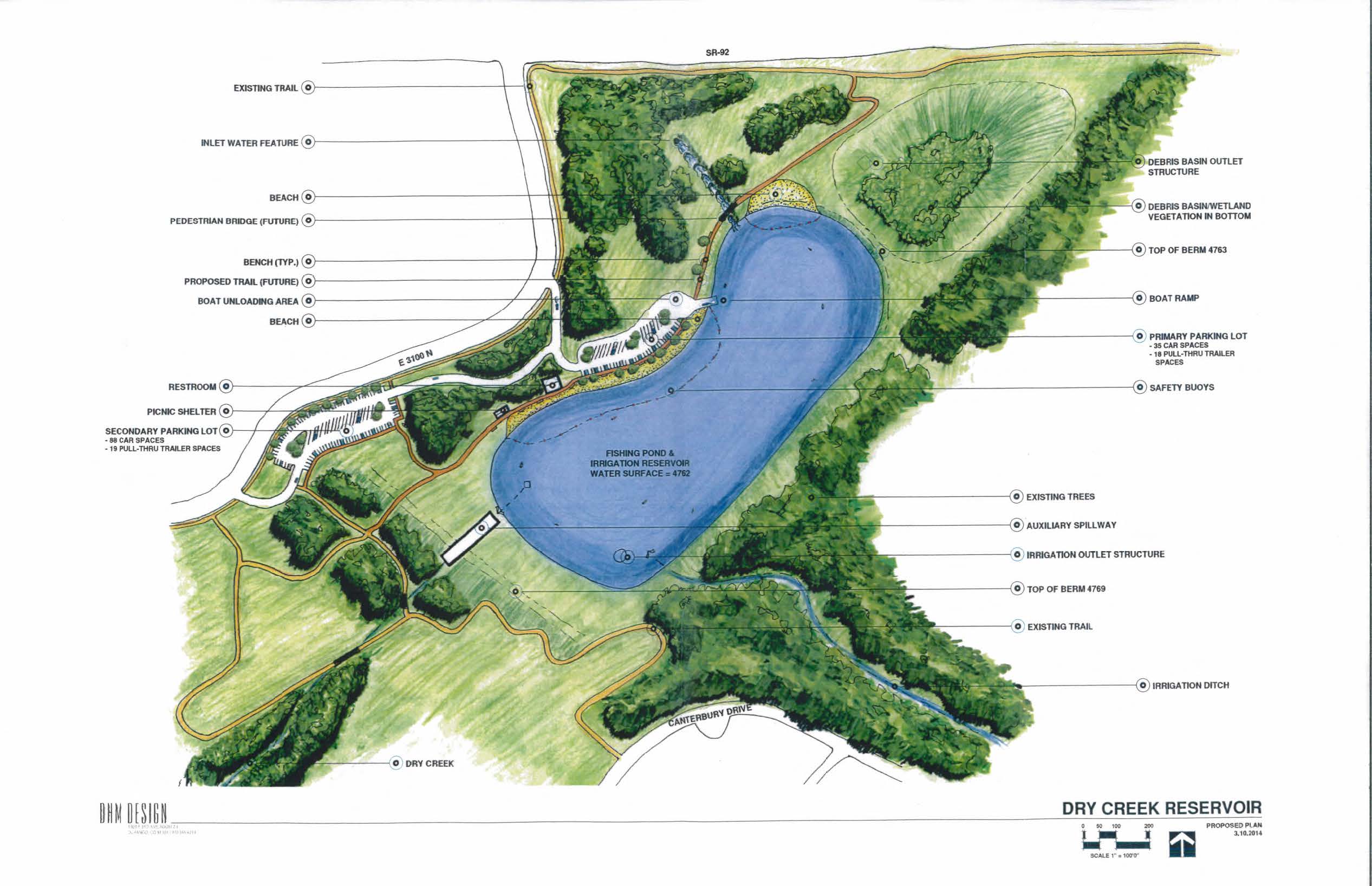 Lehi, Utah | October 3, 2016 – Lehi City Engineer Lorin Powell presented a concept plan for the proposed Dry Creek Reservoir to the City Council last Tuesday, September 27. The reservoir will act as a pressurized irrigation source and recreation facility, similar to Highland Glenn Park in Highland and Blackridge Pond in Herriman.
The proposed reservoir will be located near S.R. 92 and Catch Basin Road. There is currently a dam at this location that is used to diminish the water flow through Lehi and remove sediment from the water. The project would develop the dam into a larger reservoir with recreational amenities, including a beach area, fishing, play toys, water fountains, floating platforms and non-motorized boat ramps.
The project is still in the concept phase of development and has not yet been approved by the city council. According to Powell, the reservoir would provide a unique recreational setting for our community. "We are becoming more urbanized and our opportunities to develop recreation facilities like this are fading fast," Powell said. If approved, the project will be completed in conjunction with the Natural Resources Conservation Service (NRCS) and the North Utah County Water Conservancy District (NUCWCD).
The NRCS will fund 100 percent of the engineering design and 65 percent of construction and amenities. NUCWCD is in the process of planning a rehabilitation of the existing dam. Environmental studies were completed in January 2015. As part of the study, the public was invited to participate in public meetings and provide feedback on proposed amenities for the dam. Funding has not yet been identified for the reservoir.
If approved, funding options will be proposed in future budget planning sessions. The project will likely take a phased approach. A timeline for the project will be identified by the engineering department once approved by the City Council.