BREAKING: Lehi family loses home in Friday morning fire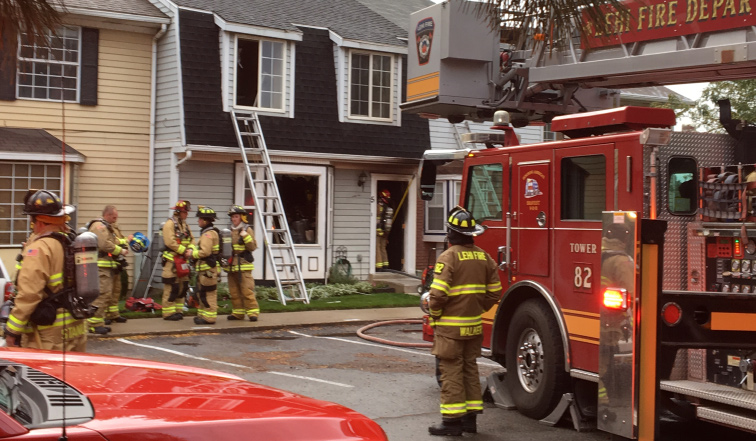 Friday morning at approximately 7 a.m., a fire erupted in a townhome located on 500 West and 300 North in Lehi. Most of the home and belongings of Kyle and Jenny Dodge were destroyed. Kyle Dodge works at Herriman Junior High School as a biology and science teacher and Jenny and her son had left to take him to work. When Jenny returned, she approached her neighborhood and smelled smoke.
According to Ms. Dodge, "I smelled smoke and I knew it was a house fire, then I ran to my home and saw smoke coming out of our roof vent. I opened my front door and smoke whooshed out at me. I ran to all our neighbors first, banging on their doors and yelling at them to get out. Then I called 911"
No one was in the home at the time of the fire. Lehi Fire Department responded quickly and extinguished the fire, which started on the first floor. Extensive smoke damage occurred on the second floor. LFD determined that the stove in the kitchen on the first floor was the source of the fire.
Mr. Dodge owns several pet boa constrictors, which were kept in terrariums on the second floor of the home. Members of the LFD rescued the pet snakes, which were relocated to a lawn area outside the home. Dodge owned a large female boa and several smaller boas. Referring to the snakes, Mr. Dodge said, "they seem to be in good shape."  He held the large boa constrictor around his neck as he surveyed the damage to his home and spoke to fire officials.
Jenny Dodge is a prominent real estate agent in the area and firefighters obtained her laptop from a second-floor bedroom.
According to Ms. Dodge, "it's just objects we lost, thank goodness no people. We can replace the objects." None of the townhomes surrounding the Dodge residence sustained damage in the fire.
This slideshow requires JavaScript.