Buckle up, construction to begin on Technology Corridor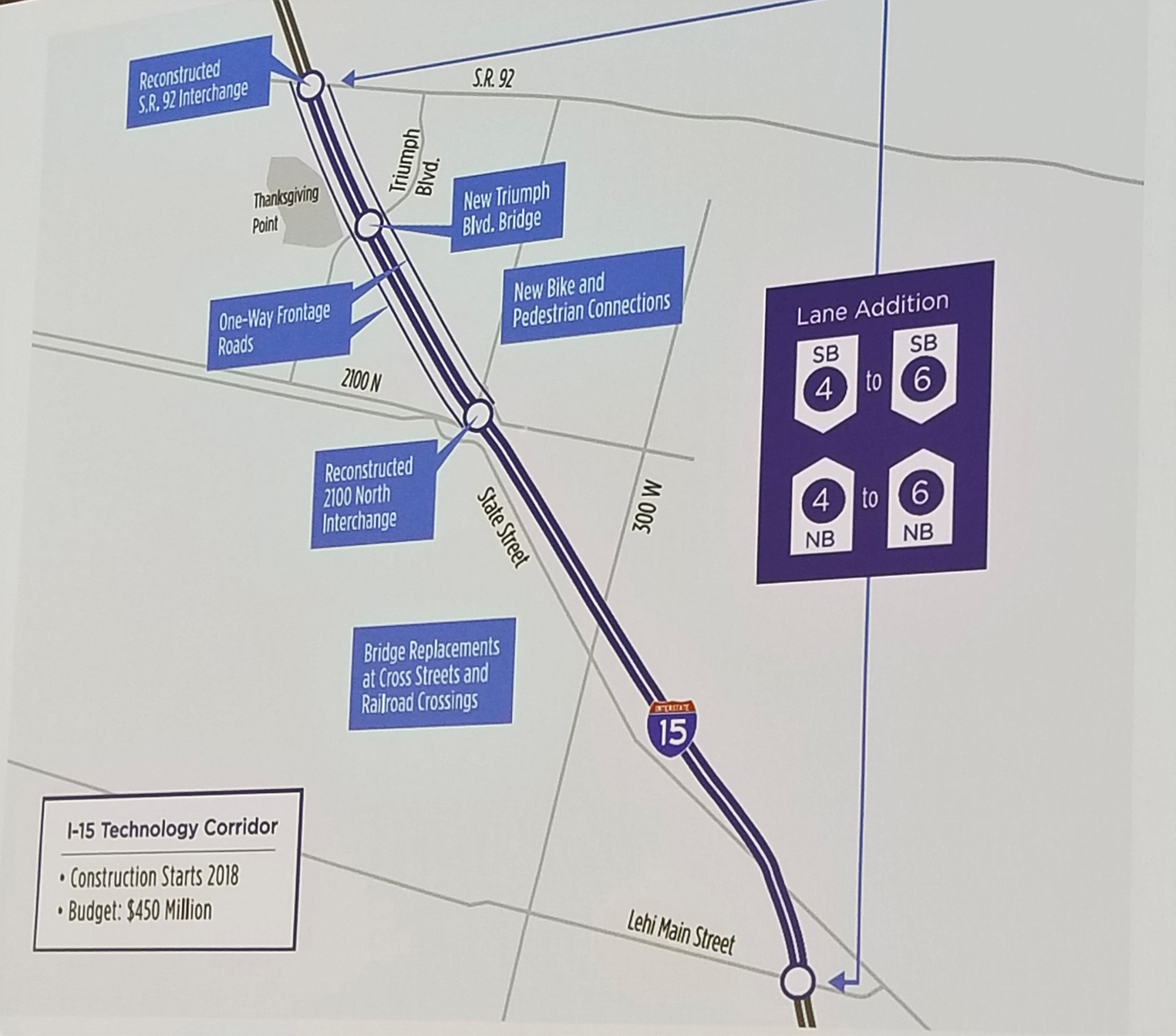 Prolonged traffic delays projected
The Utah Department of Transportation (UDOT) held an open house on Tuesday, March 27, to introduce the features of the I-15 reconstruction project in Lehi, the Technology Corridor. The two and half year construction will begin in April and finish in the last months of 2020.
Maps of the Technology Corridor were on display and Bob Westover, Project Director for UDOT, gave a short presentation to explain the planned features of the project:
Two additional travel lanes on I-15 in each direction from Lehi Main Street to SR-92.
New bridge over I-15 at Triumph Boulevard (near Mountain Point Medical Center on the east side of the freeway and the Thanksgiving Point movie theaters on the west side).
One-way frontage roads between SR-92 and 2100 North (the west side will go south; the east side will go north).
Redesigned SR-92 and 2100 North interchanges.
Reconstructed bridges at cross streets and railroad crossings.
New bike and pedestrian connections.
Representatives from the Utah Transit Authority (UTA) were on hand at the open house to show the bus routes they've added to alleviate the traffic issues that will be created because of construction. Mary DeLaMere-Schaefer, Regional General Manager for UTA in Utah County said, "I want to get all of you on transit! Where transit works we love to have it for you and where it doesn't work we're happy to support you drivers by getting other people off the road." Van pools supported by UTA can meet commuters at the train stations as well.
The bridge at Triumph Boulevard will be the first part of the project to be completed, which will give drivers an additional route on and off the freeway during the reconstruction. The SR-92 interchange will go from a diverging diamond interchange (DDI) to a more conventional interchange. "It'll definitely mess up traffic for a while during construction. There are some intermediate milestones that will be completed before the end of 2020. It will get better when it's all over," said Craig Hancock, a Technology Corridor Architect with UDOT.
"We designed this project to accommodate capacity into 2040," said Bob Westover. "You never know how quickly things will go but based on our projections this is a long-term fix."
For more information, go to www.udot.utah.gov/techcorridor.