Transportation Summit for North Utah County held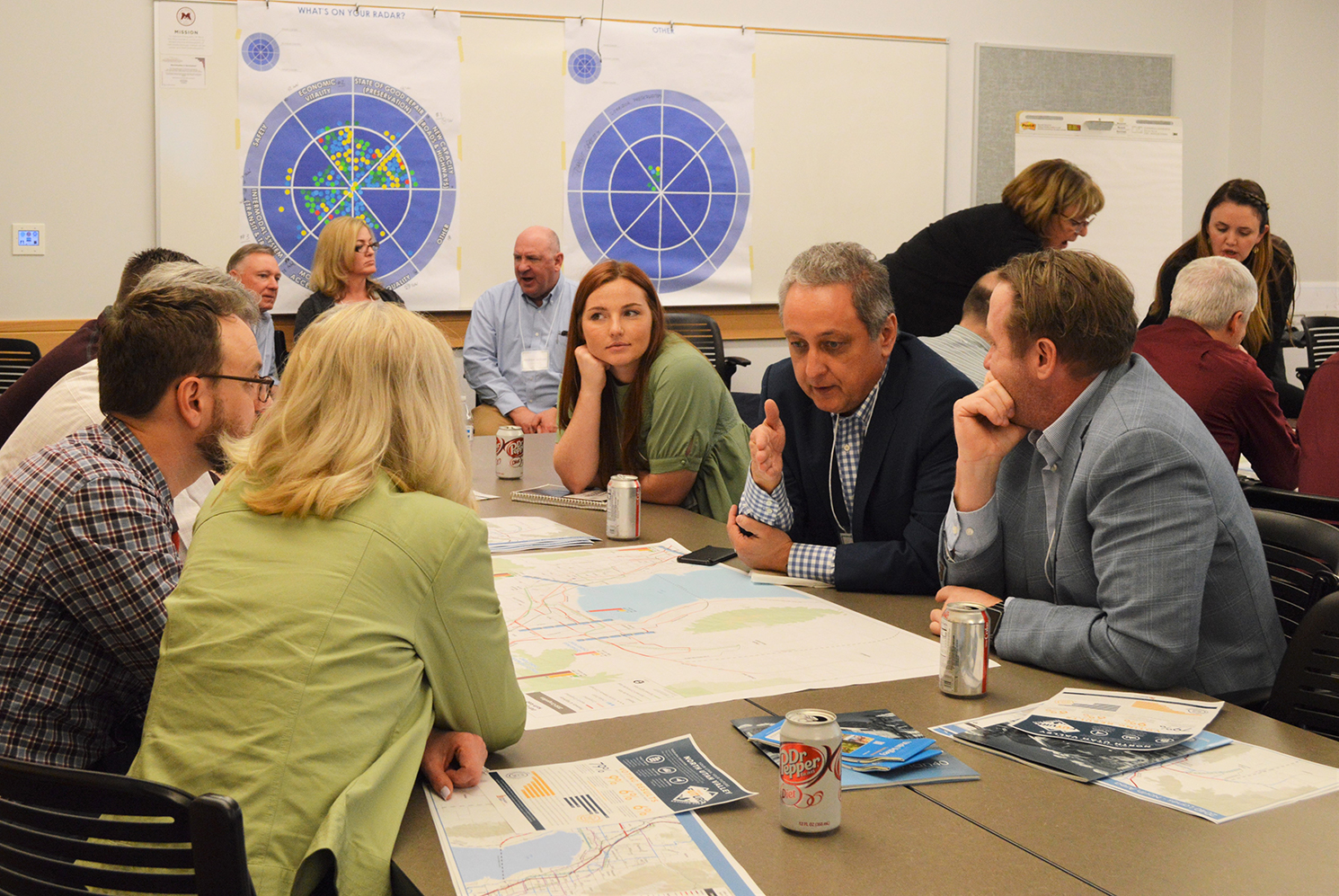 Representatives from Mountainland Association of Governments (MAG), the Utah Transit Authority (UTA), and the Utah Department of Transportation (UDOT) held a transportation summit for city employees and elected officials from North Utah County on Thursday, March 22.
Maps with major choke points in North Utah County (areas where traffic is already increasing) were placed on conference tables and the Langdon Group provided scribes to write down ideas from each of the seven tables. After a brief explanation of the maps on display, Shawn J. Seager, Regional Planning Director for MAG, explained that MAG, UTA, and UDOT are preparing to put together their regional transportation plan that is updated every four years. Local governments and city employees will be shaping the projects that will be in that plan.
"Look at our population projections compared to Salt Lake County – Utah County's existing population is around 600,000 and Salt Lake County's is just over a million. But we're going to add more population both in percentages and absolute numbers than Salt Lake County will add through the year 2050. We're adding more people and we'll almost be the same size as Salt Lake County by then. Where is that population going to go? Picture the entire population of Utah County today all in North Utah County by 2050," said Seager.
Seager also presented statistics on jobs in North Utah County – today there are 87,000 jobs here and by 2050 they project there will be 238,000 jobs. Besides the intense growth North Utah County will have in the next few decades, the area has geographical constraints like Utah Lake and the West Mountains which present a challenge to transportation. "We're really good at building big roads and our developers can build those big roads, but we have a hard time figuring out financing for these arterial roads," said Seager. Today SR-73 (from Lehi to Eagle Mountain) has as many cars per day as a freeway gets and UDOT is conducting an environmental study to see if a freeway could be constructed there because of the demand. The idea of a bridge across Utah Lake has been on transportation vision boards for years and has started gaining momentum, the South Utah County transportation summit floated the bridge as a viable idea during their meeting.
Those attending the transportation summit were broken into seven groups to brainstorm potential problems and solutions for the future transportation needs in North Utah County. "We are not afraid of this! Don't forget that at one time there was no I-15. We can figure out the solutions to these problems and we have better technology and construction techniques now than we ever had before," Seager reminded the group.
After the groups had a chance to discuss and plan, they presented their main ideas to the rest of the attendees. All the groups agreed that the east-west connectivity should be a focus for future projects, including public transit options. One group highlighted corridor preservation saying, "We have the benefit of a lot of land out west and it's important to plan now. We realize there's a lot of pressure from developers, but just setting those corridors aside so that they can make room for those capacity improvements is essential."
The next transportation summit will take place a month from now and MAG will use the input from this meeting to make new maps incorporating the ideas discussed.