Missouri Star Quilt Company shares success story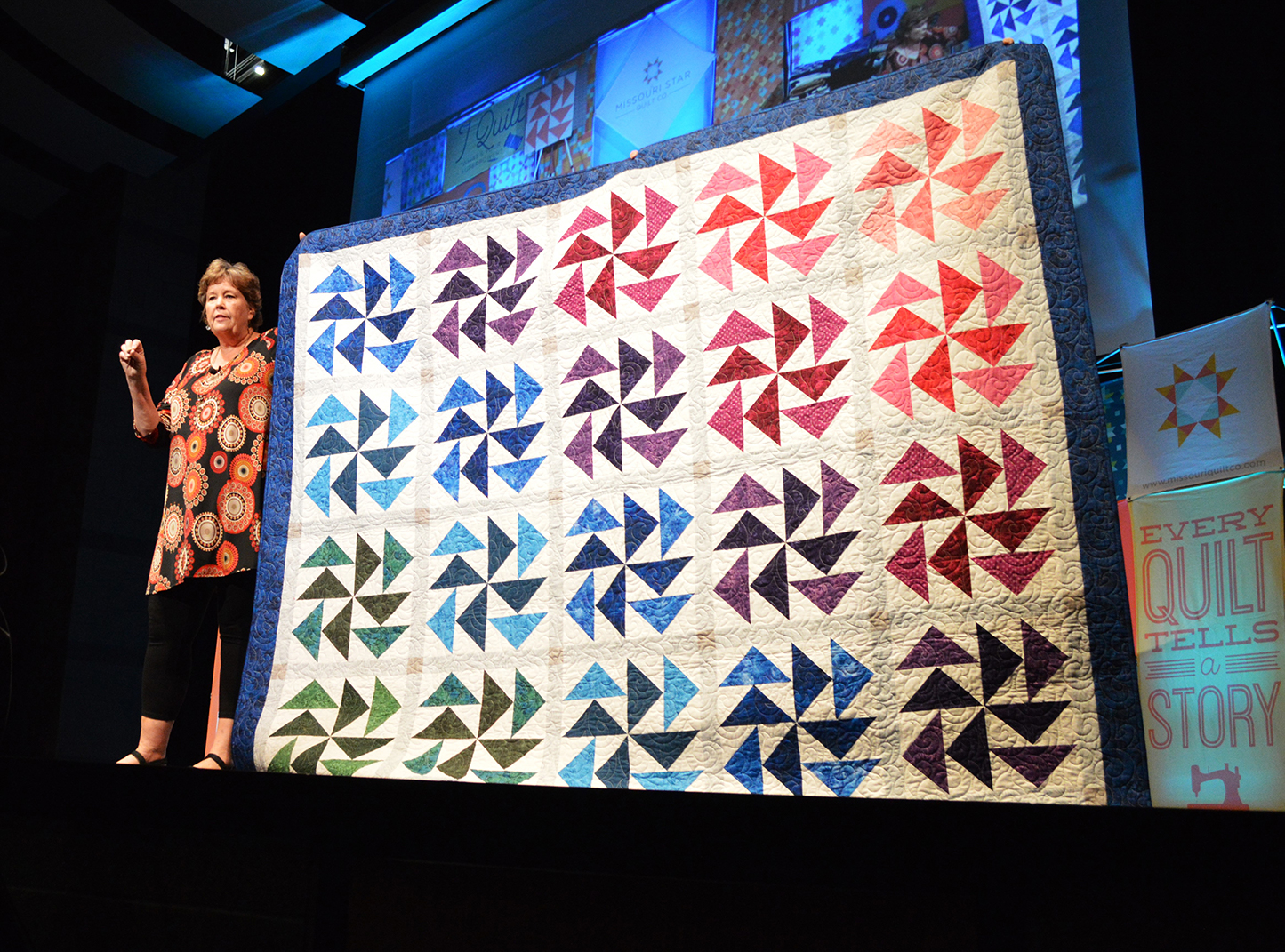 Jenny and Ron Doan, founders of the Missouri Star Quilt Company, brought their quilts and their well-rehearsed, "working trunk show" to Lehi last Friday and Saturday, May 4 and 5. Hundreds of quilt enthusiasts watched as the Doans recreated quilt blocks on the Skyridge High School auditorium stage while telling their story.
The Doan's son, Allen, got the idea to put his mother, Jenny, on YouTube doing quilt tutorials back in 2008 when the quilting world hadn't yet made its mark on the internet and YouTube had only been around for a year. "Nobody my age went on YouTube in 2008!" remembered Jenny. "Now everyone goes on YouTube – it's our center for learning." Jenny ended up breaking her leg when she tripped over a cord while filming the very first quilt tutorial. She remembered being propped up in bed, immobile, the next day when Allen came in to see her. "Mom, I'm really sorry you broke your leg," Allen said at the time. "But I'm only here for two more days and we need to finish filming."
Jenny Doan has done more than 500 tutorials on YouTube since then and it's the cornerstone of their quilting empire in Hamilton, Missouri. "Here's the thing about YouTube, though; it never goes away. Fat, thin, good hair, bad hair – it never goes away!" said Jenny with a laugh. She offered an apology for the first tutorials – especially the ones where she was heavily medicated when her leg was broken.
People viewing the quilting tutorials would sometimes ask Jenny where they could buy a certain fabric she was using. "Think about your stash – you're in the fourth bin down in the flat folds. You can't remember where you got that fabric!" Jenny said to loud, understanding laughter. Between 60 and 100 new lines of fabric come out every four months. In each line of fabric, there are 20 to 40 different fabrics. When the Doans realized they couldn't afford to carry so much fabric, they abandoned the dream of having fabric as part of their quilting enterprise. Later a Moda Fabric salesman stopped by their shop and asked if it was a fabric store. "No, but it could be," Jenny told him, referring to her stash. The salesman introduced the Doans to "precuts" – one square of every fabric from one line of fabric packaged together. The lightbulb went off in Jenny Doan's mind; they could afford to buy precuts and they would make up different quilt blocks based on the different sizes of precut fabrics. Now, 99% of the quilt tutorials Jenny does are precut based.
"The big three reasons I like precuts are; number one, they're precut. The less cutting I have to do the better!" explained Jenny. Doan suffers from arthritis and when she saw a little old woman with gnarled hands in her quilt shop she asked how the woman could keep sewing. "If I can't hold a book, I'm not going to stop reading," the woman had replied. "What we're passionate about, what we love we don't give up doing – we just find a different way to do it," continued Jenny. The second reason Doan likes precuts is because she doesn't feel like she's good at putting fabric colors together and precuts have helped her to trust the fabric designers. The third reason Doan likes precut fabric is what she called the "overwhelm" factor. The idea of her coming up with 40 different fabrics that look good together is creatively paralyzing. Quilters also tend to buy way more fabric than they need when four precut "charm" packs (5-inch squares) will make a twin-size quilt.
"When I started quilting there were so many rules," said Carmen Geddes, founder of Tensisters Handicraft and national quilting instructor from Eagle Mountain. "Now you can find a process you enjoy and that works for you. We assume that our grandmothers and great-grandmothers enjoyed the painstaking process of cutting out scraps of fabric and hand sewing them into a quilt. We get to do this for fun – I think they'd be happy for us." Geddes also has a YouTube channel where she does quilting tutorials based on her grid interfacing product (tensistershandicraft.com). After only three years in business, Geddes is recognized for her books and products all over the country. "Making quilts requires 95% confidence and 5% skill," said Geddes.
Missouri Star Quilt Company started doing quilting tutorials to reach busy working moms with young children, but they discovered they were reaching people they hadn't even considered – women in wheelchairs who couldn't get into or out of a quilt shop, women with MS who couldn't sit through an entire class, but thanks to YouTube they can hit pause and come back. "You think you're just sewing. About 80% of you got into quilting because of a loss – your house, your husband, your child, your job. Somehow you knew that if you could create, you could heal. You don't know that consciously. When you make a quilt, it outlives you – something you have created will continue to make someone happy after you're gone," said Jenny Doan.
Missouri Star Quilt Company called for quilt donations for disaster relief a few years ago. They were overwhelmed with more than 8,000 quilts, which they then brought to charities who needed quilts. After the delivery, the quilts kept coming in – 4,000 more. A staff member at MSQC contacted a group caring for child refugees from Puerto Rico and found that they were in great need of quilts – the children had come to them with nothing. When MSQC asked how many they needed, miraculously, the answer was 4,000.
"Don't feel guilty about the time you spend at your sewing machine. You are changing the world!" said Jenny Doan.
This slideshow requires JavaScript.