Pioneer family statue installed at Legacy Park in time for Pioneer Day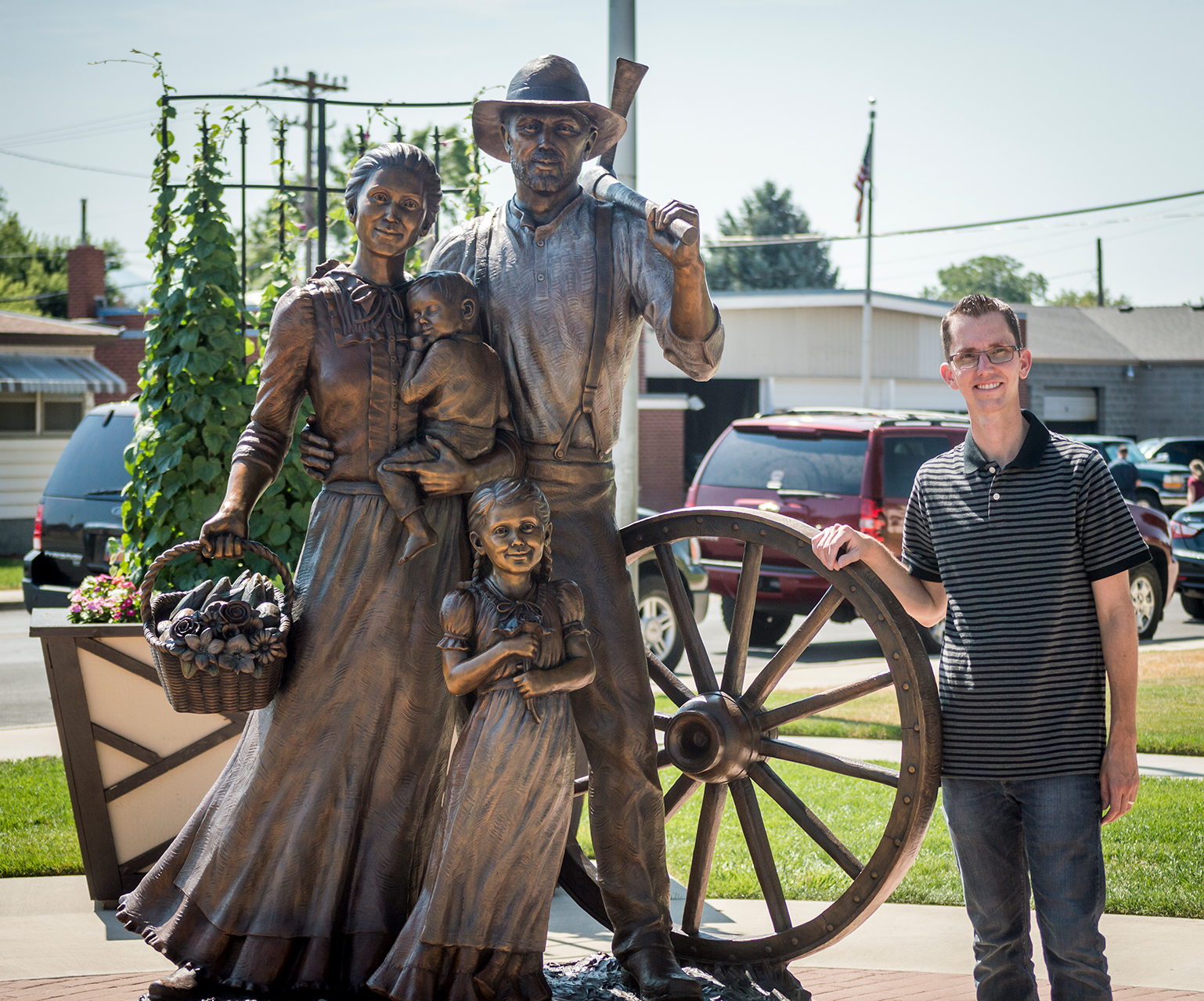 Thursday, July 19, sculptor Scott Streadbeck, city officials and public, witnessed a life-size bronze statue of a pioneer family installed at Legacy Park next to Hutching's Museum. The piece titled, "Harvest Sunset," features a pioneer family – mom, dad, daughter, and baby, along with one wagon wheel, all made of bronze.
Streadbeck wanted to create something unique and different with the pioneer concept, instead of showing their journey and struggle, he wanted to show reaching the destination. "People normally show the entrance, I wanted to show why they entered. They wanted to make the land grow and they wanted to build a home," Streadbeck explained. Featured on the statue is a basket held by the mother containing potatoes, corn, and sego-lilies – the Utah state flower. "I'm of pioneer heritage, lived in Lehi 18 years, so this represents my family – it's my heritage," Streadbeck added.
In 2015, Lehi City commissioned an artist for the 'Pioneer Family' bronze to be placed at Legacy Park. The city's $90,000 budget included a pioneer family and one wagon wheel, commissioned to complement the Porter Rockwell and Bishop David Evans statues which already stand at Legacy Park. The City envisioned the pioneer piece to be closely placed near the relocated log cabin, completing the pioneer scene.
After putting out a call-to-entry for the statue, Streadbeck was selected to create the life-size monument. The piece took over 2 ½ years, initially scheduled to be completed by July 1 of 2016. Streadbeck wanted to make sure everything was done right, and the piece was given the proper time and care it needed. "[The City] was so kind and patient with me, because I wanted to get it right…have it be something they could be excited about." Streadbeck said.
Streadbeck grew up in Lehi, later moved to Washington, then returned to Lehi to raise his family. He has been sculpting for 18 years and has another statue created for Lehi City in the Infant Cemetery titled, "Almost Heaven."
Fittingly, Lehi City has planned a formal ceremony to celebrate the new statue on Pioneer Day, Tuesday, July 24 at 4 p.m. at Legacy Park 123 North Center Street. There will be guest speakers and other Pioneer Day festivities.
This slideshow requires JavaScript.