Skyridge students headed to NYC film festival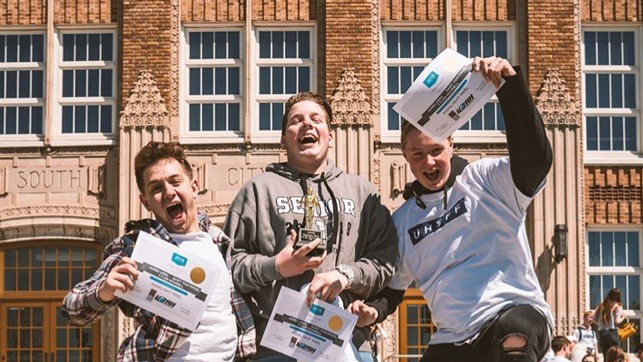 This October three Skyridge High School students, 2018 graduates Jared Meek and D'Artagnan ("Dart") Von Pingel, and soon-to-be senior Tyler Romrell, will compete at the All-American High School Film Festival (AAHSFF) at Times Square in New York City. Their two minute and 30 second sports season highlight film was one of only ten chosen for the festival among entries from all over the country. The short film represents dozens of hours of shooting and even more hours of editing, time the three young men were happy to devote to their passion.
"We covered all sports and almost every game with three cameras. We got pretty good at knowing what shots we would need, and we spent a lot of time editing," said Tyler Romrell, who just finished his first year of video production classes at Skyridge. "Video has become a huge passion of mine." Romrell is a member of the Skyridge golf team and is a fan of sports in general, so spending time filming and editing sporting event footage for him is a pleasure.
Von Pingel, Meek and Romrell were all part of Skyridge's official broadcast news program, "The Ridge." Students take classes that help them understand the process of filming and editing using the latest equipment at the school, as well as the more creative aspects of videography, like storytelling. Earlier this year members of The Ridge went to the Utah High School Film Festival where Von Pingel, Meek and Romrell took first place in the "Highlight Reel" division.
"We know they're looking for clean editing, good footage, cool transitions, good storytelling. Most of all they're looking for creativity. Jared is great at getting creative shots. Dart and I are the editors," explained Tyler Romrell.
The Highlight Reel team from Skyridge will spend a weekend in October at the All-American High School Film Festival with approximately 6000 other high school students from around the country. Hundreds of films will be screened during the festival at the AMC Theater in Times Square. In addition to seeing their film on the big screen, Von Pingel, Meek, and Romrell will get to try out the latest technology and talk with industry insiders. The AAHSFF will also give away more than $400,000 in prizes and scholarships during the festival.
"There are so many career opportunities in the filming industry, it's not just about making movies on a huge scale. Filming weddings and other big events, making commercials, small film festivals – I'm excited to keep learning and getting better," said Tyler Romrell.