Envision Utah makes presentation to City Council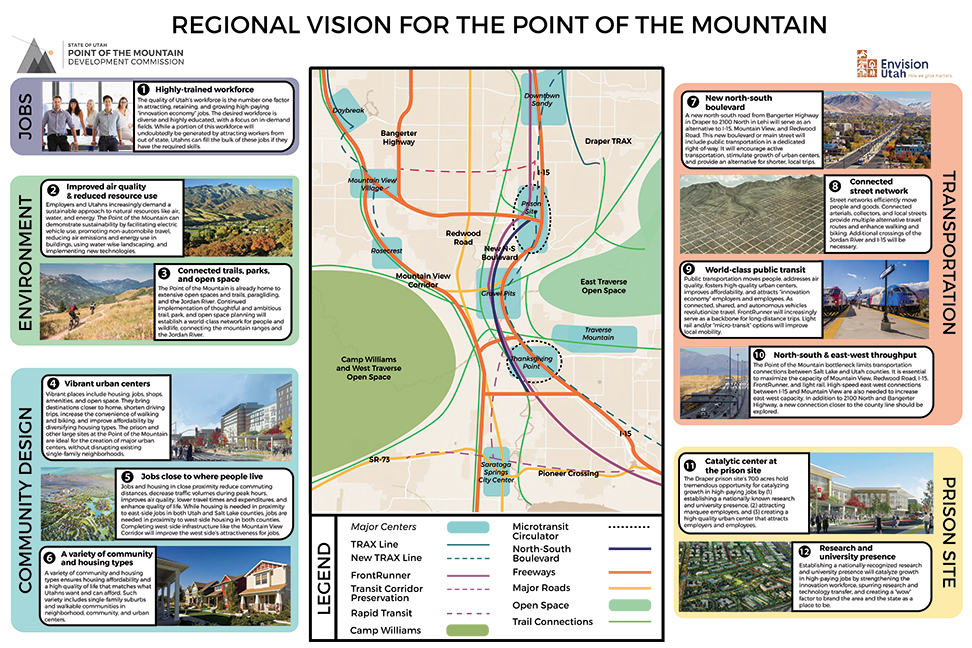 Lehi City Council met with Mayor Mark Johnson in City Council chambers to hear presentations and reports during pre-council meeting held August 14, 2018. Envision Utah Point of the Mountain Phase 3 was presented by Ari Bruening, COO and Ryan Beck, Vice President of Envision Utah planning. They presented an update of the proposal to the City Council. Bruening said, "This is the final of three phases in the project. Phase 3 involves the vision and funding. The jobs that will be created will be better paying jobs and would raise the median income of the area."
Recommendations were also presented for solving transportation problems. The recommended solution would include a "large structure" and a new north-south boulevard going through the Point of the Mountain and connecting to 2100 North. There would also be an east-west connection at the Point of the Mountain.
LFD Request
Fire Chief, Jeremy Craft, approached the Council about the need for two new fire trucks or fire apparatus. "Both engines 81 and 82 are nine years old and both need replacement. We try and get 10 years out of a frontline apparatus and five years reserve, but they both have over 9,000 engine hours," said Craft. The staff and Council members discussed purchasing options.
Steve Marchbanks, Parks and Facilities Manager reported that some children had been burned on the play structure at Ivory Ridge Park. There was also issues with woodchips from the playground getting into the splash pad and causing the pumps to malfunction. He suggested replacing the woodchips with rubber matting. He also suggested that a shade structure by built to protect the equipment from the sun and heart. Dean Lundell, finance director, said "put together a cost sheet and we can make an amendment to the budget."
General Plan Update
Kim Struthers, Community Development Director, discussed the selection of a consulting firm for an update of the Lehi City General Plan Land Use Element. Fregonese Associates has been selected for the update. The firm is currently working with Payson City and other local agencies. "We selected them because they have additional tools, experience, and a transportation component to their team," said Struthers.
Jonsson Addresses Council
Keith Jonsson also addressed City Council during the citizen input session expressing concern for his mink ranch. The growth in the area is making it hard for him to continue to operate. He is thinking of relocating his operation. He said he has been discouraged with the developer to the west. Jonsson believes his mink are not being protected. He talked about a proposal he had made to the city. Councilmember Condie reassured Jonsson that no one wants to push him out of business. Councilmember Hancock agreed that Mr. Jonsson's livelihood needs to be protected. Mr. Jonsson requested an agreement with the developer and the City, and then requested that someone be responsible to monitor the development. Craig Chambers, Lehi City attorney, determined that the "Right to Farm" ordinance can be enforced with civil action. Chambers also said the City Council could decide if they wanted to make violations a criminal offense.
In regular City Council meeting Rugby and Emerson Taylor and their father presented their idea to the City Council. They would like to construct a large S for Skyridge on the hills of Traverse Mountain. They would also include an L for Lehi in a separate area. Staff suggested research on the proposal.
The City Council unanimously approved the following agenda items
Innovation Pointe Addition annexation, approximately 7.85-acres of property located at 1445 West Innovation Way with proposed Business Park zoning.
Aberle Acres annexation, approximately 2.37 acres of property located at 300 East 500 South, with a proposed R-1 Flex and TH-5 zone.
Consideration of Preliminary Subdivision approval of Holbrook Farms Plan C, a 217-unit single family and townhome development located at approximately 3800 West 2300 North in an existing Planned Community zone. (visitor parking on the road was included in the motion.)
Consideration of Final Subdivision approval of The Exchange Phase 15 I-L, 10-unit condominium plats located at approximately 3870 West Hardman Way in an existing R-3 PUD zone and the Final Subdivision approval of the Exchange Phase 15, a 17-lot townhome development located in the same area.
Consideration of Plat Amendment for Lehi Pointe Phase 2 located at 3099 North Hotel Loop., a 12-lot residential development located at 820 North 560 West in the R-1-Flex and R-2 Zones.
Consideration of Final Approval of Hadfield Plat E, a 12-lot residential development located at 820 North 560 West in the R-1-Flex and R-2 Zones.
Consideration of a Plat Amendment for Canyon Trail 1B located at Gray Fox Road and Fox Canyon Road in an existing Planned Community zone.
Consideration of approval of a modification to the approved Colledge Farms Planned Residential Development Plat B located at approximately 2600 West 1100 North, changing the timing of the dedication of required open space so that it is dedicated as part of Plat C instead of Plat B.
Consideration of Ordinance #73-2018, a Development Code Amendment to Chapter 5, clarifying the intent of the Public Facilities zone.
Consideration of Ordinance #74-2018 amending the Lehi City Development Code Chapters 16-18.
Council members Paige Albrecht and John Revill were excused from attendance.