Strasburg brothers set new world land speed record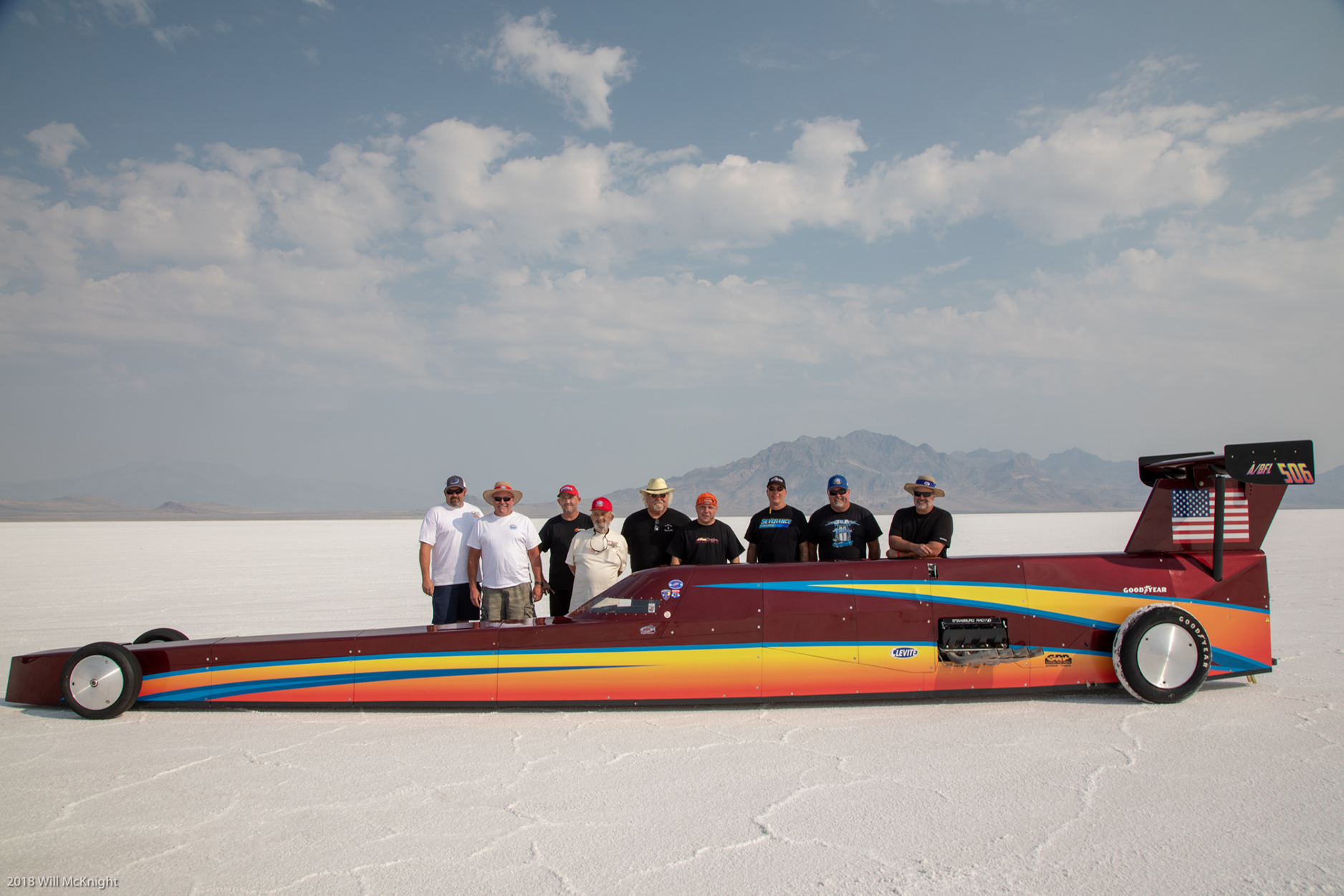 "It's in the genes," claims Sheryl Strasburg, wife of Lindsay Strasburg, one of the four brothers who set a new land speed record at Bonneville Salt Flats during "Speed Week, August 11-17. The three other brothers, Mike, Jeff, and Tim are part of a team that designs, builds, and races Blown Fuel Lakester race cars.
They are part of a large family known for their love of everything automobile. The Strasburgs own and operate Strasburg Machine shop in Lindon, but their roots are deep in Lehi. Mike and Tim live in Lehi, not too far from the family home that was located at 791 N. Center. George and Mary Strasburg raised 13 children and from their progeny are dozens of mechanics and car enthusiasts.
The four boys who set the speed record are sons of Allen, the youngest of George and Mary's sons. Allen, together with cousin, Bryant, rebuilt a Ford with a 406 engine and raced it at the Bonneville Salt Flats in 1962. This started the "need for speed."
According to Lindsay, "Conditions were perfect at the Salt Flats this year. The surface was smoother than previous years." The Strasburg team won the competition over 200 participants vying for the record. The race car combined the down run and return run with an average of 373 MPH, making their car the fastest open-wheeled car in the world.
After the competition at the Salt Flats, the family was off to Minnesota to compete in another race. "We involve the whole family, kids and grandkids," said Lindsay. "There are about ten of us who travel." They group travels in a 30-foot van fitted with everything needed to keep the race car in competitive condition.
The boys also have built an Alcohol Funny Car driven by Annie Whitely. She is ranked number two in the world in her classification.
When the boys are not working on race cars, they are restoring vintage automobiles, all Fords!