City Council: Lehi City eyes water rate increase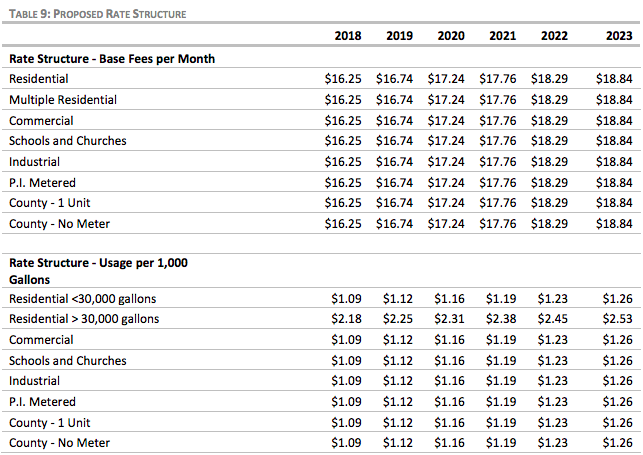 In the September 11 Lehi City Council meeting, Susie Becker, Zions Public Finance representative, along with Lehi City Finance Director, Dean Lundell, presented the City Council a proposal to raise water rates throughout Lehi. "We look at two things: basic rate and usage. We have to look at demand," said Becker. Lehi City has not had a water rate increase in more than ten years. "With culinary water, we plan a 3% increase per year," said Lundell. "The pressurized system will require $27.9 million in capital projects to 2029. $18 million will be needed in 2019 alone, necessitating a bond."
It is proposed that rates be increased by three percent per year for both base fees and for usage fees, resulting in the following rate increases: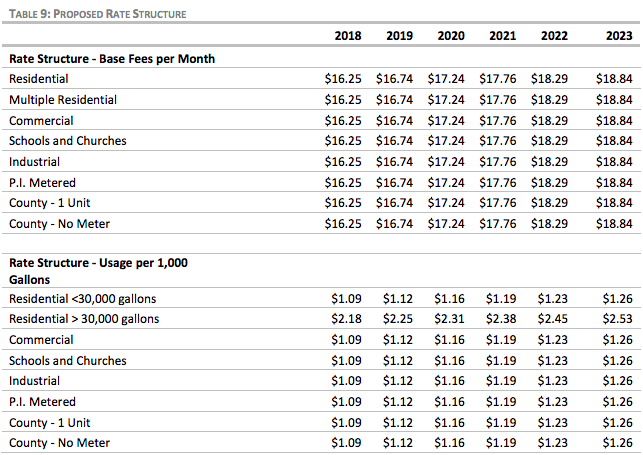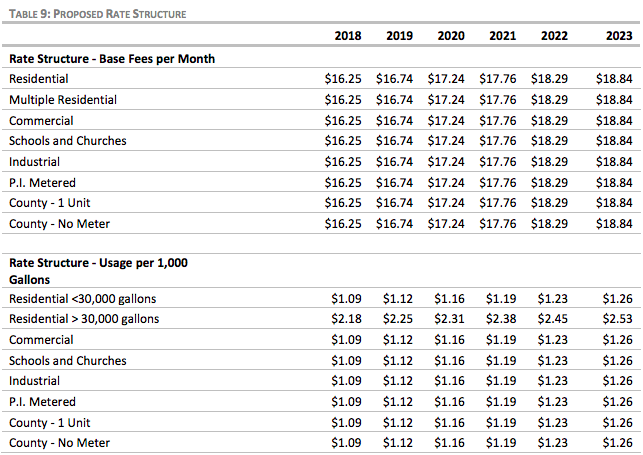 Base fees currently account for approximately 64 percent of total revenues. With the rate restructuring, base fees will gradually increase as a percentage of all revenues, reaching 70 percent by 2029. Further, the current tiers appear to be structured effectively in order to promote water conservation, with a significantly higher fee charged to residential for usage of over 30,000 gallons per month.
Lehi City Engineer, Lorin Powell, commented, "We have lower rates than most cities in the area because the P.I. system was put in before most cities put theirs in. We did not have debt related to P.I. infrastructure."
Citizens oppose zone change for Trinnaman Farms development
On September 11, City Council members met in a regular City Council meeting in what looked like a short agenda, but citizen input on the Trinnaman Farms development lasted over an hour. The agenda item was the consideration of Ordinance 80-2018, a zone change of 12.614 acres of property located at approximately 1325 North Trinnaman Lane changing the zoning from A-1 and R-1-8 to R-1- Flex. Property Dynamics was the petitioner.
In a previous Planning Commission meeting, commissioners had moved to deny the zone change in a close 4-3 vote. Several citizens who had attended the Planning Commission meeting were present to oppose the zoning change. Kyle White, a resident of the area, said, "I prefer the Flex Zone, but I am concerned about the increased traffic."
Charlotte Erickson, a citizen living adjacent to the development, was adamant that the number of residential units in the plan did not match the zoning. She explained in considerable detail, "I want fewer homes on larger lots."
Mayor Johnson explained, "Every development has an impact on the city in some way, but property owners have the right to develop their property. We can't take that right away from them." Johnson continued, "We can take every single development in Lehi and say, 'We don't want them here. We don't want the impact. We have a hard time doing that because we all live on developed property. Somebody developed the area for us. An applicant has the right to ask for what they want as long as it fits within the zoning numbers."
Mayor Johnson reminded the residents that the City Council makes the decision. He went on to say, "I ask for public comment. It is not required for City Council meetings." When asked if the Planning Commission had commented to the Council members, the citizens were told that was not done. Some Council members had watched the video of the Planning Commission meeting.
Council Member Condie explained, "The vote of the Planning Commission was close. We can provide curb and gutter all along the area. We buy the land and consult with all the residents for road improvements. We don't just bulldoze to make roads and sidewalks. This project will not hurt property values of surrounding area."
Council member Hancock added, "The Planning Commission just makes recommendations."
Wayne Carlton, another resident living in the area, expressed concerned about the increased traffic. "There is difficulty in going to other connecting roads. Trinnaman Lane is a nice place to walk."
Mayor Johnson said there would be considerable road improvements.
Council member Albrecht said, "I used to live in the area. I would love to see Trinnaman Lane improved."
Erickson said, "I don't want neighbors looking over my fence."
Council member Revill moved to approve the zone change with a notation that there would be a 35- lot cap. The motion was unanimously approved.
Three other items were unanimously approved. 1) Consideration of Ordinance #82-2018, a zone change of approximately 1.35-acres of property located at 1020 West Main Street changing the zoning from RA-1 to Commercial.
Consideration of Resolution #2018-53 approving an agreement for Architectural and Engineering Services of a new public safety building between Curtis Miner Architecture, LLC. And Lehi City.
Consideration of ordinances #81-2018 and #83-2018 amending the Lehi Development Code. Kim Struthers, Lehi City Development head, explained that this is an effort to update the Code.
During the City Council meeting, Principal Doug Webb with Assistant Principals, Eric Loften, and Ben Abrams expressed appreciation to Lehi City for helping with the rebuild of Lehi High School. Webb gave activity passes to Council Members and the Mayor.
Liz Anderson spoke to the Council members about the need for more baseball and softball parks in Lehi. "I am willing to help raise funds for more funds," said Anderson. Mayor Johnson replied, "We are looking at creative measures to get more parks. We are planning for baseball fields at Mellor/ Rhodes. We are looking at different ways to get these fields built."