Lehi couple gives service through gardening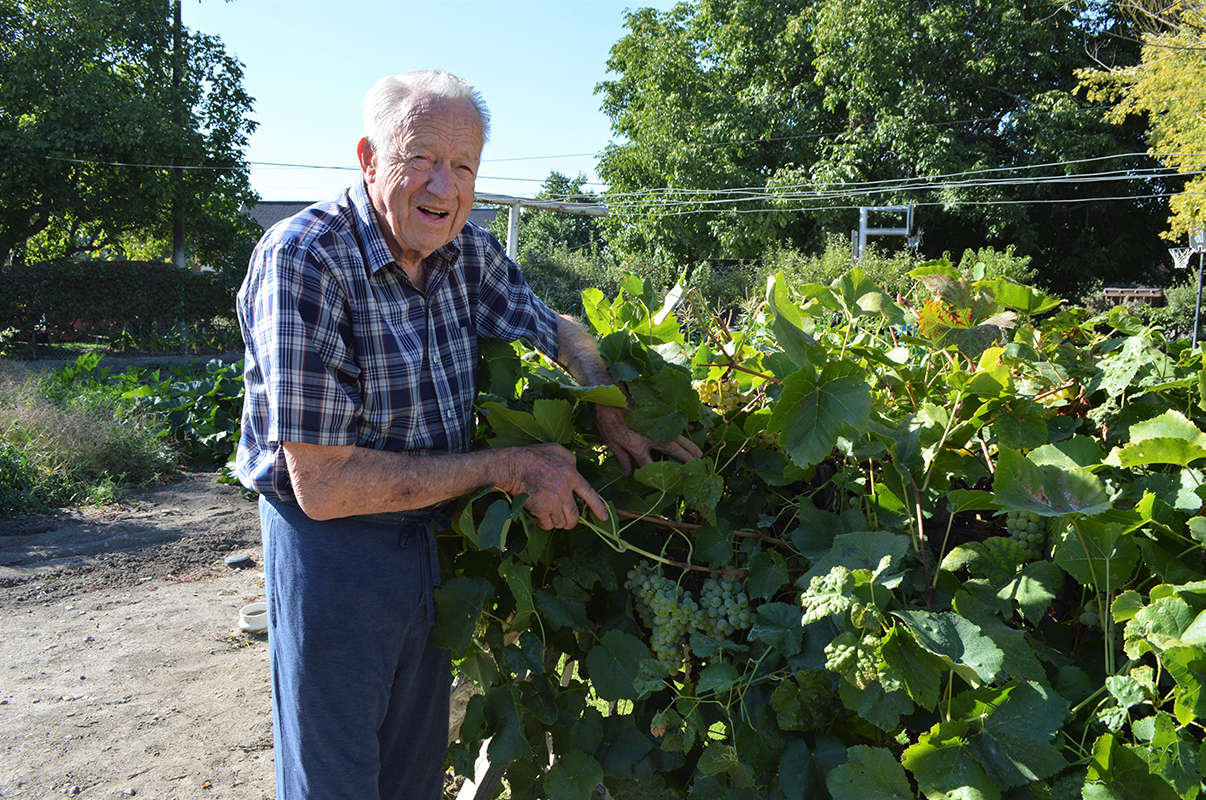 Since he retired from Lehi's Price Brother's grocery store many years ago, Rex Price has devoted most of every year to keeping his fruit and vegetable garden thriving. The garden takes up almost the entirety of two backyards.
"He's up every morning at six o'clock to weed and water," said Mary Price. "He gives food to neighbors and family." Rex adhered strictly to the water restrictions in Lehi over the summer and some of his plants suffered, but he also had a better peach crop this year than he did last year. "We just picked the last peach off the tree yesterday," said Rex.
The 89-year-old Rex Price isn't afraid of a challenge when it comes to gardening and this year he planted dozens of gourds for the first time to give away at his neighborhood Fall Festival. "The fun thing about gourds is you never know what they're going to look like," said Mary. The gourds ended up being a hit at the festival.
Rex Price has harvested almost all of his garden for this year. In February he planted peas and in March he planted the first of his corn, with the final corn planting on July 11. Near the corn crop, Price has a plant that wouldn't be familiar to most Utah residents, yams. "You need to get the right variety. I got them in the mail and they look like dried weeds. They take a good three months to mature. I'll probably have a good wheelbarrow full of yams once they're ready," said Price with a twinkle in his eye.
Rex and Mary Price have lived in their Lehi home for more than 60 years, next door to the home where Rex was born. He learned to garden from his father and his grandfather, who came to Lehi from Wales in 1882. The Price's home is surrounded by their family history and they cherish the memories they've made in it.
The Prices have taken advantage of every square foot of growing space in their garden. There are peach, pear, and apple trees growing in neat rows and grapes ready to pick along a fence. In one corner of the property a hazelnut bush sits like a throne. "I remember seeing them harvest the filbert nuts when I was a missionary in Oregon. They used to attach belts to them and shake the nuts off, but we just let ours fall to the ground," explained Rex.
To get ready for next year, Rex Price will till his garden as the plants finish producing. "A good plow in the fall works better than plowing in the spring – it keeps the ground nice and loose. Gardening is a lot of work, but it's a lot of benefit, too," said Price.