Skyridge Volleyball soars in victory over Timpanogos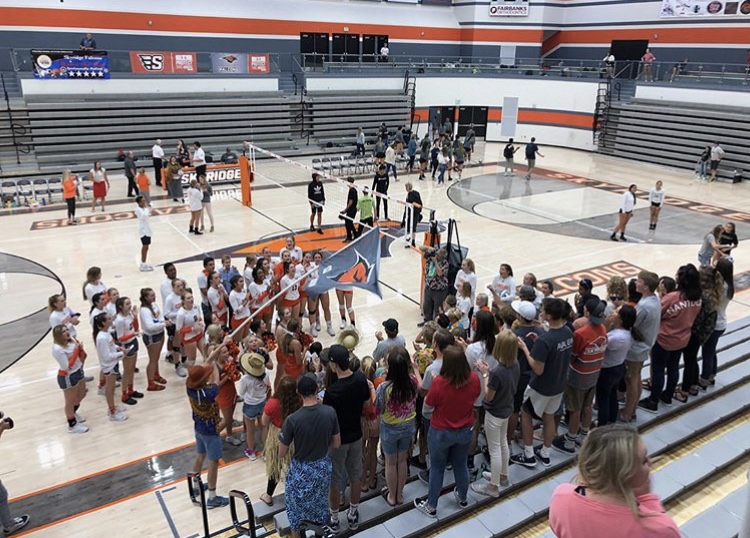 Fresh off their tournament in California, Skyridge volleyball returned to their home floor on Thursday night to remain undefeated in region play with a win over Timpanogos. The Skyridge Falcons made quick work of the visiting Timberwolves, winning the match three sets to none, positioning themselves in first place in the region and improving their overall record to 7-4. Timpanogos fell to 3-3 on the year after the loss.
Skyridge took the first set with a score of 25-18. At the beginning of the set, Senior Captain Kaitlyn Standifird served up two aces in a row to put the Falcons on top 4-1. As the set continued, Skyridge quickly added to their lead over the Timberwolves, going up 14-7. They were able to maintain that cushion and cruise to a comfortable one set to none lead.
The Falcons dominated the second set, leading the entire time. They jumped out to a quick 3-0 lead on three straight aces by Kaitlyn Standifird. That lead increased to 7-0 as Timpanogos could not find a way to stop the Falcons. Before the Timberwolves knew it, they were in big trouble and were never able to overcome the deficit. Skyridge coasted to a 25-15 win in the second set.
In the third and final set, Timpanogos gave it all they had as they fought to keep the match from ending. After allowing three more Kaitlyn Standifird aces, the Timberwolves found themselves down 7-1. But the Falcons lead dwindled as Timpanogos slowly clawed their way back into the match. The Timberwolves got a couple aces of their own, making the score 22-20 in favor of Skyridge. The Falcons, however, never let them get any closer than that. The Falcons proved themselves to be too much for their visitors, taking the third set by a score of 25-22.
Skyridge looks to capitalize on the momentum they gained through their victory when they play again this week against Maple Mountain and Springville.