Falcons beat Timberwolves in heated face off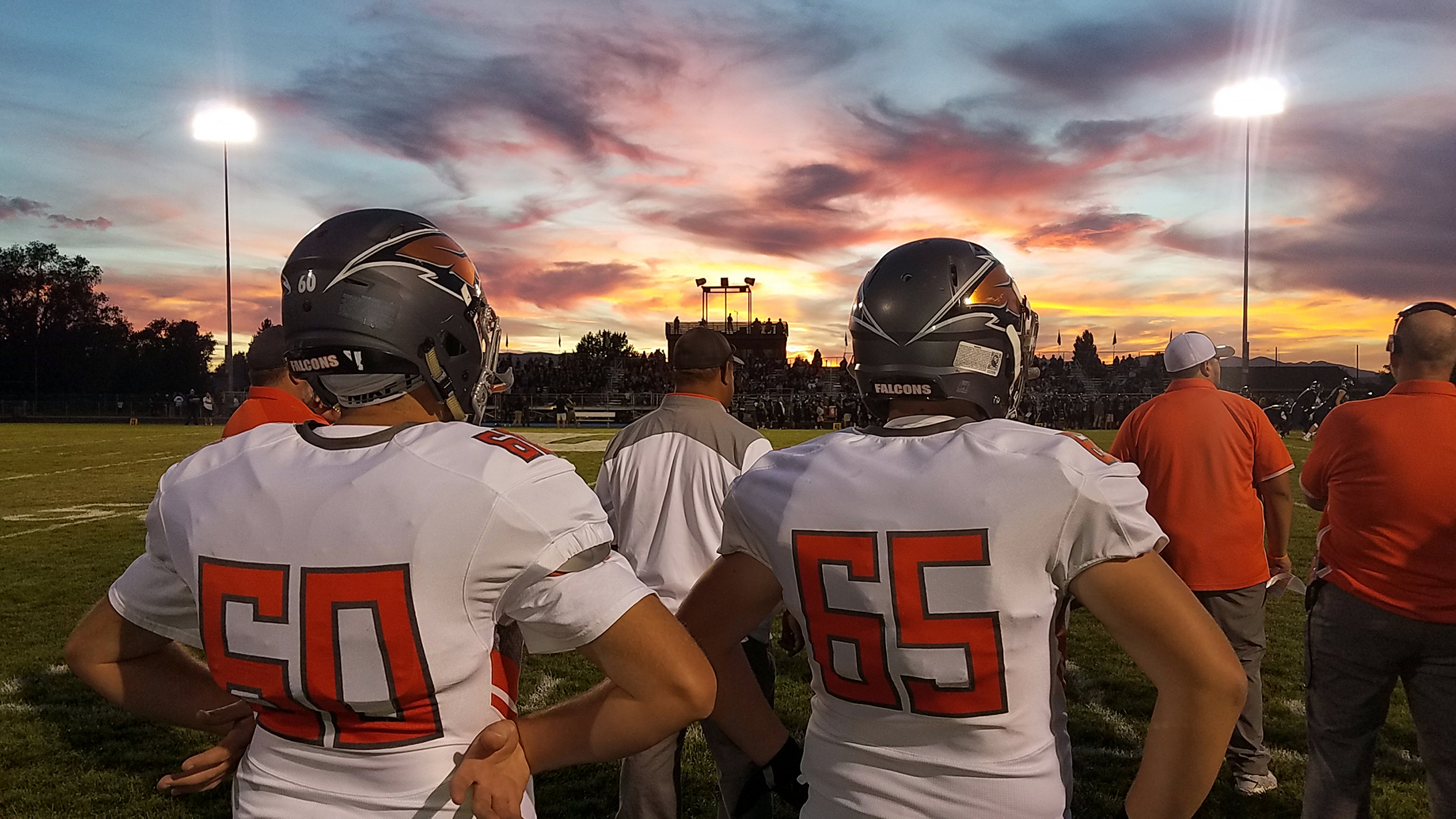 The Falcons quickly took control of the field and Ty Arrington was a real difference maker as he started off the game with a 25-yard touchdown reception. Kicker, Connor Harris converted the extra point for a 7-0 Falcon lead.  Gaining the lead made all the difference as the Falcons never looked back and never trailed for the entire game.
"Nathan Upham is a really good player," said Jon Lehman, Skyridge head football coach.  Upham's receiving touchdowns went for 36, 17, 29 and 18 yards. He was double covered throughout the game but still managed to get open for QB, Jayden Clemons four times.
Lehman also said, "Jayden threw some nice balls. He went through his progressions, made right decisions and made big plays."
The Timberwolves had a tough response to the Falcon game lead when running back, Hugo Jorgensen scored on a 5-yard run.  But the tough play of the Timberwolves wasn't enough to make a difference in the control of the game.
Dylan Samuels was also a difference maker with his perfect execution on an onside kick recovery. He also had a nice catch on a fade route.  The Falcon offense was solid and seemingly unstoppable. Clemons finished 12-of-16 for 227 yards and five touchdowns in the first half of play as the Falcons totaled 346 yards of offense.
The Falcon defense was also tough with Arrington making an important tackle on a Timberwolf 58-yard run. The Falcons left the field at half-time with a 36-7 lead. This lead made an impact on the Timberwolves the second half of the game as they struggled to make difference making plays.
The second half of the game changed for the Falcon offense as they didn't throw the ball.  The Falcons called 18 running plays in the final two quarters, resulting in touchdown runs by Ma'a Notoa with an 18-yard run, Clemons ran for three-yards and Jackson Lambert ran for 38-yards. Notoa finished the game with 175 running yards and a touchdown on 20 carries for the Falcons.
The Falcon Defense held strong as the Safeties made great defensive calls and managed the game well.
Lehman said, "The difference makers were Upham, Notoa, and Clemons. The offensive line made a big impact. The Safeties were consistent and the defense helped to win the game." Lehman also said, "there was discipline on the field tonight."
The Falcons worked together as a well-disciplined team and that teamwork was the winning difference.  They beat the Timberwolves 56-21 in a well-played game and rose to victory as they played at Timpanogos.
This slideshow requires JavaScript.