Lehi rolls in victory over West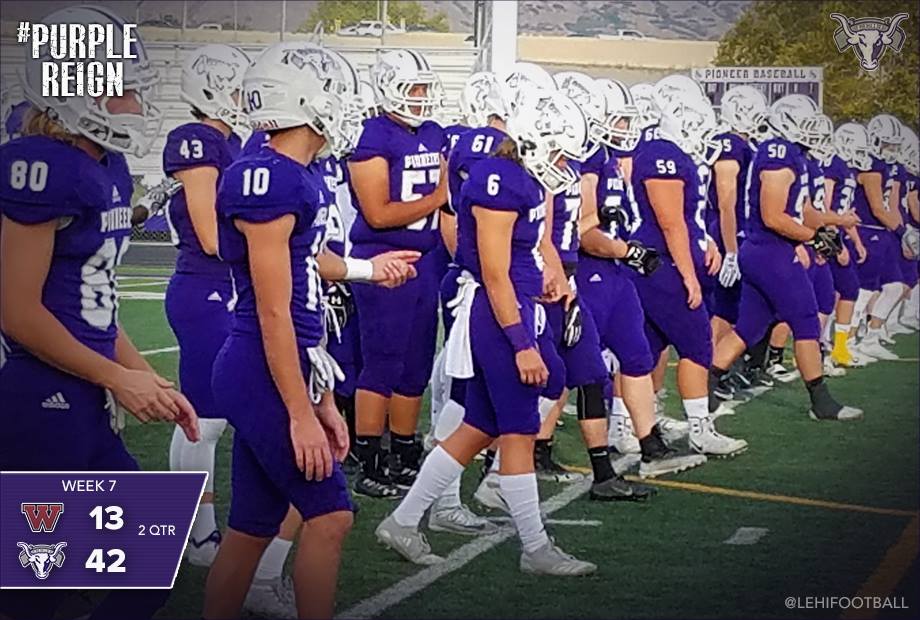 Friday night, in their second region game of the year, Lehi football got a much-needed victory over West. The Pioneers showed their visitors firsthand how lethal their offense can be when it is clicking, beating the Panthers 49-27. As a result of the game, Lehi improved their record to 3-4 on the year, while West fell to 1-6 overall.
Lehi jumped out to a quick lead that increased throughout the first half. 42 of their 49 points came in the first two quarters of play, with three touchdowns per quarter. The Lehi Pioneers started out by scoring on their first possession when Carsen Manookin trotted into the end zone for six, capping off an impressive 90-yard drive. The Pioneers only poured it on from there when Jaden Greenwood scored on a 32-yard rushing touchdown, then again when quarterback Hayden Betts connected with senior wide receiver Gentry Cox for a 22-yard passing touchdown.
The Pioneers extended their lead to 28 before the Panthers finally got on the board. West return man, Bird Butler, cut into Lehi's lead while at the same time putting his speed on display when he returned a Pioneer kickoff for a touchdown, making the score 28-6 after a missed PAT. From there, however, Lehi continued to control the game, adding two more touchdowns. Butler scored again for the Panthers as well, finding the end zone after 65 yards of juke moves and a burst of speed to make the score 42-13 going into the half.
The second half was more of a formality, as Lehi had already established their dominance in the first half with their commanding 42-13 lead. They ended their scoring barrage at the start of the second half on a Christian Moody pick six, putting the final touches on their impressive victory. West was able to score a couple more times in the second half, but in the end, it was too little too late.
The Pioneers will return to the gridiron next Friday when they take on Highland in another region battle. The game will be played at Lehi High School, with kickoff beginning at 7:00 p.m.