Senior Games brings out the athlete in Lehi octogenarian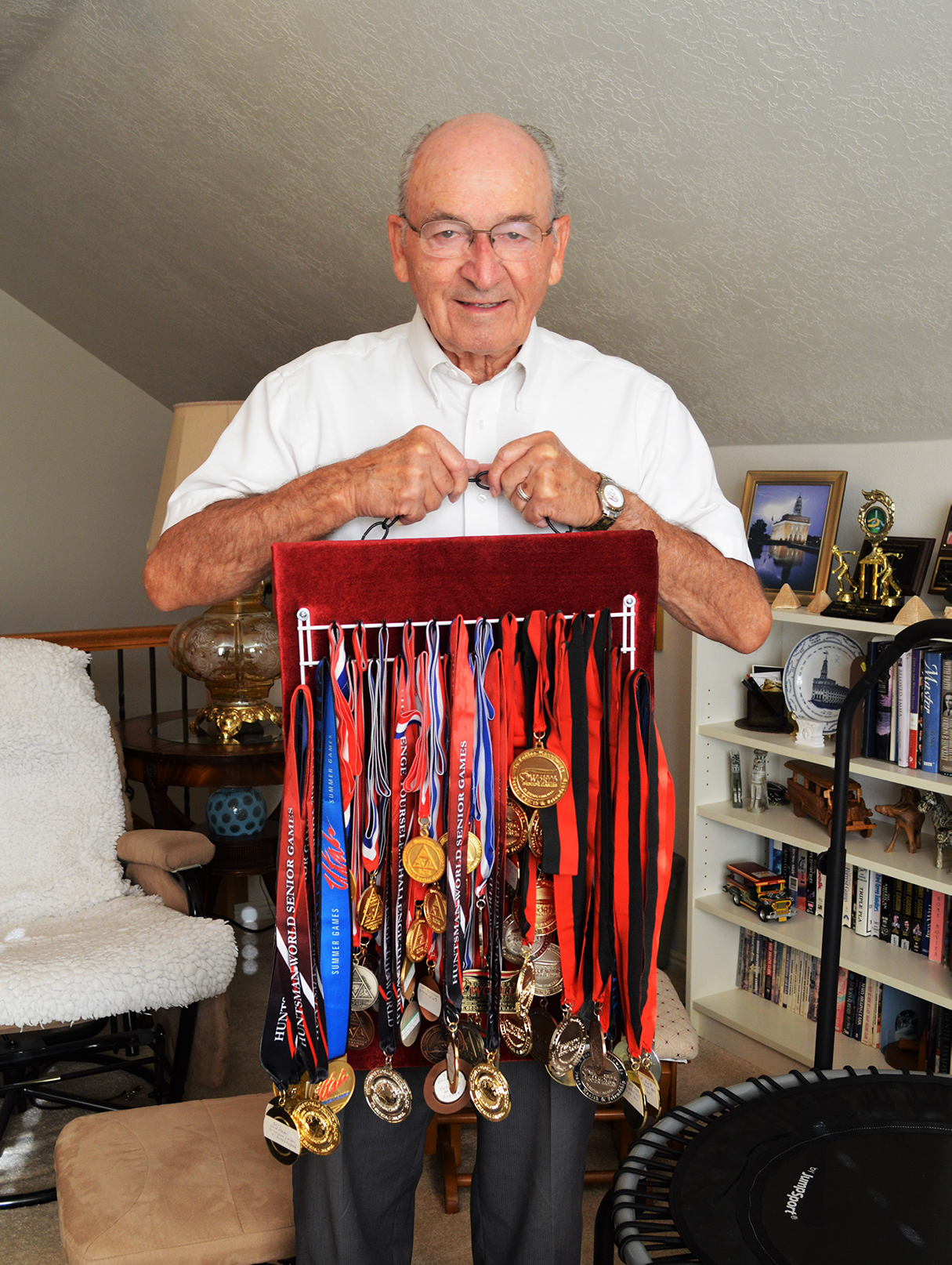 On October 9, 2018, the opening ceremonies for the Huntsman World Senior Games will take place in St. George Utah. For the 21st year, Lehi's Arnold Pope, age 86, will be competing with the more than 11,000 athletes.
Arnold Pope started competing in the Senior Games when he was 55 years old, playing on softball and basketball teams. In 2000, Pope added horseshoes to his event roster and in 2007 he added the javelin throw. Besides playing with a basketball team, Pope has also competed in the Basketball Shoot, an event where he has taken home medals for his free-throw and three-point shots. Unlike many of the competitors in the Senior Games, Arnold Pope was not athletic as a young man. "I was small all through high school. I played church basketball and softball, but I was never very good. When I got into my fifties, I started playing basketball with co-workers and that led to the Senior Games. I've been fortunate to play with great people," said Pope modestly.
When he retired, Arnold Pope began playing with the "Fading Stars," a senior basketball team associated with Brigham Young University. They ended up winning several gold medals together at the Senior Games. This year Pope will play in the over-80 bracket in three-on-three half-court basketball. Playing basketball in his eighties is different than it was when Pope was a young man in his fifties. "It's interesting to watch!" laughs LuAnn Pope, Arnold's wife of more than 60 years. LuAnn likes to travel with Arnold and cheers him on at the Senior Games. "The competition is pretty tough. It looks a lot different on the court, there's no doubt about that. You recognize that you just don't do things at the same speed you used to," explained Arnold Pope with a smile. "I'll be playing on the only 80 and over team this year, so we'll definitely win something."
Arnold Pope's strongest event at the Senior Games is horseshoes. Not only does Pope pitch horseshoes in the Senior Games, he's won Horseshoe State Championships in singles and doubles competition. "Horseshoes is a sport that people have a natural ability for, almost like they're born with it. The first time I started pitching was at a family reunion. I've won the most gold medals for horseshoes at the Senior Games," said Pope.
"There's still a big feeling of accomplishment competing at my age. The Huntsman World Senior Games attracts thousands of athletes from all over the world, so the number of people that are competing is just as great when you get older," said Arnold Pope. "It is an invitational, open competition. There are no qualifying events, but there are some great athletes there." Pope credits his preparation for the Senior Games with keeping him in top shape and feeling much younger than his 86 years. In 2016 Pope was inducted into the Huntsman World Senior Games Hall of Fame, surrounded by his family and cherished friends.