Lehi residents concerned about more high density in their neighborhood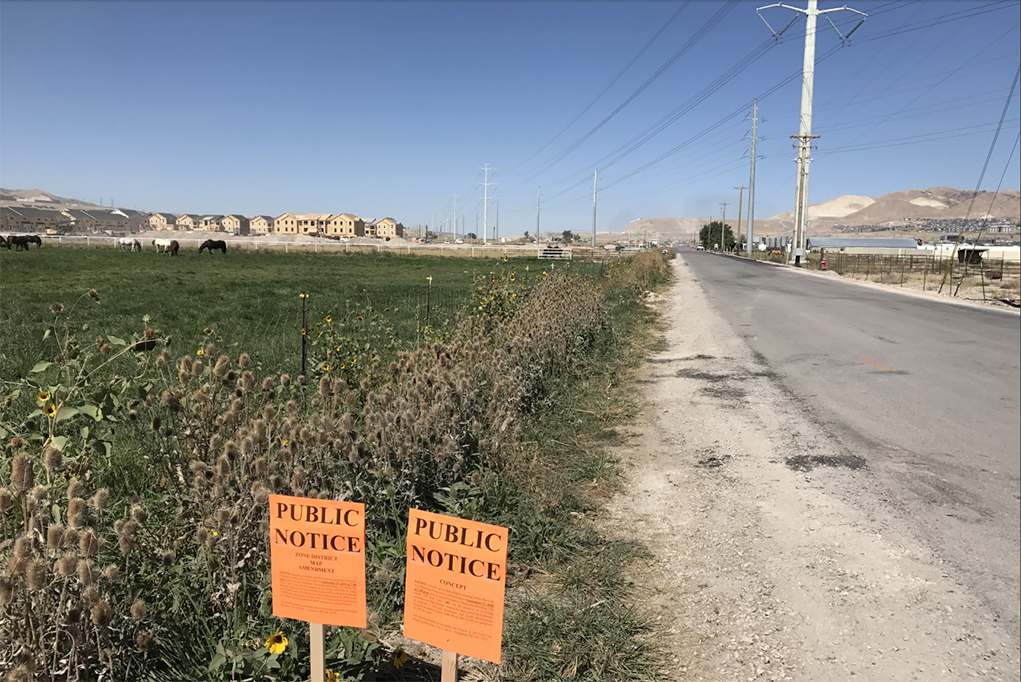 The agenda for the September 27, 2018, Lehi Planning Commission included a public hearing and recommendation for a zone change near Blender Bottle and Broadmoor Park Homes from Low Density Residential (LDR) to Commercial, as well as a review of Edge Homes' concept plan for Exchange II, and a consideration for a new Holiday Oil gas station on 2100 North Ashton Blvd. The Planning Commission listened to petitions and made recommendations for more than three hours.
Lehi resident Emily Mortimer, representing a group of neighbors, made a request for review of approximately 6.19-acres at 600 East and 200 South changing the land use designation from LDR to Commercial on the recommendation from Lehi City. The neighbors in the area want to see "quiet" commercial buildings like medical offices rather than high-density residential designation. During the public input on Mortimer's agenda item, neighbor Judy Evans mentioned her opinion of poor city planning in the nearby Broadmoor Park Homes neighborhood, where there are 96 homes with cars parking all over the streets.
Planning Commission member Matt Hemmert pointed out that a zone change would not guarantee the type of commercial business that builds in the area. Hemmert, Jared Peterson, and Abram Nielsen of the Planning Commission suggested a zone change to Neighborhood Commercial, which would limit the height of the buildings and the type of businesses that could go into the area.
"We were against Broadmoor, we were against the mixed-use on our corner. We've been here at every meeting and put in our input because we knew it would affect us. Now here we are again, coming to the commission for help to fix this situation," said Emily Mortimer. "We were advised to bring this request for a zone change to commercial and now it sounds like we need to start the process all over again to change it to neighborhood commercial. I'm frustrated and disappointed – I almost want to take it off the table altogether." Mortimer was given the option to come back with a new request, but she opted to have the Planning Commission vote right then, which they did. The motion was voted down and the Planning Commission will not recommend a zone change from LDR to Commercial in the 600 East 200 South area to the City Council.
Several agenda items passed with a unanimous vote to recommend changes to the City Council, including;
-Changing the zoning in the Mill Pond area from Commercial to Heavy Commercial.
-Shane Yates request for approval of a 2-lot subdivision at 990 North and 500 West.
-Daryl Hodgson's request for his 6-lot Aberle Acres residential development at 570 South 300 East.
-Syringa Networks' request for approval of Conditional Use permit to run fiber in buried conduit in the area of SR-92 and Thanksgiving Way.
-Nate Reeve's request for review of the Lehi Self Storage zone change from R-1-22 (residential/agricultural) to Commercial.
-Harley Downs' request for approval of conditional use for a flag lot at 661 South 300 West.
-Trevor Hull's request for a zone change of approximately 5.28-acres of property at 3121 West Main from A-5 (agricultural) to RA-1 (residential/agricultural) to match the rest of the property.
-Jay Busk's request for preliminary subdivision review of his 6-lot residential development located at 275 North Willow Park road.
The city staff and Planning Commission had many questions for Edge Homes with their plans for the Exchange II concept, a more than 30-acre property located at 3600 West and 1500 North. Jaren Nichols of Edge Homes explained the concept of the 340-unit subdivision and noted changes recommended by Lehi City. This second high-density residential project will include more amenities than Exchange I, like more parks and landscaping, as well as pickleball courts. Members of the Planning Commission expressed major concern with the concept plans only including sidewalks on one side of the street, pointing out that Alpine School District has plans to build a school in the lot just east of Exchange II.
Lehi resident Brigham Morgan was very active in the public input portion of many of the agenda items for the September 27 meeting, including the Edge Homes development. Morgan asked if Edge Homes has been working with neighboring farmers, or if this could possibly turn into agricultural being pushed out by residential. "My concern is there is no destination on site – there's nowhere for residents to shop or go to there, so there would be a lot of coming and going in a small area," said Morgan.
Jaren Nichols assured Morgan and the Commission that they bought the land from a mink farmer and they've added Neighborhood/Commercial zoned areas on the edges of the development to have the possibility of small grocery stores onsite. Abram Nielsen of the Planning Commission motioned to approve the concept plan for Exchange II and the motion passed.
The marathon meeting ended with Wagstaff Investments request for approval of a Holiday Oil concept, a 2-acre commercial development at 2100 North Ashton Blvd. The Planning Commission peppered John Lindt, representing the applicant, with questions about landscaping, accessibility, placement of the car wash and trash bins. Lindt agreed to suggest cutting the number of pumps from 30 to 24 and including more trees and landscaping. The Planning Commission voted to approve the concept and sent it on to City Council.