Lehi Historical Society discusses overlays for historic properties throughout the city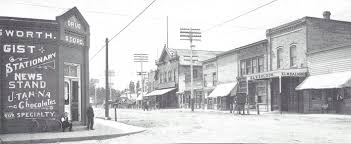 After recently discovering that properties listed on the National Register of Historic Places do not automatically have protections against future changes, the Lehi Historical Society members met on Tuesday, November 20, to discuss the process of placing a Historic Preservation Overlay on buildings and property they feel have historic value within the city.
The National Register of Historic Places is the official federal list of properties that are significant in American history, architecture, archaeology, or engineering. For a property to be placed on the registry, it must meet the requirements of having age, integrity, and historical significance. The property should be old enough to be considered historic, generally at least 50 years old, and still look much the way it did in the past. The property should also be associated with events, activities, or developments that were important in the past. There are approximately 14 locations in Lehi that are on the registry.
At the November 20 meeting, Lehi Historical Society member Rebecca Beck said "Being on the historic registry doesn't do anything other than allow grants or add interest. We want to add an overlay on several places in the city that we want to have saved from destruction or remodel."
Placing an historic preservation overlay on a property would prevent alterations to the exterior appearance of a structure, site, or object affecting any property within the Historic Preservation Overlay District or Landmark Site. City employee Landon Haws attended the meeting and said "An overlay would be similar to if a helicopter dropped a net over a property. It would essentially freeze a property in time and no development could happen there."
A historic preservation overlay has not been placed on a property in Lehi City before, and Historical Society members are eager to begin the process. Historical Society members discussed placing overlays on the Hutchings Museum and Memorial Hall, the Utah Southern Railroad Depot, the Lehi Roller Mills, the Lehi Relief Society Hall, and the Historic Lehi Hotel. Historical Society members also said they would like to see an overlay placed on Main Street. However, city council member Mike Southwick said "While it's an understandable impulse to want to keep Main Street historic, if we want to continue helping businesses be vital, we would not want to do that."
When asked if an overlay can be placed on private property, Beck said "Yes, overlays can be placed by the Historical Society. But we don't want to without talking to property owners. We wouldn't want to do that right now if it means a fight."
Historical Society members ultimately voted to begin the process of adding an overlay to Wines Park. Beck said "This process hasn't been done before, so starting with something easier will be good for us."