Skyridge High School Cheer Squad wins 5A State Championship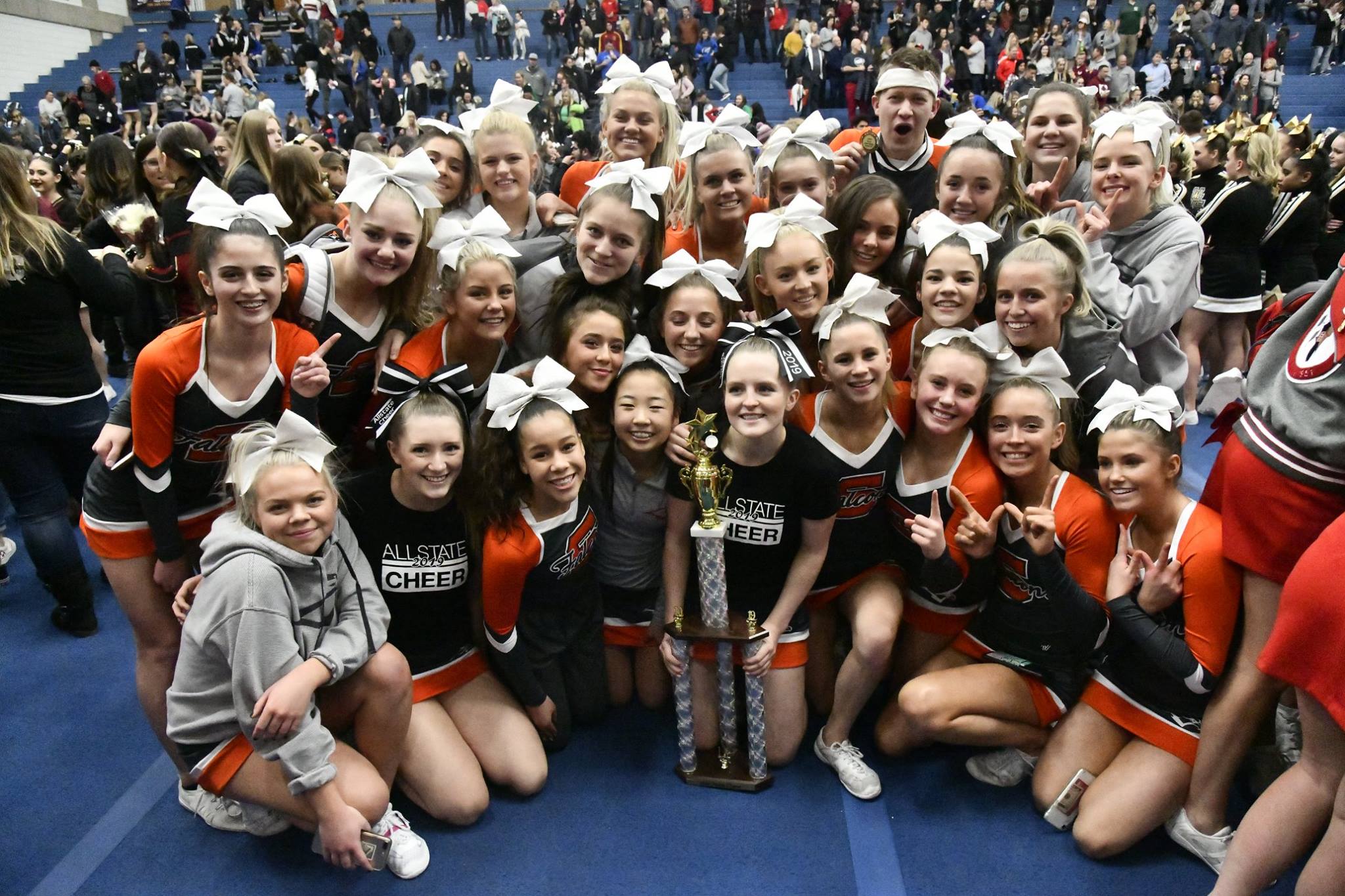 The Skyridge High School Cheerleaders stand on their decorated wooden boxes and lead the crowd in chants and cheers during football season. They cheer from the sidelines for the basketball, volleyball, and wrestling teams. They perform at half-time, at assemblies, and they are the spirit leaders of the school. But on Saturday night, it was the students and community of Skyridge High School that showed up in droves to cheer them on at the state finals cheer competition hosted by UCA and held on January 26th at Salt Lake Community College.
The powerful Falcon cheer team competed with nerves of steel as they remained calm during the high- pressure competition. They dominated with their athleticism and impressive stunting and tumbling skills. Skyridge High School Cheer Coach, Gina Romney said, "This team performs well under pressure and brings so much excitement to the floor."  The JV and Varsity teams came together and competed as one team. The team combined grace and athleticism to generate spirit and a 5A state title at Saturday's state championship competition.
The cheerleaders described their performance of spirit in different ways. Some felt connected to the emotional performance and some described their routine as sincere and enthusiastic. Savana Brown, Skyridge Varsity cheerleader described it as a team effort, "we worked very hard on our routine to get it to where it was. We had our trials leading up to the competition, but we were able to come together and perform our best as a team."  Romney was proud of her team and of their state championship victory.  "I am so thrilled for the team! This team has overcome difficult circumstances to pull off their victory. They have been hungry for this win, humble in their hearts and smart in their work ethic," stated Romney.
The team's strength, agility, and performance skills stood out at the state competition. Their stamina and work ethic aided in their preparation. Brown said, "The coaches have created a hard-working team with a positive environment. We all get along very well and have formed close bonds." Romney stated that the team "handles last-minute routine adjustments like the champions they are, and they keep their minds and hearts always focused."
The cheer squad is led by Varsity team Captain Halle Fugal, Co-Captain Larissa Beeston, JV team Captain, Abi Smith, and Co-Captain Jaylynn Fracasso. The team is coached by Varsity head coach, Gina Romney, assistant coach, Kamille Wily, JV head coach, Paige Gerber, and assistant coach Jessica Bowman.
The cheer squad arrived at Skyridge High School on Saturday night with an official Lehi Police Department escort and were greeted by a large crowd of supporters to celebrate their victory.