Planning Commission debates density bonuses, votes on new urban tech development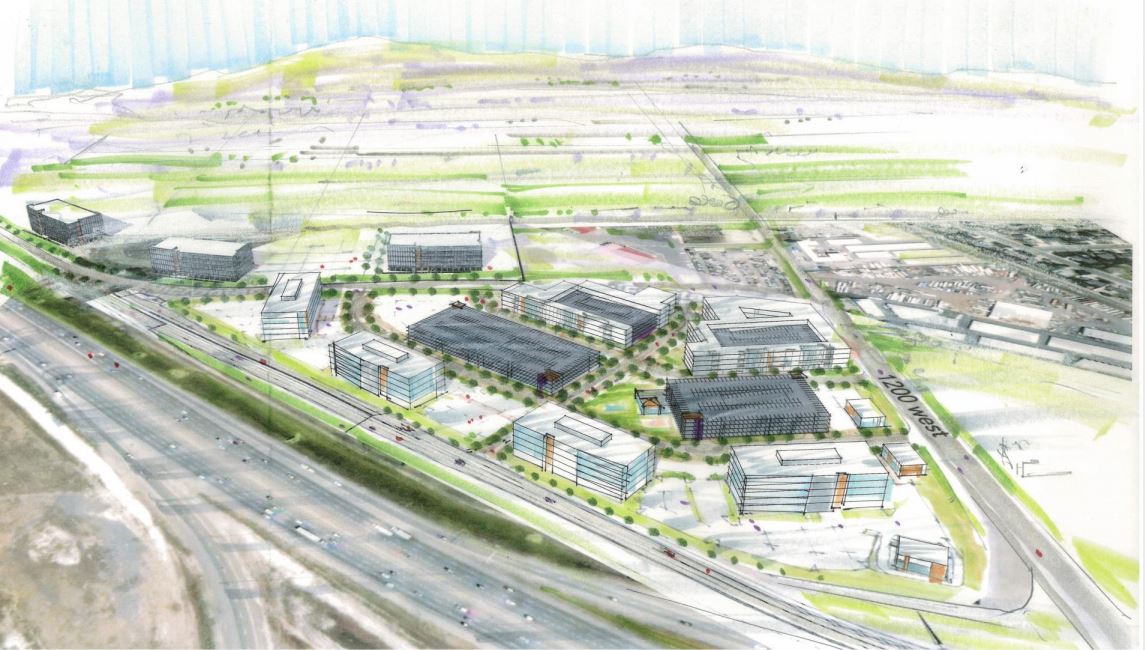 Lehi Block sold to The Boyer Company, large mixed-use development approved with conditions, sent to City Council
The February 28 Planning Commission Meeting began in familiar territory: the Ivory Development at the Dixon Mink Farm. The agenda item was tabled on February 14 to give Lehi City staff a chance to comb through the last 13 years of meetings to find out the density allowed in the annexation of the Dixon property for the original Ivory Ridge development.
Regarding Ivory Homes density request on the Dixon property, Kim Struthers, Lehi City Community Development Director said, "There's no code to justify asking Ivory Development to provide more amenities to get the density bonus they're asking for in the Dixon annexation. It's really up to the Planning Commission's discretion whether or not they get more density."
"People like Ivory Ridge now, but we had to be escorted out of this chamber by police in 2004 because it got so contentious in here when we presented our concept plan," said Chris Gamvroulas, President of Ivory Development. Gamvroulas contended that making the Dixon property part of Ivory Ridge makes perfect sense. The new development will have access to the clubhouse, which includes 11 tennis courts and three swimming pools. The concept plan had been updated with two fewer units (now 65 instead of 67), more trail connectivity, and more guest parking following public input from the February 14 Planning Commission meeting.
"There's a proposed 23.6% density bonus requested here – help me justify that. You used all the density bonus in the original Ivory Ridge development. I don't see how we can go from 3.6 units per acre to 6.7 without any new amenities," said Commission Member Jared Petersen.
"They put in amenities that allowed them up to a 67% density bonus, but the city has a cap of 40% on density bonuses. Ivory only used 20% of that bonus in the original development, so they are saying they have 20% more of that bonus to use," explained Commission Member Abram Nielsen.
The item was opened to public input since Ivory Development had changed their concept plan for the Dixon property.
"Ivory says they over-provided amenities in the original Ivory Ridge development, but I don't believe they have. Items that are eligible for density bonus are very specific in the city code. There are also minimum requirements on open space. The developer has to make 'extraordinary effort' to get a density bonus. I would argue that, not only has Ivory not made extraordinary efforts for a density bonus based on the city code, they haven't met the minimum requirements for open space," said Lehi citizen, Michelle Stallings. Kim Struthers mentioned that the density bonus requirements in the city code have changed since Ivory Development made their request for 67 units on the Dixon property.
"Is this a better use of the property than what is there now? I think yes," said Commission Member Roger Ellis.
"I struggle with a builder tapping back into concepts that were approved 13 years ago and getting more out of it. It makes sense, but I can't reconcile if this is the right thing to do. I'm hesitant to open the door to unintended consequences," said Commission Member Matt Hemmert.
"This is a product that's necessary and needed in our community. The previous amenities cover this new development in my mind," said Commission Member Abram Nielsen.
The Planning Commission voted to positively recommend Ivory Development's concept for the Dixon property to the City Council by a vote of three to two (Matt Hemmert and Brent Everett voted 'no').
Temple Olayan cheerfully presented her subdivision concept for a 10-lot residential development at 1385 West 700 South to the Commission. "Right now, it's kind of a junkyard. We're going to make it beautiful – there will be an equestrian trail and a pedestrian bridge, all the lots will have animal rights," said Olayan. She spent more than a year getting approvals to reroute the canal on the property. The Planning Commission gave a unanimous positive recommendation to the City Council for Olayan's concept plan.
One of Lehi's most iconic and historic businesses, Lehi Block, located on 30 acres just east of I-15 at 2200 North 1200 West, has been sold to The Boyer Company.  The Boyer Company, primarily a commercial developer, presented a concept plan for the property to the Planning Commission at the February 28 meeting. The plan includes office, retail, and residential buildings. City staff mentioned that the site was a perfect place for high density and could become part of a central urban tech development because of the walkability and proximity to the proposed future TRAX in Lehi. There were many comments from the Development Review Committee (DRC) included in the initial concept plan presented to Lehi City.
"Office parks are the new malls – they're dead after 5 p.m., then it's just a building surrounded by parking. There's a way to incorporate green space and make it more walkable. I'd like to see that improved on this concept plan," said Commission Member Abram Nielsen. "The I-15 corridor in Lehi is becoming State Street on steroids. All you can see from the freeway as you drive through Lehi is offices on either side. I'd like to see more residential."
"We don't often get asked for more residential," said John Banquette, representing The Boyer Company for the Lehi Block project. "We'll continue to work with the City on the best zoning for this property. We appreciate these comments – we want to make this work for Lehi City."
The Planning Commission voted to give a positive recommendation to the City Council for The Boyer Company's concept plant, with Abram Nielsen's "nay" the only dissenting vote. Nielsen was concerned with the number of notes and changes suggested by the DRC and the Planning Commission and felt The Boyer Company should come back with a revised concept before moving on to City Council.
After quickly and unanimously approving six other items on the agenda, including three flag lots on existing properties, the Planning Commission was presented with items from Lehi City. The Mellor Rhodes Park, approximately seven acres at 1450 South 1500 West, will be annexed into the city and expanded into a bigger park. "Based on our meeting with citizens, the preservation of open space is important to our community," said Kim Struthers.
The city also recommended amending the Lehi City Design Standards to include requiring signs for temporary dead-end streets. "There are 117 dead-end streets in the city right now. We need to place signs notifying people that they are temporary," said Landon Hawes from Lehi City staff.
"We see this every time a new subdivision goes in – people expect the dead end to be there forever. It's good to have a warning and manage their expectations," said Commission Member Jared Petersen. For now, the cost of the signs (between $30 and $40 per sign) will be part of the Public Works budget, but in the future, the signs would be the responsibility of the developer.