Lehi choirs combine forces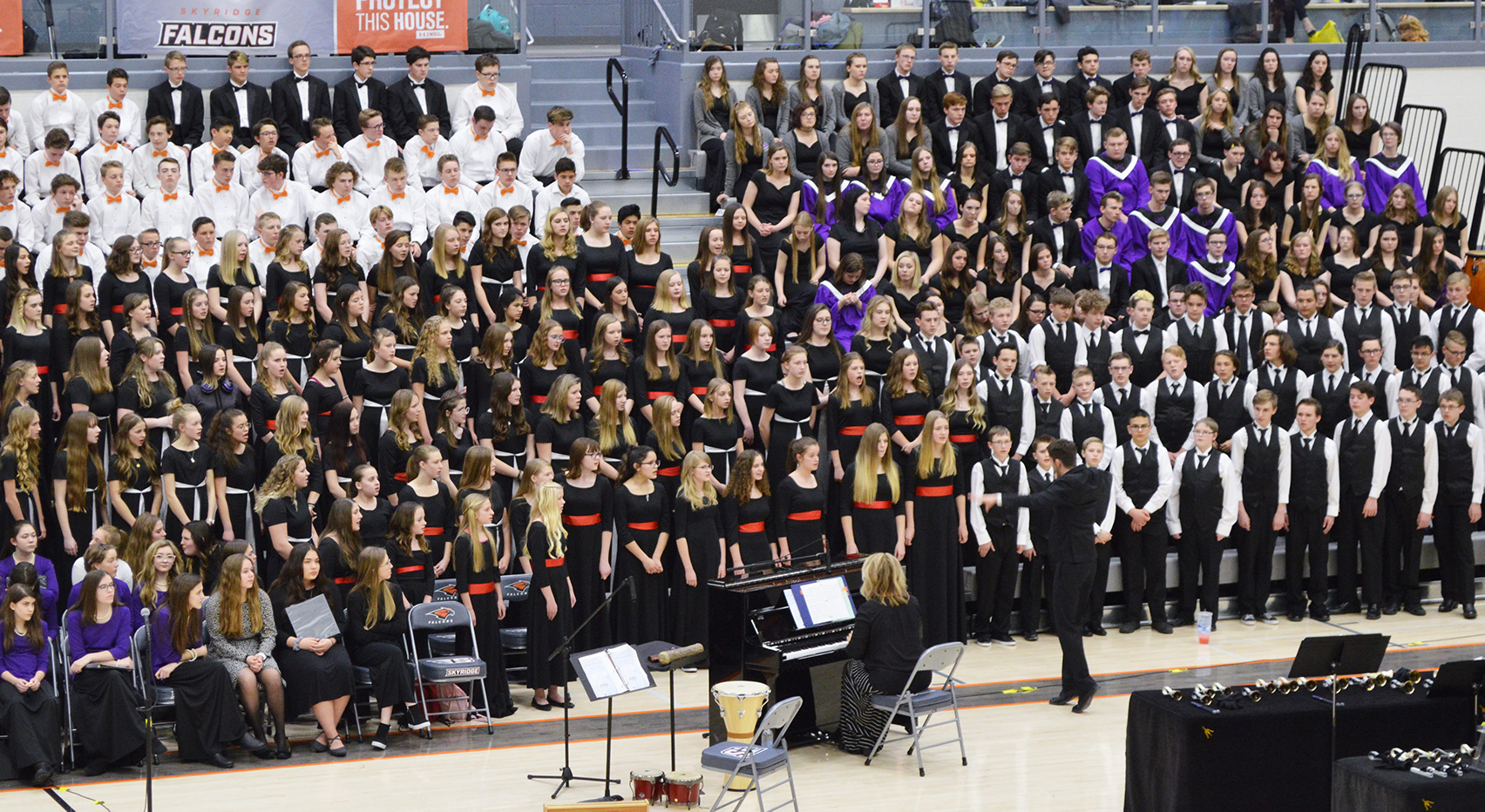 The top choirs from Skyridge High School, Willowcreek Middle School, Lehi High School, and Lehi Junior High, together named "SWeLL," came together last Friday, March 15, for a grand concert in the Skyridge main gym. There were so many singers that the choirs, including the LJHS bell choir, couldn't fit on the stage in the auditorium.
"I am new to Skyridge this year and new to the district. This collaboration and tradition of SWeLL is so wonderful! It is a remarkable chance for the junior high students to sing with and be introduced to the older high school singers as well as the high school choir directors. It's also a great opportunity to work with some phenomenal music teachers in the area. I truly feel like this event is very impactful and uplifting for all involved," said Kirsten Richards, choir director at Skyridge High School.
All the students sat in the same section of the gym and took turns standing for their numbers. Lehi Junior High performed first, then Willowcreek Middle School, followed by Lehi High School and finally Skyridge High School. After the small elite choirs from LHS and SHS and the LJHS bell choir conducted by Skyridge senior Levi Parry had performed, the hundreds of students stood together for the final number. Jill Smith, choir director at Lehi Junior High, and Levi Parry, a senior at Skyridge High School, played percussion for the final number with Sariah Kelly on the piano. The gym was filled to capacity with the beautiful young voices.
"The Lehi Invitational is a great experience because it helps us unify our four choral programs into one. My students always walk away feeling like they're a part of something bigger than themselves, and it is one of my goals to help my students feel valued and like they are contributing to society. We're grateful for the opportunity that we have to bring light and joy to the Lehi community," said Lehi High School choir director, Monica Bennett.
"It is a real honor being able to work with so many talented youths and watch them share their life experiences through music. The weeks leading up to concerts like this are especially touching as the kids learn to put their full selves into the performance and be vulnerable. Opening up like that is what makes their performances so powerful and life-changing to those who listen and those who sing," added Carl Johanson, choir director for Willowcreek Middle School.
This slideshow requires JavaScript.