Five-story State Street apartment complex denied by City Council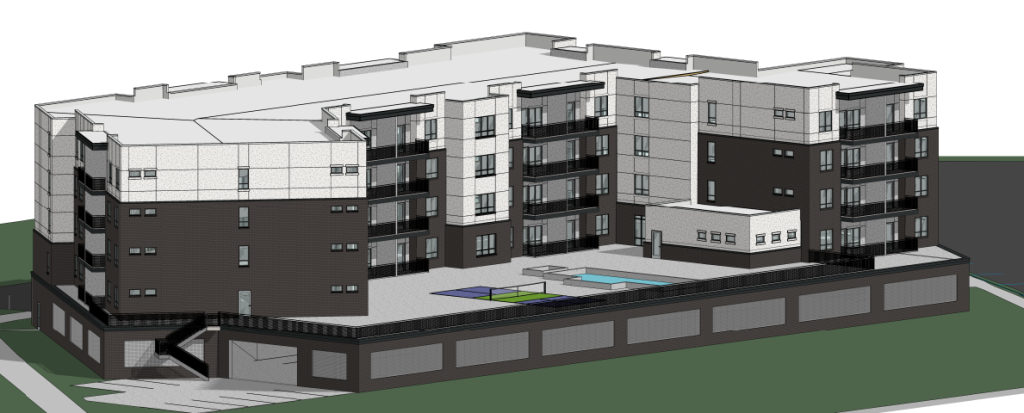 A five-story, 80-unit apartment building on the corner of 100 East and State Street called The Vantage building had no chance Tuesday night after a quick discussion and unanimous denial by the City Council.
The proposed concept plan consisted of 24 studio apartments, 40 one-bedrooms, and 16 two-bedrooms. A drive aisle enters a one-level parking structure that serves as the ground floor. The ground floor also includes a separate bike parking area, four EV charging stations, and a proposed flex workspace area that couldbe converted into retail space in the future. Levels 2-5 were displayed as apartments with an amenity deck.
The amenity deck included a pool, hot tub and pickleball court.
The parking proposal included 91 on-site stalls in the parking garage and eight surface stalls behind the building. The developer also proposed 11 additional on-street stalls. On-street stalls cannot be counted toward the required parking for this project because the developer's zoning request was mixed-use and not a TOD (transit-oriented development). The current code would require 122 parking stalls. 
Two of the 109 proposed parking stalls would be used for two car-sharing vehicles provided by the apartment management for resident use, with the goal of reducing car needs for residents.
The Planning Commission previously reviewed the proposal and had split opinions on the proposed project, with most concerns regarding the parking spaces and building height. The Planning Commission sent a 3-2 negative recommendation to the City Council, who reviewed it Tuesday.
"We've been working on this for 18 months now. We've been working with planning and engineering to try and find the best solution for this property. We've explored townhomes, we've explored commercial, we've explored many different uses, and this seems to make the most sense," said The Vantage developer Chad Jones, who was aware his agenda item was facing an uphill battle.
"In a snowstorm, we can't park on the street, so maybe they will come park at my house? I don't know. The other thing we're looking at here is BRT (bus rapid transit). If the street is all parked, then where will the bus be able to pick them up? There are too many workarounds here when it just might not be the best place for this," said Councilwoman Paige Albrecht to start the barrage of opposition from the Council.
"This just doesn't seem to fit. We don't even know if it will be a transit-oriented development area in the future. I don't think the on-street parking is good. Our son lives in a condo project, and there is never room for any visitors to park. The height and everything just don't seem to fit there," said Councilman Mike Southwick.
Mayor Mark Johnson, who isn't a voting member of the body but does have his firm's office right across the street from the proposed project, also chimed in.
"We would love to see this property develop. It needs to be improved in some manner; it just does. I'm not suggesting that what you're proposing is the right solution. I don't like the on-street parking either. I would like to see something go here, but there are plenty of issues to work through first," said Johnson.
Councilwoman Albrecht motioned to deny the concept plan with a second by Councilman Southwick, followed by a unanimous denial by the Council.
With the denial, the applicant must wait a calendar year to bring back the same project or can bring back another proposal anytime if it significantly differs from the previously proposedproject. 
"Come back with a new plan, and let's see what can work there," concluded Johnson.