Who are the 13 candidates in the race to be Lehi's next State Senator?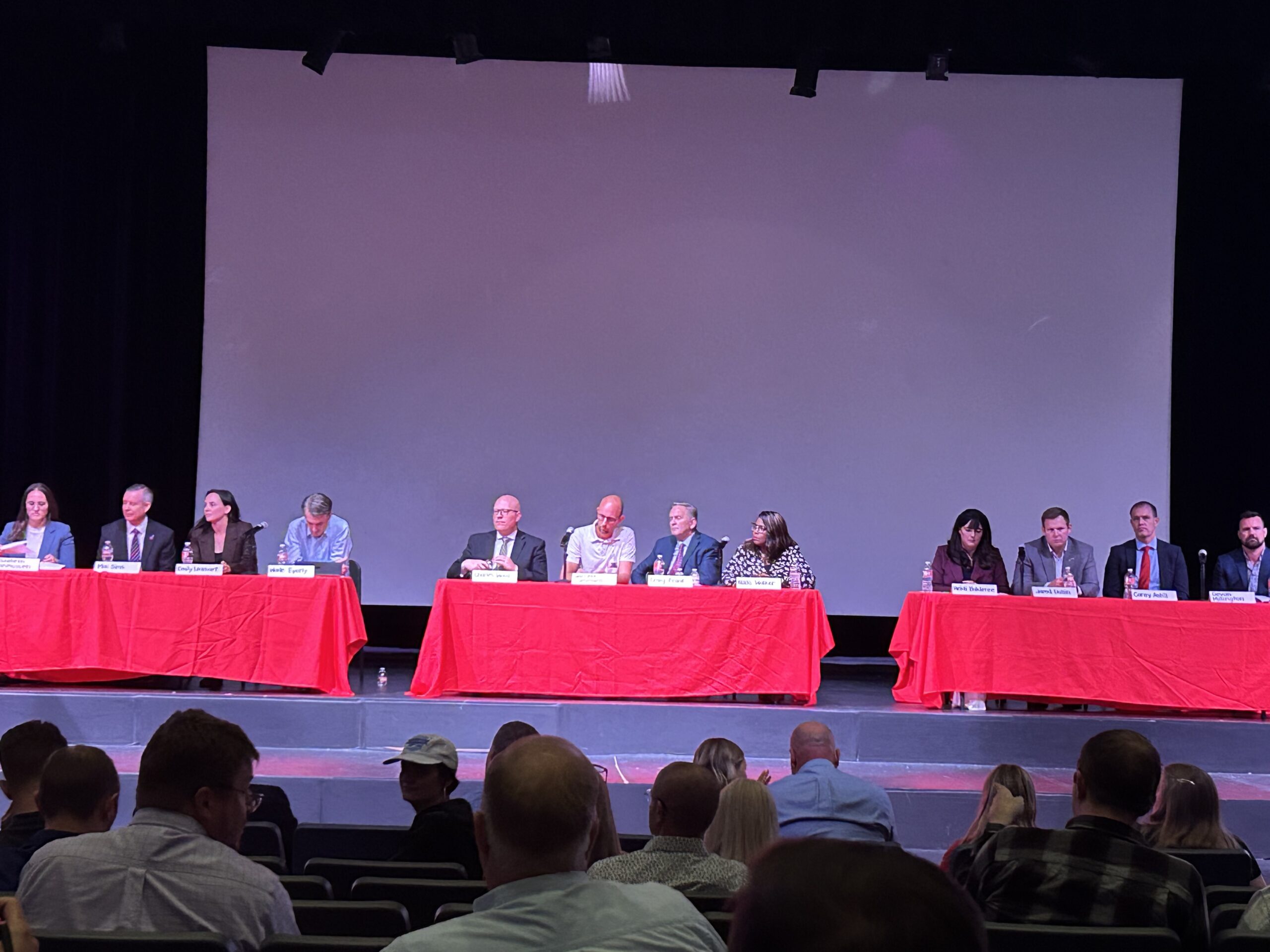 With Utah State Senator Jake Anderegg's (R) resignation on October 15, the field to replace him includes 13 candidates. Anderegg resigned to pursue a career change into lobbying and consulting.
Utah Republican State Delegates, who represent Anderegg's political party, will select the replacement during a special convention on October 11 at Mountain Ridge Junior High in Highland. The race will be administered by Salt Lake County Republican Party Chair Chris Null in multiple-round balloting until a winner is chosen.
The pool of 149 delegates has been busy over the last few weeks with cottage meetings, debates, and other events vetting candidates to determine their choice for the best person to represent Senate District 22, which includes West Lehi, most of Traverse Mountain, Saratoga Springs, part of Eagle Mountain, and part of Draper. All candidates live in Lehi except Heidi Balderree who resides in Saratoga Springs.
The field includes a diverse list of potential replacements:
-Corey Astill. Astill is a former Lehi City Council candidate and current Holbrooks Farms resident. He focuses on transportation, growth, education, abortion, and the Second Amendment. Astill is a Vice President for Business Roundtable as a healthcare lobbyist and owner of Spectrum Academy in American Fork.
–Emily Britton Lockhart. Lockhart is a current Lehi City Planning Commissioner and Holbrook Farms resident. Her platform focuses on transportation and local control. Lockhart is the daughter of the late Utah House Speaker Becky Lockhart, and lobbyist Stan Lockhart.
–Elizabeth Rasmussen. A newcomer to Lehi, Rasmussen's top concerns are education, environmental stewardship, social services, the economy, and smart growth. Rasmussen formally worked as a staffer for Becky Edwards' U.S. Senate campaign.
–Devon Millington. Political newcomer Millington is motivated by the government's handling of COVID-19. He focuses on education, government transparency, taxes, and infrastructure. Millington is a software company CEO.
-Mac Sims. Former Vice-Chair of the Utah County Republican Party and technology officer for the Utah Republican Party, Sims' concerns focus on technology, growth, education, and election integrity. Sims is a software engineer.
–Charles Wood. Wood is a former Alpine School District Board of Education candidate and is the Vice-Chair of the Utah County Republican Party. Wood's primary focus is on education. He opposes mask and vaccine mandates, growth, and federal overreach. Wood is a computer programmer and podcaster.
-Jared Dallin. A political strategist who has run campaigns for Chris Herrod. Dallin focuses on pro-life policies, education, border control, Second Amendment rights, and election integrity. Dallin runs a professional development firm for teachers and educators. 
-Craig Frank. A former Utah State House Representative in Provo, Frank's top concerns center on transportation, education, federalism, small government, and the Second Amendment. Frank has spent his professional career as a consultant and author.
-Heidi Balderree. Former Secretary of the Utah County Republican Party and former candidate for Utah County Clerk, Balderree's platform is focused on transportation, education, the economy, and anti-crony capitalism. Balderree is the community engagement director for Americans for Prosperity.
-Nikki Walker. Walker serves on many advocacy boards throughout the state concerned with women and minority issues. She focuses on education, infrastructure, and fiscal responsibility. Walker is the Director of Diversity, Equity and Inclusion for DOMO.
-Garrett Cammans. Cammans is a political newcomer with legislative experience in government contracts. Cammans focuses on education, family, growth and personal freedoms. Cammans owns a cloud seeding company.
-Wade Eyerly. Eyerly is an Iraq war veteran and former staffer for Vice-President Dick Cheney. He focuses on education, transportation, HOAs, pro-life, and separation of powers. Eyerly founded Surf Air and has worked in national security and insurance.
– David Gray. Gray has not attended any candidate events.
After what will likely be many rounds of voting, the Utah County Republican Party will submit the winner's name to Governor Spencer Cox, who will appoint the candidate to complete the remainder of Anderegg's term, which extends through 2024.
Filing for the 2024 Primary and General Election will be in January of 2024.