Workout with a Lehi Firefighter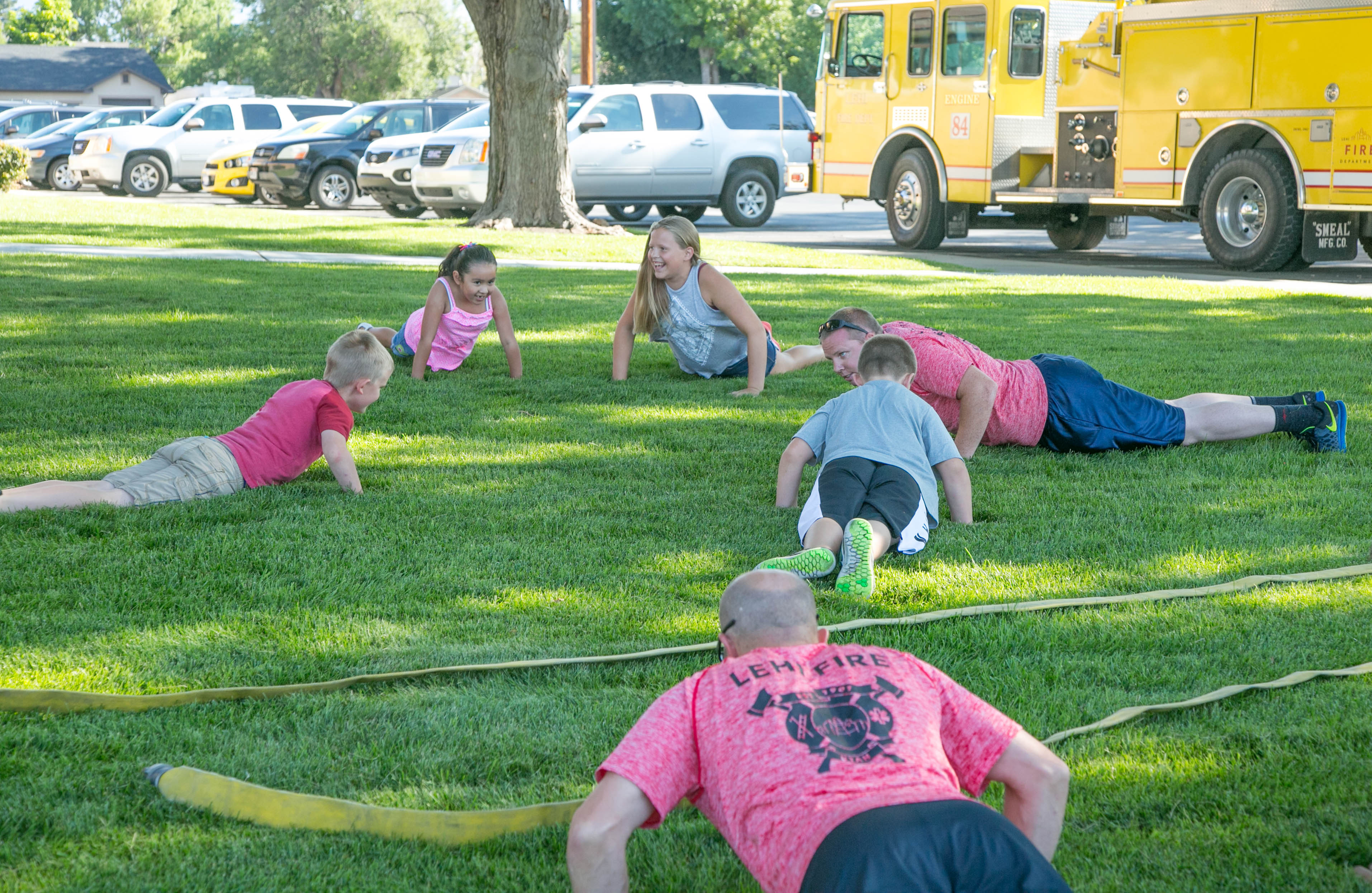 On the first Saturday of each month, the Lehi Fire Department clears out the bay of Station 81 on Center Street and hosts an event called "Workout with a Firefighter." The fun kicks off at 9:00 a.m. with separate sessions for kids and adults, and all are welcome. Each participant is required to sign a waiver, so children and youths will need a parent present. Attendance fluctuates but averages around 25 people a month.
Both groups started off with some warm-ups to make sure they were loose and ready to go. The adults were trained on the activities they would be doing as part of a training circuit: pulling a 180 pound mannequin, swinging kettle bells, squats with rolled hose, tire hits with a sledgehammer, and hose whips were among the exercises. Meanwhile the children started off with a 5-10-15 warm up of lunges, push-ups, and sit-ups. They did some running, whipped a hose, sprayed a hose, and team dragged a mannequin. All participants seemed to heartily enjoy the morning.
"Workout with a Firefighter" was the brainchild of Fire Chief Jeremy Craft who has been working in Lehi for about a year and a half. He was inspired by a CrossFit program in Colorado that offered free memberships to the community's firefighters and then encouraged the community to come and workout with the firefighters. Public engagement is important to Chief Craft and he loves this activity because it gives people a chance to get to know the firefighters in a relaxed, fun atmosphere.
Battalion Chief Tim Robinson thinks that the program is fantastic for the community and he really enjoys the interaction with the adults and children who attend. Physical fitness is important in the strenuous profession of firefighting and the firefighters enjoy encouraging the youth to be more active. Although the firefighters serve the community, they want to be part of it as well, and this is one fun way that they are attempting to do that.