Renaissance Academy Offers World Languages and "Wonder Day" for Students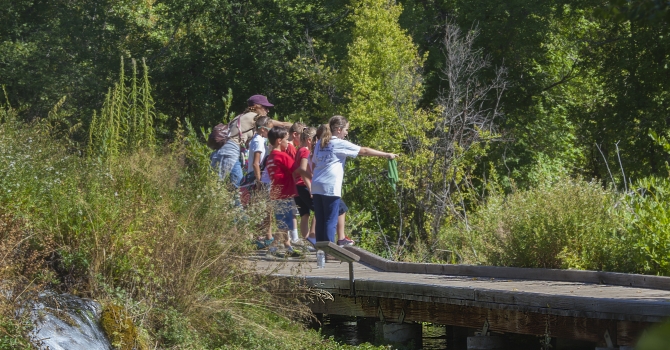 If you ask the parents of students at Renaissance Academy what they like about the school, the list can get long. World languages, after school clubs, athletic teams for junior high students, an outstanding music program, frequent field trips, annual out-of-state and international trips, early-out Fridays and "Wonder Days" are all part of the school's unique offerings.
Located in north Lehi just south of the Timpanogos Highway, the charter school serves students in Kindergarten through ninth grade.
All elementary students at the school choose between Spanish, Arabic and Chinese in first grade and study that language through fifth grade, at which point they can choose a second language to study. The Chinese program is an immersion program taught by native speakers.
"Wonder Days" brings a much-loved hands-on element to the educational offerings. Every other Friday, students get to apply their learning in active ways. For example, after learning about the Trojan Horse, they got to build one. Another project involved building a solar oven on the sidewalk and baking cookies. Parents are heavily involved in this part of the program as they take turns volunteering to teach the activities on these days, helping to fill part of their commitment to give 40 hours of service at the school each year.
"It really caters to a multi-sensory experience," said Jen Orten, mother of Renaissance Academy students and member of the school's Board of Directors. She said it's been very good for her boys, who are eager to attend school every day.
Another feature of Renaissance is the frequent field trips. "My kids call it the 'Magic School Bus School' because they're always going somewhere," said Orten.
In addition to the field trips taken by bus, the school organizes annual trips to distant locations, often with a focus on language opportunities. Orten said trips have included China, one to California to study science, to the East Coast to visit the sites of the American founding, and upcoming trips to Costa Rica, China, Jordan and Havasupai in Arizona.
Another exploration experience available to students at Renaissance is a space education center, which is focused on "integrating the arts and the humanities with an original STEM space science curriculum."
NaeLyn Kearsley, a mother whose children attended the school for many years, spoke highly of the Renaissance music program. She credits the music and drama teacher, combined with the school's smaller student body, for her son's discovery of a love for theater.
Kearsley also expressed high satisfaction with the school's use of the Spalding language program, which she said has given her children a solid foundation in English language skills.
Heather Miller, a mother of three current and past students, said that in addition to Wonder days, the language program and excellent teachers, she loves Renaissance Academy's early-out Fridays, when the school day ends at 12:15. She said it allows her family to schedule their music lessons on Friday afternoons, leaving more time for family activities. The required uniforms are also a plus in her view because they ensure modesty and "keep everyone on an equal level."
Renaissance after school offerings include Drama, Ballroom Dance, Competition Dance Team, a Robotics Club, basketball and soccer teams, Chess Club and Improv-Comedy.
Orten praised the school's teachers and administrative team. She said of Executive Director Mark Ursic, "He has a clear vision for the school and he's taken it to levels I didn't see before." She added, "Renaissance is a very unique and strong asset to the community."