Groundbreaking Ceremony for New Lehi Fire Department Station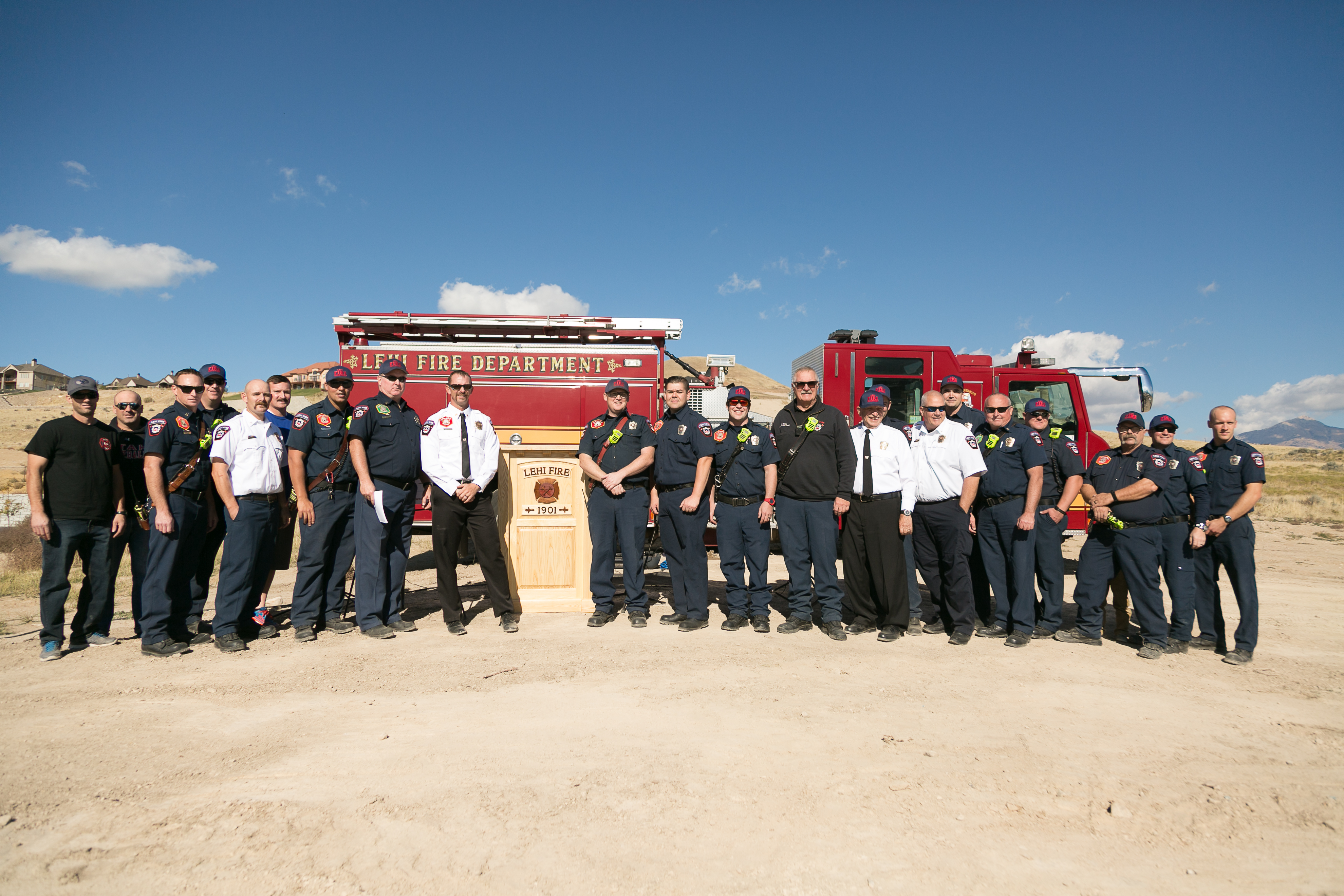 A groundbreaking ceremony took place on Wednesday, October 19 for Lehi Fire Department's new Station 83 located on Traverse Mountain Boulevard. A crowd of about one hundred people gathered to celebrate the event.
Property for the new fire station was purchased several years ago, but in his remarks, Council Member Paul Hancock noted Chief Jeremy Craft did his own due diligence to make sure the station would be exactly where it was needed.
Mayor Wilson announced property has been purchased on the west side of the city for the fourth fire station despite the fact it is not yet needed. The city has the responsibility to provide an appropriate level of fire protection to all areas of the city because the ISO rating can affect the residents' fire insurance costs. It is also necessary to have equipment appropriate for the area being served. Hancock said at least one engine assigned to Station 83 will be outfitted to deal with the elevation and steep grades of the Traverse Mountain area.
Chief Craft told the crowd planning for this station has been in the works for about 18 months. The station has an "Old-style Chicago station" appearance with a tower that will be used for high rise incident training as well as high angle rescues. Craft noted although the Fire Department responds to 911 calls, they are committed to educating the community to prevent and to appropriately react to fires and emergency situations.
Before local officials used gold shovels to break the ground, LFD Chaplain Phil Wasden blessed the location and asked for protection of the construction workers who will be working at the site and the firefighters who will eventually serve in Station 83.
Kelly Rasmussen of Ascent Construction will be the project manager on the site of Station 83. "I get to build a fire station right here in Lehi. As a resident of Lehi it means a lot to me- I get to give back to my own community. And it is going to be a great looking building."
The estimated construction time on the building will be 379 days from the notice to proceed which is expected next week. The projected completion date is January 1, 2018.
The view from Station 83 site overlooking Lehi is breathtaking. Hancock quipped, "The firefighters working here will be able to spot a fire before the homeowners even know about it."