Vintage Vignette: A Young Man from Lehi Sends Christmas Love from Idaho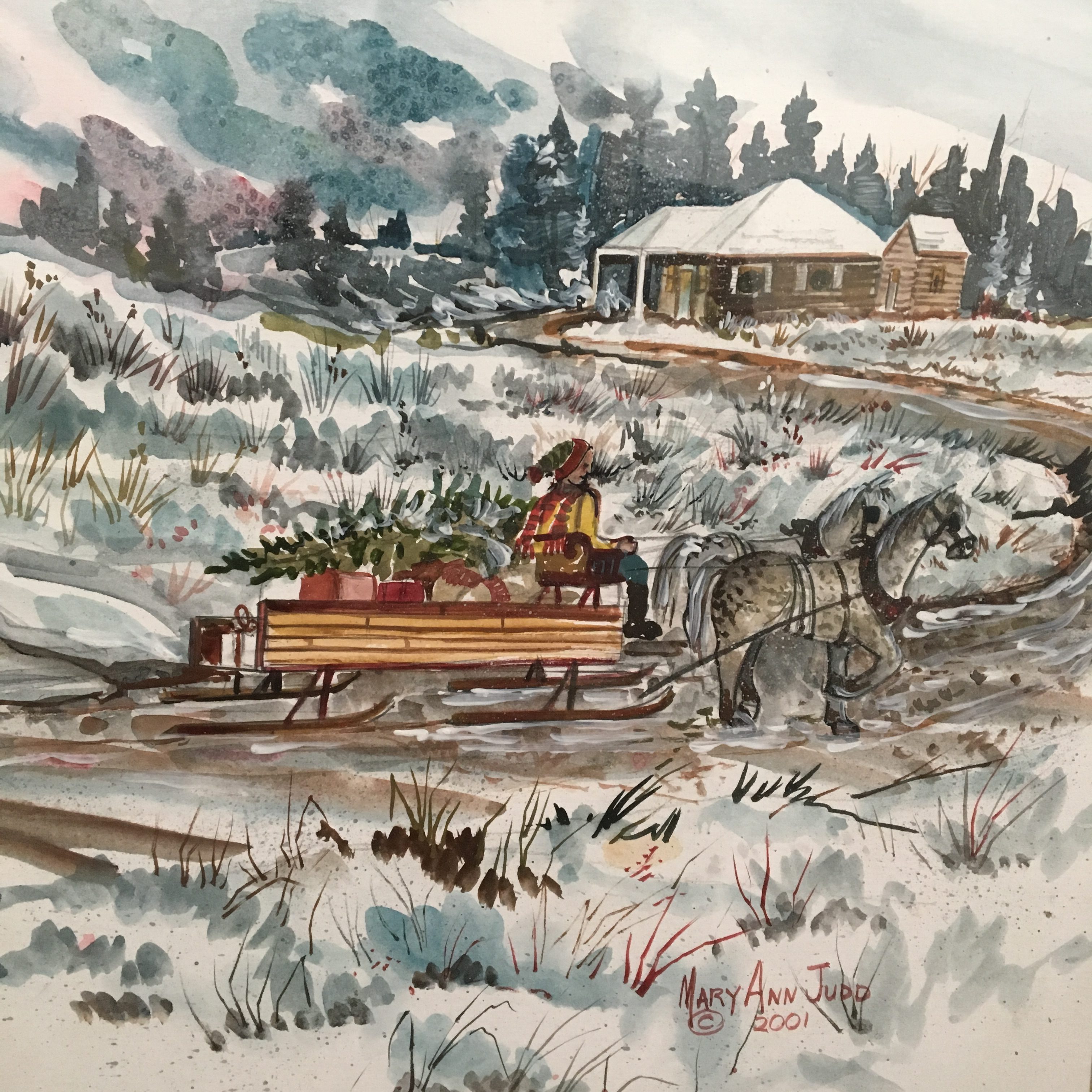 In 1929, a young man, 16 years old, had dropped out of school to go to work in the sugar factory at Shelley, Idaho. His father had been called on a mission for the Church of Jesus Christ of Latter-day Saints, his second mission, and the boy became the provider for the family.  Even though Shelley was hundreds of miles from his home in Lehi Utah, jobs were scarce and money was tight, so he was glad to get work.
As Christmas approached, his mother tried to save some extra money, but simply couldn't with her husband in the mission field, mortgage payments on the house and farm, and food needed for hungry children. There were five youngsters at home and she was pregnant with another. She knew Santa might not be visiting the family this year.  Also, there had been very heavy snowstorms and travel was difficult.
The eager and hopeful faces of the children only made her lonelier as Christmas arrived. She thought of her loving husband and handsome young son gone from their home this Christmas and silently prayed for their safety and happiness. Even as she cleaned up the dishes from the evening meal, the wind and snow whistled over the eaves of the small frame home. It was one of the coldest winters they had seen in years. The north bench in Lehi always had harsh winters. She knew the little ones would be sadly disappointed in the morning. She couldn't even afford an orange for their socks this year. After tucking them in bed with the promise that Santa would come if he could get through the snow, they quickly shut their eyes and fell asleep.
Darning socks and sewing shirts and pants by hand until nearly midnight, the tired mother put a big log on the fire and got ready for bed. Then she heard the faint but distinct thud of hooves and harness bells in the drifting snow. She thought her imagination had the best of her.  A soft knock on the door quickly brought her to see who had braved the storm to visit the farm so late at night. She wanted it to be Santa Claus, but knew better.
As she opened the door, uncle Bill Hadfield, the Lehi postman, appeared from a swirl of blowing snow.  "I was thinking you were Santa," she laughed as she invited him inside. "Maybe I am," he chuckled, "and I'll bet this package will prove it," he added as he hefted a large cardboard box up on to the kitchen table.  "I finished my work at the post office today, and when I was getting ready to go home, this big box arrived. Since it was Christmas Eve, I was in a hurry to go home to my own family, so I left it at the office and went home thinking I would bring it up tomorrow.  But, when I got everything done and was gettin' ready for bed, my old conscience started tellin' me to get this up here to you Kate."
"There is a blizzard out there," she said, "you could've frozen to death!"
"Let's open it," he asked with a mischievous grin on his rosy face. "You go sit by the fire and warm up," She insisted.  "I'll open the box while you watch."
The package label showed a return address from Shelley, Idaho. With trembling hands, she opened the box and many beautiful and neatly wrapped gifts spilled into view. "There is one for all of the children and two for me," she stammered as tears ran down her cheeks.  "Oh, that boy of mine, that special dear, boy."  She hugged uncle Bill and saw the joy in his eyes as he departed. When the sleigh bells faded away, she closed the door, then silently dropped to her knees to offer a humble prayer of gratitude.
**********
This story portrays my dad, Don C. Fowler, and the generosity and love he had for his family even as a young boy. He loved his little brothers and sisters, and often when he talked about his sweet Danish mother, who worked so hard for her family, tears would come to his eyes and he would stop talking and go quiet. I love him of course, and even though he died many years ago, I want this one incident of his true character remembered.